NJ DISCOVER Exclusive: "Love and Iron" A Review of 'SELF-INJURIOUS BEHAVIOR' (Off Broadway, NYC) and How I Arrived at AUTISM Awareness  by Calvin Schwartz  April 28th 2019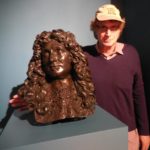 This is a complicated undertaking. What comes first; the review of this most amazing emotional, gripping play by Jessica Cavanagh (playwright and her own story) or the unidentified forces which led me to AUTISM awareness. And why does "Love and Iron" come to reside in this article title?
The Review: But first "Love and Iron." What I've learned up close and very personal these last few years as a novice journalist is that anyone closely involved (parents, teachers, clinicians, therapists, families, friends) with AUTISM, children on the spectrum, is that you must be replete (filled beyond) with so much love, devotion, caring AND that must be concomitant with being made from iron. You need so much intestinal fortitude, strength, cellular composition, beyond traditional norms and limits. Involvement is iron and 24/7. For parents, there is never a moment away, solitude, on an island in the middle of azure water. You are iron willed and cellular. Unbendable, unmalleable, unrelenting iron beyond comprehension. If you're not in the realm of AUTISM, it's hard to fathom this iron and love.

Then there's playwright, actress, mother, Jessica Cavanagh, a denizen of Dallas, who wrote, acts, survives, and emotes this wondrous play, 'Self-Injurious Behavior.' Alert. The play runs through May 4th at The 30th Street Theater (at Urban Stages) 259 W 30th Street NYC.  (www.sibonstage.com) Yes, based on her life. In the play, a now divorced mother (Jessica) Summer has an eleven-year old son, Benjamin, severely autistic. She must be made from iron, and wrestles with the notion, reality and brutal pain of admitting him to a home for special needs.
Here is the tour-de force of this play. Summer is ripped apart with guilt, devotion, love, pain, sense of abandonment; so vividly expressed on the face of Jessica (the actress) Summer, her character. But for me, it's so real. She's not acting, just reliving. That's why the theater was starkly silent. I didn't move, frozen somewhere in time, watching her face writhing in pain, flashbacks (often) hugging Benjamin, trying to calm, reason, make him understand. Futility, love and iron all over her performance and past. 
Benjamin, played so tenderly, violently, realistically by Jude Segrest. And the cast. So hugely accomplished and perfect. Ian Ferguson, an ex-husband (Jake), emanating classic disconnect therefore dislike and later as a brief love interest, Sebastian. Summer's sisters, Jennifer Kuenzer (Sage), Danielle Pickard (Harmony) delighted and delivered comedic respite. Desiree Fultz as Lynn and Gina and Madison Calhoun as Libby/Ashley (also her Off Broadway debut) complete a delightful ensemble. This was such good theater.
Not often in reviews do I touch on producers or directors; behind scenes. But in keeping with the extant theme of this article, "Love and Iron," Bren Rapp (Producer) Ronnie Marmo (Associate Producer, also appearing now off Broadway in "I'm Not a Comedian, I'm Lenny Bruce") Montgomery Sutton, (Associate Producer) Marianne Galloway (Director) and  Micah Lyles (Assistant Director) ALL must be composed of elements of love and iron for their convictions and determinations to bring this to New York. Not easy work.
Why see this play? For the acquisition of feelings and knowledge. I'm writing/reviewing for NJ Discover. Guess what; we're all in the metropolitan area.  New Jersey leads America in AUTISM incidence, 1 out of 34 (approx.). National average 1 out of 68 (approx.) Therefore (read between lines) come absorb the work of Jessica Cavanagh and company. Understand, perhaps, what your neighbors (not necessarily a geographical term) are feeling, living, enduring. I think it's worth the trip just to see the evolving stage faces of Jessica Cavanagh. Stare into her eyes. Maybe see that love and iron.
BRIEFLY my journey to awareness. Four years ago, a new journalist, I was dispatched to Rutgers University Graduate School of Applied and Professional Psychology to learn the amazing initiatives by Rutgers with respect to AUTISM and children who age-out (of the system after 12th grade). Rutgers, the first college in America to develop a program to employ (until 61) those who age out and can be employed. Rutgers will assign mentors from the Graduate School with each spectrum employee. Part two, Rutgers will enroll those qualified spectrum students, build a residence hall and assign mentors to room with them.
That Rutgers executive then suggested I go on road to learn more about AUTISM before we could develop an NJ Discover TV Show on AUTISM. I spent time at Hope Autism Solutions. In August, 2017, a day with a dance troupe from North Carolina, 'Chance to Dance' (most of their young dancers on the spectrum) as they were invited to compete at the World Dance Championships at the Meadowlands. They won their category. Interestingly, each parent (love and iron) asked me questions about the Rutgers initiatives. Each concerned with what happens to their child when they age out. Powerful emotions.
In March, my wife and I were invited by Assistant Principal Katie Feiles, from Future Foundations Academy in Edison, New Jersey, to read to classes of children on various levels of the spectrum as part of National Reading Week. My time and experience there; firsthand, the stark harshness of what AUTISM means, life and reality, observing teachers and aides, their daily bread, those precious children, did I realize it's all about love and iron. It was a life changing day.
Full circle. I continue to learn, experience and feel. It's part of our species defining soul, caring and awareness. I'm better these days at writing about love and iron. A final thanks to Jessica Cavanagh and company and Bren Rapp for another life changing day. 
NOTE: 100% of ticket sales go to Autism Works Now and Doug Flutie, Jr. Foundation for Autism.
The play runs through May 4th at The 30th Street Theater (at Urban Stages) 259 W 30th Street NYC.  (www.sibonstage.com)
The goal of the Flutie Foundation is to help families affected by autism live life to the fullest. Through their programs and partnerships, they help people with autism get access to care; lead more active lifestyles; and grow toward adult independence.
Autism Works Now provides expressive movement therapy and workplace readiness skills resulting in meaningful, dignified employment for individuals with Autism and related disorders. Their vision is to have small businesses owned and operated by and staffed with individuals on the spectrum within 5 years.