THE STRAND Lakewood 95th Anniversary Birthday Party April 26th: Reasons to be There             by Calvin Schwartz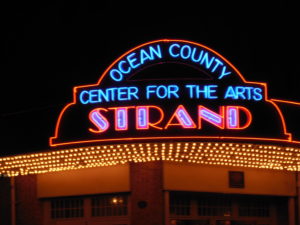 The Strand is having a 95th Anniversary Birthday Party. I'm going to get around to talking about the April 26th Party and shouting out why we all should vacate the sedentary sofa and get to the party but first……
I've been sitting here staring at the wall of memorabilia behind my computer screen for the past 11 minutes; it's a writing technique I employ often; I suppose akin to Alice slipping though the rabbit hole into a new world. My rabbit hole (where I am trying to focus thoughts) is all about The Strand Theater in Lakewood. It's been a frequent subject of mine the last five years as a journalist. Inside that magical world of The Strand, my theatrical rabbit hole of introspection, depth and purist enchantment (now with a new room, The Gallery, where you can have a tea party or a glass of wine) is a New Jersey historical landmark which opened in 1922 when Lakewood was popular with the rich and famous of the day like Rockefeller. Nearby Georgian Court University was the former estate of George Jay and Edith Gould.
It was designed to be a Broadway theater because Lakewood, back in the 1920's and 30's, was a vacation destination and the thinking was to bring Broadway shows here, for previewing them. And going back to those roaring twenties, The Strand was built with some of the best theater acoustics in the country. You can sit anywhere and it sounds like you're in the first row.
My history with this theater has enabled me to cover fundraising shows after Hurricane Sandy; for the unique charity, Hometown Heroes; Songwriters by The Sea backstage, Arlan Feiles and The Broken Hearted live recording session backstage for 'Live from The Strand;' Richie Santa, quintessential Elvis Impersonator; The Strand's annual Anniversary Gala's at Holiday time and so much more.  Over the years, I've interviewed many of the staff, Board of Directors, and local politicians who support the theater.
On one of my recent memorable Strand days, I was introduced to Chris Everett (not the former tennis player) the Technical Director, Jack of All Trades, the guy who makes people fly and who puts scenery and imagination into production. Chris told me, "We make shows happen. Caitlyn Nelson is our  Assistant Technical Director.  Emily Lovell is our house lighting designer. She puts on a harness, climbs to the ceiling, drops down and hooks to a cage. That's how lights focus in every show." Chris continued, "Tom Fraley does House Audio and Gianni Scalise is the flyman and rigger and positive vibe technician. He climbs a five story ladder and hangs out on a steel catwalk."  Chris explained how this crew does the work of ten people.
Staring at walls and rabbit holes aside, back to the future, I spoke the other day, at length, with The Strand's Lori Davis, Front of House/Box Office Manager and Fran Whitney, Operations Manager. I've come to feel that the successful array of programming /events happening at the theater is concomitant with this dynamic duo working together. And behind all the scenes, is omnipresent Scott MacFadden, the savvy, energetic Managing Director.
Before talking about the upcoming 95th Anniversary Birthday, we did the Gallery; the room across the hall from the main entrance to the theater, completely renovated, equipped with a bar, tables and a small stage such that you are easily magic carpeted to a Manhattan night spot; just do a quick blink of an eye. Being a resourceful journalist, I researched that the Gallery room used to be a drug store back in those roaring speak easy days of the 20's.  And we'll leave it at that.  Fran told me, "We've started booking local duos and trios, like NRG and Colossal Street Jam and use Thursday night as a lead." Lori added, "Beginning in May, we'll have a comedy act etc… and are hoping to have an open Mic night."
John Davis, entrepreneur from Java House in Brick will be setting up in the Gallery. Of course I remember John's affinity for live music when he once hosted myself and Danny Coleman's Rock on Radio Show. This will be a new venture for the Gallery with Irish latte coffee available at the bar. Heidi DeFabritius, Front of House /Box Office and Lori will be running the Gallery with open bar. They mentioned the theater being booked into 2020. Exit 82 Theater Company and BCCT (Brick Children's Community Theatre) also perform here. The Strand is hot these days.
Lori added," We were gifted a Baby Grand piano by Georgian Court University. Todd Gagnon will be playing music before shows and we're looking into hosting low budget movie premieres."
I said, "It's party time."  Right up front here, I'm hoping NJ Discover readers are looking for a fun night out on the town and find ways to extricate themselves from the perils of sedentary sofas and come to party at 95th Anniversary Birthday Party on Wednesday April 26th from 6-9 PM. Fran noted, "It's a fundraiser, all proceeds to The Strand. Entertainment includes our own Lori Davis, Heidi and Tony DeFabritus, Arlan Feiles, Chris Rockwell, Richie Santa, Robert Santa and more."
There is something spiritually palpable and historically haunting about The Strand and the Gallery. Part of it of course is the art deco ambiance. It is a magnificent theater. Easy on the eyes and ears. You have to be there and feel it. Hey, while we're partying on the 26th, come over to me in the Gallery, and we'll talk about stuff. Here's looking at you from the rabbit hole.