NJ DISCOVER SPOTLIGHT: RUTGERS UNIVERSITY- ALEXANDER LIBRARY: A Brave New World (Not a Book Title) by Calvin Schwartz  September 4 , 2019
It's been a journey of several years, many visits to Alexander Library, an intent to be a journalist, and explore, interview, experience, that brave new world of services, references, collections, history, which defines the future/today's Alexander Library.  And with the confluence of synchronicity, timing, freshmen students beginning to move in, I got street parking a block away; forecasting positivity.
At the end of my day, anti-chronological, Matthew Badessa, Public Relations Specialist, who organized this interview, took me to Grace Agnew, an old friend and Library Special Advisor for Strategic Initiatives. Timing was perfect. She was studying results of a survey relative to impressions of library services given to faculty and students. "It was statistically valid with 2864 valid surveys received." I asked if I could include this. Proudly, "Yes."
The survey is done every three years. Last in 2016. "We improved in every area with general satisfaction up 23 points. People satisfied with the way they were treated… Overall quality up 25 points… To create a learning space and valued on campus… Best improvement in collections services…  We got an A. In 2016, we got a B. Next goal, A Plus."
My comment, knowing what I do and what I observed this day, was "not surprised," which was a praise statement. I dispensed the notion of how libraries are rapidly evolving because of the internet and changing with the times. "We're so much more than using Google. We are that new world you alluded to."
Day began in Alexander lobby, finally meeting Matthew Badessa in person. A brief chat, then downstairs to a world of collections and history patiently waiting. A visual presentation prepared on conference table. Present were Sonia Yaco, Associate Director of Special Collections and University Archives, Tara Maharjan, Processing Archivist, Stephanie Crawford, Project Archivist, Miriam Schapiro Archive on Women Artists, Caryn Radick, Digital Archivist and Dee Magnoni, Assistant Vice President for Information Services and Director, New Brunswick Libraries.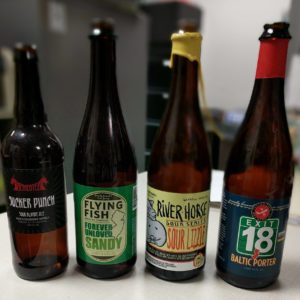 Firstly, Stephanie presented some of the original artwork of Miriam Schapiro as part of the Archives on Women Artists. Quickly, I interjected the synchronicity of the Women Artists as I've worked on the Advisory Committee of the Women's Health Institute at Rutgers RWJ Medical School. Miriam Schapiro was a feminist artist and educator. At Alexander, the feminist artist collection is one of the biggest in the country of archival collections that preserves and collects women artist's works, papers, publications. It was explained, this collection features works from the second wave feminist art from 1945. There are large slide collections, oral histories and materials from Feminist Art Program and NY Feminist Art Institute.  Miriam was born in 1923 and lived in NYC with her husband. Schapiro now quoted, "We were in love, and proceeded to spend the rest of our lives moving closer and father apart at the same time." 
It was pointed out that The Miriam Schapiro Archive on Women Artists is an 'umbrella' term that involves about 30 women artist collections (personal papers, organizations, vertical files)
Stephanie also showed me a "zine" publication, 'Out of Isolation' by Miriam Schapiro which she collaborated with Seren Ozer.  I viewed 'Barcelona' watercolor, marker and glitter on paper, an untitled drawing, pastel on wax paper, and an Untitled femmage, fabric and latch hook yarn on paper, from 1980. All hauntingly captivating.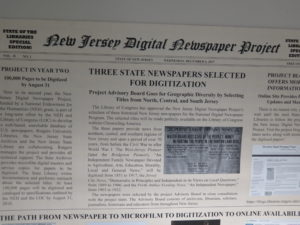 Interestingly, when in college, Miriam used to listen to Bessie Smith "belting out her blues. I recorded my own blues on canvas." The "zine" was so illuminating, in part explaining the collection, in the words of Miriam. Of course, what resonates with me is this world that is available at Alexander Library. How I'm tempted to urge folks to get off the sedentary sofa. Get it?
Next, a collage of ten postcards. 'What is Feminist Art?" Words by Mary Beth Edelson, Arlene Raven. A Colorado College letter which raised consciousness. Six Exhibition Announcements from the 1970's.
It was previewed to me a few days before that I'd be seeing a New Jersey Beer collection. This was Tara's project. On the far end of the table, a can of Krueger Beer, the K logo, the two holes in the top of the can via an opener. Tara observed my fascination with the can. "I'm concerned that I actually remember that beer can which I suppose ages me."  
"Did you know that Krueger was the first to put beer in cans in 1935. Then the war so they stopped for a while… New Brunswick actually had eight breweries in the 1800's."
Alexander Library's NJ Beer Collection is a stunning hands-on trip back and forth in time, documenting the beer industry in New Jersey. The collection mainly focuses on the growing craft beer movement throughout the state of New Jersey in the 2000s.  The collection contains stickers, coasters, tap handles, diagrams of the brewing process, and other promotional materials. New Jersey has had an unusual 'alcohol' history, coming out of Prohibition, with strange restrictive laws, that hampered our beer industry. One of my coy, irrelevant smiles surfaced. "I used to study in the 60's in an old brewery converted to a Rutgers Newark building. It was a hard place to study with the indelible smell of beer in the walls." They all laughed.
"Demented Beer, brewed in Middlesex is now closed." Some of the dozens of companies represented fascinated. 'Cape May Brewing' 'Flounder Brewing Company' 'New Jersey Beer Company', and 'Climax Brewing Company.'
Next, down the hall, to the new offices of the New Jersey Digital Newspaper Project with Caryn Radick, Digital Archivist. I'm rather familiar with Caryn and the project as a journalist as I was asked over a year ago to sit on the Advisory Committee. For me a huge honor. A mission here is to raise consciousness to this labor intensive, purely posterity minded project. Back in 2017, The Library of Congress approved the New Jersey Digital Newspaper Project selection of three historical New Jersey newspapers for the National project. It is a collaboration between Rutgers University Libraries, the New Jersey State Archives and the New Jersey State Library.
I was reunited with Jacob Paul, NJDNP Project Technician (and master videographer) who along with Giovanna Ligato-Pugliese performed the painstakingly labor-intensive work. The three selected papers provide news from northern, central, and southern regions of New Jersey. Time wise, a span of over 70 years from before the Civil War to after World War I. This project is supported by a grant from the National Endowment for the Humanities.
Examining and drifting into that by-gone world of our New Jersey history, captured by the project, I once stumbled on an old advertisement in a newspaper for a store that was selling different products, portrayed as a house with different rooms. It blew me away. Seven decades elapsed but it looked just like an ad from one of our super stores this past Labor Day Weekend.
Caryn explained an intense step in the process, "Jacob's microfilm check on the winders is before the film goes out for duplication, rather than when it comes back. This is so that we can alert the vendor to any issues they might find when duplicating."
There was a chart on the wall, "Batch Three, Newark Evening Star." Each Batch check named for a character from The Soprano's. This Batch, 'Carmela.' I smiled, warmly remembering the late, great James Gandolfini, a very proud Rutgers alum.
Caryn mentioned that they're into the second grant in partnership with State Archives. The State Library is also still a partner along with the State Archives." Nationwide there are 46 states and Puerto Rico chronicling America. Now working from 1850's to 1920's. "There are so many forgotten stories, sensational and scandalous."
There is such a special world for all of us to drift into here at Alexander Library through the New Jersey Digital Newspaper Project and special collections, exhibits. Even for our children's children, so carefully and intensively prepared. My thing is, so many of us have no idea the resources, magic, history, adventure (like an amusement park for the mind) that is Alexander Library. The doors always open for all of us. It's Rutgers, The State University.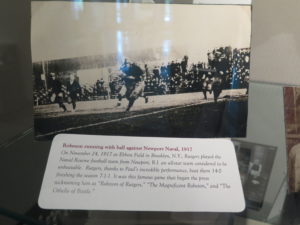 Photo-ops, and thanks and in the down elevator. I knew there was a Paul Robeson exhibit in the lobby. And so, I drifted inside, enthralled for so many years with Robeson, such an American hero, institution. The most moving for me, the actual Commencement Program, Rutgers College, June 10, 1919. A hundred years ago. Paul Leroy Robeson, Valedictorian, addressed the Commencement.
This entire day filled me with a special pride; my alma mater. Walking out the automatic library doors, I thought about what my alma mater did a hundred years ago with Paul Robeson, enrolling, his becoming an All-American, and Valedictorian. Turning around, taking a picture of the Alexander Library edifice; concluding it had been a brave new good day for me.
Calvin Schwartz  September 4, 2019
PS: An IMPORTANT afterthought. We live in new worlds of changing economies. Libraries especially need help. For alums, denizens of the State of New Jersey, friends, readers, dreamers:
Giving to Rutgers University Libraries:   https://www.libraries.rutgers.edu/giving
Rutgers University Libraries are the intellectual center of the university-serving all members of the University community, supporting all disciplines, and playing a key role in advancing student learning and faculty research.
Your gift can support any aspect of Rutgers University Libraries and will help ensure that the libraries continue to provide essential resources for the university community, the state of New Jersey, and beyond.
ALEXANDER LIBRARY: https://www.libraries.rutgers.edu/alexander
NEW JERSEY DIGITAL NEWSPAPER PROJECT: https://blogs.libraries.rutgers.edu/njdnp/
CALVIN SCHWARTZ:  TWITTER:  https://twitter.com/Earthood
INSTAGRAM: https://www.instagram.com/cal_schwartz/
FACEBOOK; https://www.facebook.com/Calvin-Schwartz-Cerebral-Writer-258272024192114/
LINKED-IN   https://www.linkedin.com/in/calvin-schwartz-866a805/