NJ Discover Explorations:   My Day at IDT CORPORATION in Newark   by Calvin Schwartz   March 20, 2017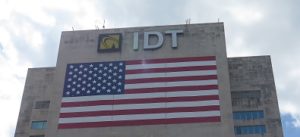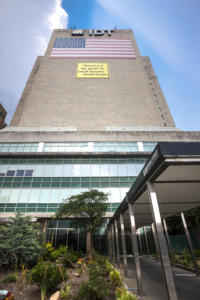 I've been thinking about the directional form this article should take. It's been two hours on a college basketball filled Saturday afternoon staring at my computer screen, listening to folk songs from the sixties, reading a special book given to me at IDT last week, and finally exercising my free choice now, getting to that fork in the road and taking it; I'm going down the yellow brick un-orthodox road. There's too much energy inside me.
So here we go with a bold statement about IDT and me. I wish I'd gone to a mathematician for the final approximations here but I think the odds of everything that has ensued with my burgeoning experience with IDT falls into the 'billion to one' category; a powerful distant number, hinting of a special synchronicity in the universe; a meant to be and something which you can't make up, not even Jules Verne or George Orwell.
A brief (if I can be that) explanation. Last July, I began "mentoring" a few of my close Rutgers friends who started an amazing company called, PeduL, a crowdfunding source for college students to raise money for tuition.  We'd meet once a month over dinner and explore the inter-connectivity of our generations; millennials and a baby-boomer working together. A year or so ago, IDT Ventures in Newark (my hometown, birth city) headed by Jacob Jonas, reached out to PeduL and brought them into the IDT family. "IDT Ventures invests in early-stage startups and helps them rapidly develop their ideas and raise follow-up rounds of financing." Last August, I went to IDT's offices to interview the PeduL team for an NJ Discover Spotlight article. Confession; I didn't know a lot about IDT other than it was a giant tele-communications company.
Chisa Egbelu, recent Rutgers graduate, (I mentioned "plastics" to him at graduation), and 'Business Operator' of PeduL took my wife and me on a brief tour of IDT's offices which became for me, an amalgam of mind expansion and disbelief; this was an incredible sleeping giant of a company that was involved in so much diverse creativity. Standing outside of the IDT headquarters building after the PeduL interview, I stared, much like Deborah Kerr's character in 'Affair to Remember,' looking up at the Empire State Building, and I knew there was something magical in that building. I just didn't know what it was, yet.
In October, I was back at IDT, this time bringing the PeduL team to Senator Cory Booker's office to see whether government can assist PeduL. PeduL as its founders envision it, would help divert some of the cost of college education away from government; the good old win-win situation. Two weeks ago, based on my relationship with PeduL and my journalistic proclivities at NJ Discover, Jacob Jonas called, inviting me to spend a day of illumination at IDT. I randomly mentioned to Jacob, my flying on a ten-hour trip last August, sitting on the flight next to David Polinsky, the President and General Counsel of Cornerstone Pharmaceuticals, a pharmaceutical company which IDT had just invested in. Mr. Polinsky was sitting next to Jacob as we spoke. This is just an elemental part of that billion to one premise. And I'll leave it now for imagination and energy reclamation.  IDT also spun off an energy business (Genie Energy), a publishing and entertainment company (IDW Media), and an extremely popular phone personalization mobile application (Zedge). To top it off, IDT Entertainment, a former subsidiary of IDT Corp., used to do the animation work for the Simpsons!
That morning trip to IDT last week was punctuated with heavy downpours.  I encountered some flooding and aggravating traffic. As soon as I parked on the second level garage, the sun came out; one more function of synchronicity in the universe. Jacob met me in the lobby and my day of mind expansion was underway. There was a brief stop in CEO Howard Jonas' office. The far wall was a montage of countless family photos. I thought instantly about tell-tale signs of a soulful, introspective, caring CEO, of, for and by the people.  Jacob presented me with copies of Howard's bestselling books. I read one this afternoon: 'I'm Not the Boss. I Just Work Here'.
As we strolled along the halls, Jacob pointed out some of IDT's business divisions and gave a brief history of the company. IDT was started in 1990 by Howard Jonas, who began his legendary business career with a very successful hot dog stand as a young teenager in the Bronx.  I saw a striking logo on a wall, a hand holding a cell phone.  It's part of their retail division, BOSS Revolution, which primarily services immigrant communities with payments and communications services.
Jacob set aside some time for me to meet with the man behind IDT's PicuP division, Zali Ritholtz. My head was about to spin. I could tell by the degree of unbridled enthusiasm sitting across the desk. I looked at a large window overlooking downtown Newark where I arrived here on earth decades ago. He mentioned that a 'Whole Foods' was opening a new store across the street as we spoke.  I fastened my seat belt. Zali was pure lift-off the launching pad type of energy.
I didn't really know PicuP except for Googling it the night before.  PicuP is a business phone service that answers, routes and manages inbound calls. "So tell me more, Zali." He was quick and ready.  Funny about my journalism; I could tell there was an enthusiasm contagion in the office. PicuP is focused on serving small and medium sized businesses and startup companies. "The ultimate goal of PicuP is to help businesses manage all of their communication channels (phone, chat, messaging, social media, etc…) in an easy and efficient way."
Zali told me a story of calling his cell phone provider. He was on hold for 10 minutes. The agent helped him and then asked him if he had any more questions. He hung up, but a few seconds later, he had another question. He had to call back and get a new agent. Zali added, "My vision of a perfect world; there should be a log of all my communications between the provider and myself. When I finish the conversation, a text comes in. Do I want to continue this conversation? You have options to continue through chat, SMS, phone call, video or any other medium the business offers. That would make life so much easier for the customer, making the business more successful in the long run."  I realized this was the evolution of PicuP.
PicuP built a very simple, easy to use service. "Any small business can sign up completely for free and have a full phone system setup in less than 5 minutes. Get a phone number, welcome greeting (auto attendant), departments to group users and extensions, call screening, find me follow me, voicemail to email and more."  Next Zali gave me the practical side of things. "Let's say you take your family to Disney World. You are stuck because you want to disconnect from your business calls but still want to receive personal calls. It's a very big challenge. You are choosing between losing business or losing family time.  PicuP gives you the ability to take your existing cell phone and have it serve as both your personal and your business phone so you can disconnect when you need to."
I knew this could make people's lives so much easier.  "PicuP's vision is to bring all communications together under one hood. This is a game changer! It will change lives." Then Zali explained how IDT recently acquired LiveNinja, a Miami-based startup on the cutting edge of B2C messaging technology. The plan is to integrate LiveNinja's messaging solution with PicuP, further cementing IDT's status as a leading innovator in B2C communications services. "LiveNinja's offering allows customers visiting a business's site to start conversations through a chat widget, and then move the conversation over to SMS so they can continue communicating even after they leave the site." This was spot on with the PicuP vision. "Once the PicuP and LiveNinja integration is completed, the new offering will provide businesses with a communications solution, where they can speak to their customers through multiple channels including phone, messaging, chat, Facebook messenger and more, from their computer or mobile, combining the experience into one crisp and easy to use product. All the verticals of communication under one hood. Powerful!  The best part? You can try out PicuP's basic plan completely for free. One phone number pulls everything together. As you grow your business, you can upgrade to larger plans."
"It's a wow," I exclaimed.  My exuberant thinking was that for start-ups and small business, PicuP is like a 'David Copperfield' illusionist. When a business has all these tools, customers subliminally and consciously think, they are dealing with a large successful company. It's like a silent salesperson. I know customers are not patient; they want quick responses. People also like to hang around success.  Make customers remember you. Zali mentioned that my friends at PeduL are using PicuP. It is a perfect smart world. "No more calling the dry cleaners and being placed on hold. Just text them."  I said it again, "This is such a wow! And a game changer!"  For a third time that day, I realized that IDT is that sleeping giant at the precipice of changing our world.
Jacob walked in ready to continue our tour. I looked at both of them, with my actor straight face, remembering they just met me and don't know my quirks and said, "You guys pissed me off today with all this amazing input and technology and game changing. I won't be able to sleep for the entire next week as I'm processing and digesting all you've told me today. I hate not sleeping."  We all laughed. They got my nuance spot on.
Jacob and I sat in a cubicle with a round table. We talked about IDT's recent investment in Cornerstone Pharmaceuticals, "a clinical-stage, oncology-focused pharmaceutical company committed to the development and commercialization of therapies that exploit the metabolic differences between normal cells and cancer cells." I reminded Jacob that in an earlier life, I was a pharmacist, educated down the street at Rutgers Pharmacy School. I was particularly interested in Cornerstone's lead cancer drug, CPI-613, because I had Googled that too, the night before.  Jacob continued, "The theory is that CPI-613 selectively targets the indispensable energy production (metabolic) processes in cancer cells. These metabolic processes are essential to cancer cell multiplication and survival. CPI-613 has shown promising results in clinical trials."
Jacob continued, "IDT is truly one of the most groundbreaking companies in New Jersey.  IDT has impacted a wide variety of industries: telecom, tech, entertainment, energy and now pharma. And that's only the tip of iceberg. IDT Ventures is investing in local technology start-ups. IDT's Boss Revolution division offers its suite of communications and payment services in over 35,000 bodegas around the country. IDT's rapidly growing National Retail Solutions division is in the process of rolling out "The World's Greatest Point of Sale Terminal" to IDT's massive bodega network. I mentioned NJ Discover's commitment to Latino culture with our October TV Show, "Neo Latino Artists Come to NJ Discover." This got Jacob excited, "We have very deep ties with the Latino community. Many of our employees are Spanish speaking and are natives of Latin American countries. Boss Revolution is trusted by Latinos in America who use our communications and payment services to connect with and share resources with their families back home."
I smiled and repeated how the IDT visit had pissed me off. I told Jacob "I'll never sleep because IDT is such a sleeping giant." Jacob corrected me, "IDT is a giant that is ready to roar". There is so much in my head. Jacob smiled. We talked about future think and my coming back. There is so much more to learn and explore. Jacob asked if NJ Discover is mobile referring to a future TV Show on site.  I said, "We are mobile, hostile and agile," making reference to the movie 'Remember the Titans.' Also appropriate with IDT, another titan. As I thanked Jacob and did the goodbyes with him and Chisa, I added, "Maybe when I do come back, someone will buy me a hot dog." I'm not sure they heard me so I'm closing this article with it.