NJ DISCOVER Spotlight: Meet Filmmaker Justin Giegerich and Writer, Actress, Jessica Ryan from film "Green Shoes"     by Calvin Schwartz   April 26, 2018   
Those that know me should be adjusted to the fact that there is always a story behind an article that I write. No exception today. I love pathways through synchronicities and human contact. Cut to a year ago in Asbury Park, at a parking lot across the street from Convention Hall. The journalist (me) was covering an event, and as always, wearing my Rutgers hat. A woman in authority notices my hat and concludes I like Rutgers.  So, we talk.  A friendship flourishes. A recent text message from her for me to check out this short film, "Green Shoes" showing at "Hang Onto Your Shorts Film Festival," at Jersey Shore Arts Center. I researched the director and writer and synopsis of the film. My decision was
that I need to see the film.
At the film festival  last Saturday afternoon(Ocean Grove) and post  block of short films, I asked director Justin Giegerich and writer, lead actress Jessica Ryan, "Do you have some time to talk?" I liked their film; intrigued and fascinated, also by their young age. Needless to say, we talked for a long time on the third floor of the Arts Center.  And we talked until the theater manager had to close the building.
Right off the top; both Justin and Jessica are junior year students at Pace University; obviously where they met. From the time Justin was 16, at Red Bank Regional High School, he was drawn to acting. With the help of Renate English, talent agent, he went for play auditions, and liked hanging on film sets. "I enjoyed peeking around, asking about the logic behind the lights being used a certain way or asking the cinematographer, what the goal was…. And I was interested back then in social issues in films…. but I was cast in comedies." At 16, he saved to buy a video camera and shot his first movie. It's when he started JAG-Creative Media.
Jessica lives outside Toronto. When she was eight, she wanted to be an actress. "In eighth- grade, I started writing in general and ninth-grade started writing the feature film for 'Green Shoes'." The film is a heavy, sensitive, introspective examination of aspects of life that need awareness in our new 'illuminated' world.
Film Synopsis:  "In 1960's suburbia, a 14-year-old girl and a 47-year-old man begin a sexual relationship to fill the void in their loveless lives. The girl is the youngest of 4 girls and lives with the burden of keeping her father's affairs a secret. The man is a WW2 veteran, who has developed an obsession with innocence after experiencing the horrors of the war. Because of this, once the girl's innocence is taken he is no longer interested in her–however, this is when she begins to fall in love with him."
I included the synopsis because of the subject matter of the film. I wondered how a ninth-grade young girl conceives and conjures the elements of 'Green Shoes.' My next question to Jessica, "How, when and why did writing this film come to you? After all, you are so young."  She smiled, as if anticipating the question, "My mother is a detective, special victims. I'm also interested in the Stockholm Syndrome."  Justin added, "We didn't want to hide the truth. We wanted to be real." I thought the movie was so well done artistically.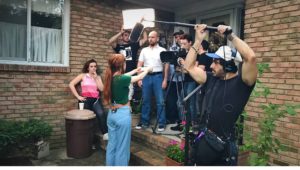 I alluded a few paragraphs ago to our new 'illuminated' world. Well beyond the scope of this interview, is the notion of a changed world, sociologically, because of the impact of 'Harvey Weinstein.' I've been curious ever since, how Harvey figures into different environments. Justin responded, "We filmed this short version and finished at the end of August before Harvey."  Jessica added, "I'm a woman in my twenties and wanted to make something with both perspectives."  Next, Jessica went introspective. "Harvey helped me get relevant…. And I want to talk about what women have to deal with all the time."
I asked about production. They shot the film in four days, 14 hours per day. There was six-month pre-production and three months post-production, a bit rushed in order to get it into film festivals. The ultimate goal is to  raise funds and shoot the film as a full-length project.  
"So, Justin, who are your film, directorial heroes?"  "Paul Thomas Anderson. Todd Solondz, 'Happiness.' And Sam Mendes, American Beauty."  Jessica's heroes are Annie Baker, playwright and Charlie Kaufman, screenwriter.
I protested when the lights flickered. I wanted more time with these accomplished, driven, mature, young college students, who accentuated my thinking what a brave exciting new world it is. In situations like this, meeting bright stars early on in their careers, I'm poised and patient, to be able to say one day, "I knew them when, just after seeing 'Green Shoes.' " 
Update on 'Hang Onto Your Shorts Film Festival.'  Jessica took home Best Actress and 'Green Shoes' won Best NJ Short, their equivalent of Best Picture.
Justin Giegerich BIO: "Justin Giegerich was born and raised in a small beach town on the coast of New Jersey. Now a resident of Brooklyn, he is a junior in the BFA Acting program of Pace University's School of Performing Arts in Lower Manhattan. With an undergraduate concentration in acting, Justin has applied his background as an actor into his craft as a director for both stage and screen. Cinematic directing credits include "Wednesday," "Boys Will Be Boys: A Sexual Harassment PSA," "A Morning Rose," and "The Tudor." Recent NYC directing credits include "The Last Days of Judas Iscariot" (Stand Up Productions) and "Much Ado About Nothing" (The Hive, Brooklyn). Justin's most recent short film, Green Shoes (written by Jessica Ryan), is moving through the festival circuit. Screenings include the Brightside Film Festival in Jersey City (Nominated: Best NJ Short, Best Cinematography, Best Actress), First Take Short Series in Philadelphia, Hang On To Your Shorts in Asbury Park, NJ (WINNER: Best NJ Short, Best Lead Actress; Nominated: Best Director), Philadelphia Independent Film Festival (Finalist: Outstanding Drama), New Haven Film Festival, and The AltFF Alternative Film Festival in Toronto (Finalist: Best North American Short Film). Justin is most driven to produce work that addresses class and power structure by means of dark comedy and drama."
Jessica Ryan BIO: "Actor, writer, and producer from Brampton, Ontario. Jessica is a student in the BFA acting program at Pace University. Her feature screenplay and short film Green Shoes has been the official selection for several festivals including the Oaxaca FilmFest, AlfFF Alternative Film Festival, New Haven International Film Festival, and the Women in Cinema International Screenplay Competition; winning "Best Actress" and "Best NJ Short" in the "Hang on to your Shorts!" Film Festival. She is also a published poet and can be read in the "Waves on the shore" poetry compilation. Her acting can be seen in short films such as Kissing Drew, The Blackwing, Kitchikewana, and A Morning Rose."
https://www.facebook.com/greenshoesfilm/
http://www.justingiegerich.com/