NJ DISCOVER SPOTLIGHT ARTICLE: Previewing An UPCOMING Magical ZOOM Performance During the Pandemic, for this September, at 2020 KEYBANK ROCHESTER FRINGE FESTIVAL, the virtual production of the play COLLECTED STORIES by Donald Margulies Starring ANNEMARIE HAGENAARS, JUDY ROSENBLATT, and Directed by AUSTIN PENDLETON –  MY MORNING ZOOM Interview with all three.  By Calvin Schwartz August 27th 2020  (yes, a long title to the article)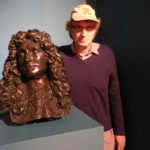 Where do I begin? The talent, experience, energy of all three 'interviewees' this morning (see picture). The purpose of this article is to light the fires of awareness that this play is being performed virtually in September and is very affordable to watch; a perfect vehicle, two actress play.
11:00  AM, August 20th 2020. The four of us on a Zoom screen. I kicked the conversation off by exclaiming how wondrously humbled I was to be in their company. Next, I quoted a #SaturdayNightLive character, "I am verklempt." Basically, means close to speechless; an honor for me to be with this accomplished ensemble. Here are the details – Synopsis, Performance dates and times, and the bios of the two actresses and the director:
COLLECTED STORIES (Synopsis) is a highly entertaining and thought-provoking play that features two of Donald Margulies' most memorable characters, who move from mentor-mentee to friends to rivals tangled in a conflict of intellectual property rights and betrayal. Ensconced in her cozy, messy, book-infested Greenwich Village apartment, Professor Ruth Steiner, an aging short story writer and professor, agrees to take on 26-year-old graduate student, Lisa Morrison, as her assistant. Over the course of six years, their student-teacher relationship evolves. When Ruth shares the details of her youthful affair with real-life poet Delmore Schwartz, the question of who has control over memories – the one who lives them or the one who writes about them – is the complex dilemma that confronts the young author and her revered mentor.
The play will be performed via Zoom. Here is the website for further info: www.rochesterfringe.com
Performance Dates & Times: Tuesday, 9/15 5:30pm
                                                  Saturday, 9/19 5:30pm
                                                  Monday, 9/21 6:30pm
                                                  Thursday, 9/24 7:30pm
Tickets: $5
AUSTIN PENDLETON (Director) is an Obie and Drama Desk awarded actor, (Directing THE LITTLE FOXES on Broadway, with Elizabeth Taylor) and a Tony Nominated Director. He has performed in well over 100 films (my personal favorite being the 'special" lawyer in MY COUSIN VINNY).  A Yale theater grad, and a longtime member of Steppenwolf, Mr. Pendleton most recently appeared in CHOIRBOYS and LIFE SUCKS.  He played opposite Meryl Streep and Kevin Kline in MOTHER COURAGE AND HER CHILDREN  and  played Motel in FIDDLER ON THE ROOF. He is an incredible playwright, (UNCLE BOB, ORSON'S SHADOW, and BOOTH), a Bookwriter, THE MINISTERS WIFE, THE APPRENTICESHIP OF DUDDY KRAVITZ) and also teaches acting at HB Studio in NYC.
ANNEMARIE HAGENAARS (Lisa Morrison)  (Please check NJ Discover interview at njdiscover.com   ( https://bit.ly/2YlcQOf ) studied Physics and Astronomy in the Netherlands.  After her graduation she started writing and performing her one-woman show, THE STORY OF THE EINSTEIN GIRL, a haunting play about Einstein's daughter. She then came to New York to further pursue her acting career.  "I did my first SAG feature, THE ARTIST'S WIFE where I was on set for two days. It was an amazing opportunity to meet and exchange life stories with Bruce Dern." Among her other theatre credits, Annemarie appeared off Broadway, in CASABLANCABOX, ROMULUS THE GREAT and GIRL GONE: OR BEFORE A LEAGUE OF THEIR OWN (in which she played the lead role of baseball coach Reid). A fun detail is that Annemarie performed in another Donald Margulies play THE COUNTRY HOUSE in 2016 three weeks after her big move from the Netherlands to NYC. 
JUDY ROSENBLATT (Ruth Steiner)  Trained at #Cornell University and The Central School of Speech & Dramatic Art in London. She also studied with legendary teachers including Joseph Balfior, Sanford Meisner, William Esper, Uta Hagen and Austin Pendelton.  Film/TV: Amazon Prime Episodic, HUNTERS, (with Al Pacino and Logan Lerman), THE COBBLER (Tom McCarthy, Dir.) with (T.V. Series) Adam Sandler, Dustin Hoffman, and Steve Buschemi, and  THE SOPRANOS (T.V. Series). NY/London Theatre: WOMAN BEFORE A GLASS, (Austin Pendleton, Dir.) Abingdon Theatre, NYC;  Jermyn St. Theatre, London; Bridge St. Theatre, Catskill; Rochester Fringe, 2018; Understudy for Roberta Maxwell and Marcia Rodd in HELLMAN v.. McCARTHY  (with Dick Cavett), Abingdon Theatre, (Jan Buttram, Dir.); THE BISCUIT CLUB, Cell Theatre (Kira Simring, dir.); MOSES, THE AUTHOR, Fringe, NYC Encore Series (Amy Wright, Dir.)
Remembering the purpose of this interview, we talked about COLLECTED STORIES by Donald Margulies. Austin said: "It is brilliantly written. It revolves around the real Delmore Schwartz and the dialogue is utterly specific. The more specific, the more it reflects life." Annemarie added, "There is so much opportunity to dive into the characters. It's been a pleasure working with Judy and Austin. And I just met them recently back in March. I've never seen them in real life, only virtually."
I asked Austin his thoughts about putting on this play on Zoom, with just the two women characters. "At HB Studio where I teach we started doing classes on Zoom. I found that this platform works very well for two-character scenes. When you play a scene, you want, emotionally, the other character to be in same room with you. Zoom makes it even more of a challenge to "get the other person in the same room" because they can't be, which fuels the electricity in the scenes. The relationship between Ruth and Lisa is literally a coming together and a falling apart."
Judy mentioned there will be four performances at KeyBank Rochester Fringe Festival and after the pandemic the actresses have the long-term intention to do the play in theatres all across the USA and in London and The Netherlands.
The hour was gone. Austin had another appointment and I knew we had created the particulates of desire for people to see this marvelous play, COLLECTED STORIES, which you can all see virtually and unbelievably affordably, in September.  Of course, I pinched myself beneath the camera's view. I do that when I'm thrilled with the people I interviewed. Actually, this Zoom interview was a highlight of my last five pandemic months being in a sequestered state of mind.  See you in September.  Calvin Schwartz
CONTACT INFO  ROCHESTER FRINGE  https://rochesterfringe.com/
ANNEMARIE HAGENAARS: http://www.imdb.com/name/nm2703710/
http://www.annemariehagenaars.com/
Social Links:
https://www.linkedin.com/in/annemarie-hagenaars-9b171742/(LinkedIn)
https://www.instagram.com/annemarie_hagenaars/(Instagram)
JUDY ROSENBLATT: http://womanbeforeaglass.com