HUMAN INTEREST: ROBBED IN JERSEY CITY on June 9th 2019 by MITCHELL LACSAMANA  with Intro by Calvin Schwartz
Through the magic of Linked In, quintessential social media, which means wondrous utility and practicality, I met Mitchell Lacsamana in November. It was Rutgers commonality and connectivity. A few weeks later, December, and a College Avenue coffee shop. Hours of shared visions and explorations. He is unbridled energy, passion, unlimited knowledge, an extended millennial, yet we connected on so many levels. Mitchell became an inspiration and mentor for me. He ignited my journey into a new brand of social media which means I'll never be the same. Substantial gratitude to Mitchell at Spurantics. When I heard of their robbery, just a few days ago, I had to share, with this admonition to NJ Discover readers, to help spread the word.   Much thanks. Calvin Schwartz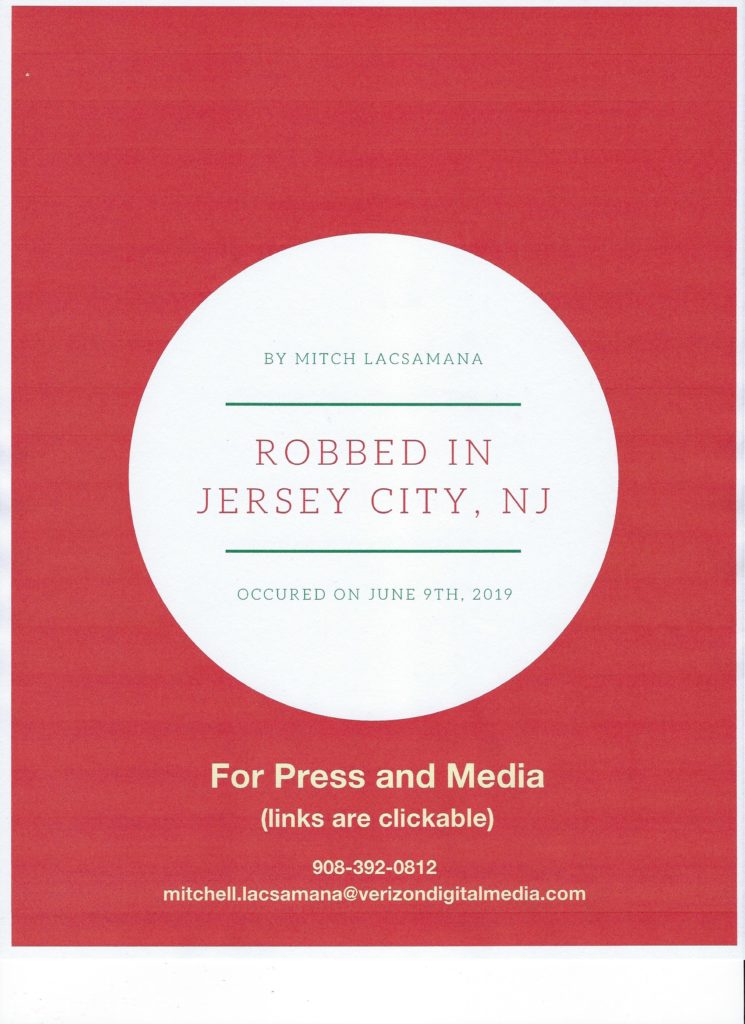 M Y  S T O R Y  by MITCHELL LACSAMANA   
Having lived in Jersey City as my parents had over 25 years ago when they immigrated to the United States, I've met so many incredible community members and feel ingrained with the culture here.  As a 1st Generation American born Filipino and Rutgers University Engineering Alum, working with  Verizon and Co-Founding Spurantics, I speak frequently at conferences, summits, events, and I hostmy own show where I sit down with esteemed entrepreneurs.
This is where my heartbreak comes in.  Stored within the stolen files lies over +40 recorded video sit downs with some of the most incredibly diverse individuals that are irreplaceable. Some notable sitdowns we've recorded include
-Bob Young (Co-Founder of Redhat)
-Jesse Itzberg (Serial Entrepreneur)
-Mitchell Modell (CEO of Modell's Sporting Goods)
-Brandon Copeland (New York Jets)
-Issata Oluwadare (Dean of Student Affairs for Rutgers Honors College)
-Ashley Newman (Queen of Bud)
The scariest thought is the idea that the suspect might have thrown away this footage simply because he doesn't know the worth of it.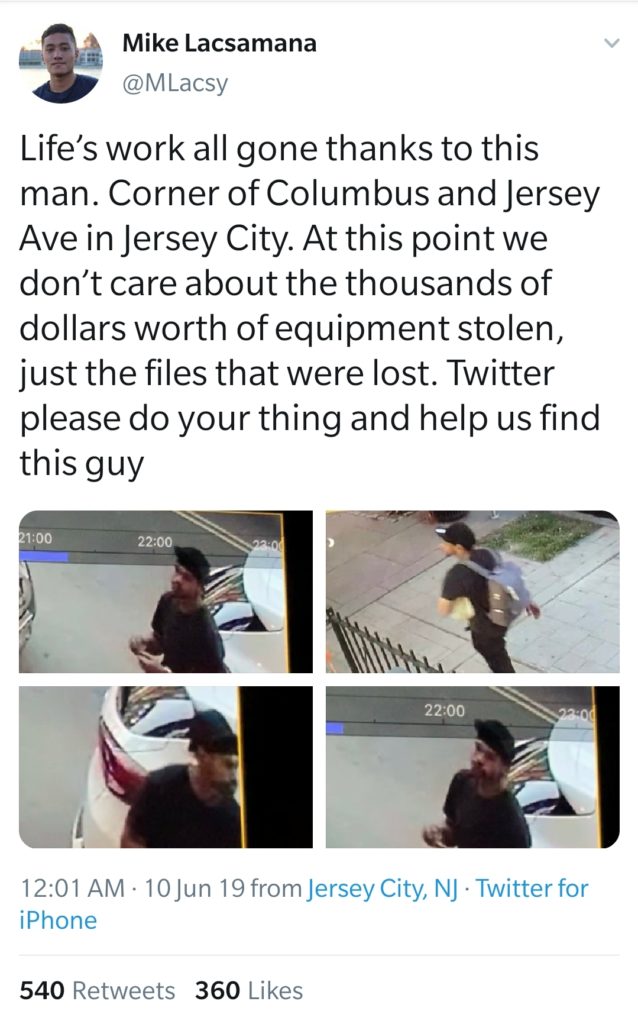 On Sunday June 9th, at approximately 8:12pm (EST) in downtown Jersey City, a white 2017  Hundai Tuscon was robbed in broad daylight. The last location from the Find My iPhone app was on the intersection of Grove and Columbus.  Victims of the robbery include Rutgers Engineering Alumni Mitch Lacsamana and Mike Lacsamana, as well as South Jersey natives Julian Dorey and Sydney DiBernardo. The suspect was recorded leaving the scene (515 Jersey Ave) with Mitch's Vinta backpack containing over $8,000 in cameras, phones, and hard drives, along with a makeup bag and iPhone belonging to Sydney.
This cost meant nothing compared to the hundreds of hours of footage stored within those hard drives, containing interviews with some of the most influential people of the 21st century. A few include Redhat Co-Founder Bob Young, Serial Entrepreneur Jesse Itzler, and New York Jets player Brandon Copeland.
Mitch states "The scariest thought is the idea that the suspect might have thrown away this footage simply because he doesn't know the worth of it."
What the suspect would soon discover is that he chose the worst people parked in downtown Jersey City to rob. Leveraging footage of the suspect, the victims went home to launch one of the most effective media campaigns a B&T (Breaking and Theft) in Jersey City has ever seen.  Within 48 hours, hundreds of thousands of organic engagements flooded from all corners of the social media sphere with Instagram, Facebook, LinkedIn, and Snapchat all accompanying a single viral tweet. Local community leaders and business owners came together in solidarity to bring awareness to this suspect. Even more interesting, solving this case might help cease the uptick of burglaries within the area.
If it had not been for the unsolved robbery a couple of months back, Ai Pho & Vermicelli would not have installed the very security surveillance system that recorded this suspect in its cross hairs. More recently just three days prior, the restaurant across the street reported an attempted burglary. The building next door wasn't so lucky, a theft two weeks ago resulted in a loss of thousands of dollars' worth in construction equipment.
What began as a renegade response has transformed into a message where is the accountability? Will these cases ever get solved? As the investigation heats up, we urge everyone in the Hudson County area to be on the lookout for the distinct Vinta Backpack and to call the authorities if you recognize the suspect in the video.
We have personally been working with local business owners and members of
the community to help law enforcement identify and capture the suspect.
Any help with finding this suspect and spreading awareness for our local
communities would be so greatly appreciated.
You can schedule a meeting directly with me for more information with this
link here.
I'll be happy to answer any/all of your questions, and again, thank you for
your time and consideration.
http://bit.ly/june9throbberychat
Our Viral Tweet
http://bit.ly/2R20dml
Facebook Post #1
http://bit.ly/investigationfbpost1
Our Instagram Post
http://bit.ly/investigationIGpost1
Facebook Post #2
http://bit.ly/investigationfbpost2
The robbery occured while we ate dinner a couple blocks away at Pasta y Vino
off of Grove Street, Jersey City.
Including myself, the other victims include
Sydney DiBernardo
Car Owner
609-617-3494
Julian Dorey
Co-Founder of Spurantics
856-332-0161
Michael Lacsamana
Brother and Co-Founder of Spurantics
908-392-0279
Mitchell Lacsamana
Co-Founder of Spurantics
908-392-0812
The last known location of Sydney's stolen iPhone was recorded from the "Find
My iPhone App" almost an hour after the robbery occurred.
http://bit.ly/investigationscreenshot