NJ Discover Exclusive; A Journey to the Future of Sound. My Day with BEN WHITE, Inventor, Founder, CEO Dome Audio (Disruptive Headphones) by Calvin Schwartz   March 3, 2020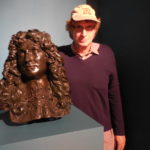 The story to the story. Five weeks ago, Tim Wright, a football hero from Rutgers and the NFL contacted me. I'd done an article for njdiscover.com five years ago on Tim's philanthropy and his camp for inner city kids, 'Friday Night Lights.' Tim went on to be a guest on our NJ Discover TV Show (along with comedian Mike Marino). Tim now had his journey through the NFL and his new world at Dome Audio and the future of sound and headphones. I was down for this interview for many reasons.
Synchronicity is always extant in my life. It was Jay Z's early PR person, Tonya Payton, who appeared in my life five years ago, and brought me to Tim and also brought Tim to Ben White, founder of Dome Audio a few years ago. Indeed, swirling synchronicity. I did my journalistic due diligence with Tim and his journey leading to Dome Audio. The next logical evolution was meeting Ben White.
And here we go. A Monday morning trip to Rahway where the prototype laboratory for Dome Audio research and development resides. A brave new world walking in to high-tech, strange sounding equipment on the left, buzzing every few seconds, and a long line of what seemed to me, as motherboards for hard drives, lined up neatly on my right. I spotted a vitamin supplement on the counter and commented because I have been taking 60 supplements a day since 1965. He opened a cupboard revealing his ingestion supplements. Our bonding and synchronicity were flourishing.
Ben suggested we talk, then head-out for some BLAZE thin crust pizza and come back to the lab. So, Tim, Ben and I sat in a semi-circle. I said to Ben, "This is Your Life." Reference to the old television show from the fifties. It showed my age. They laughed.
"How about starting with early Ben?" I did mention Googling him the night before and his invisibility was pronounced. He likes it that way. "Around 11 to 12 years old, I was into music, starting with the bass guitar… One of my best friends had a drum set, so I took a shot at drums." As it turns out Ben stayed with drums for over 25 years, and still plays today.  It was his desire to pursue music. "My older brother plays bass guitar and I wanted to be like him… He was my inspiration, my first mentor and I wanted to be a musician to hang with him."
At 16 years old, the two brothers were working in a band together. Ben played in school bands throughout elementary and high school and then eventually dropped out, in his second year as a music major at Bronx Community College, to go pro and pursue music full time. "I taught myself piano, music production and engineering… By 1984-1985, launching my career as a writer-producer and working with some of the music industry's most notable R & B artists, namely GQ and Keith Sweat (both multi-platinum recording artists)."
"In 1991-1992, I partnered with Jeff Foxx. (one of New York's most popular radio disc jockeys on 98.7 Kiss FM). Jeff is a bass player and developed a radio show band akin to the Tonight Show Band. I collaborated, as music director, on the "Foxx Project" for more than ten years. Throughout that journey, we had the honor of working with music legends like Al Jarreau, Bobby Humphrey, Jimmy Castor, Isaac Hayes, Roy Ayers, Najee, Salt & Pepper, Doug E. Fresh, to name a few."
I'm writing all this down, so hugely impressed and wondering how Ben became this amazing inventor. It's like I don't see this coming.
"By 1997-1998, I asked myself "what's the next chapter for my life?" I had another passion since I was eight, in becoming a doctor so, I went back to school and got a Bachelor's degree in Metaphysical Science." He is also Board Certified in Neuro and Biofeedback technology. This was the beginning of the transition from music to tech.
On his journey, he met "heavyweight" Larry Schultz, a Chiropractic doctor who greatly inspired his transition into the world of invention. By 2009, he started going deep into tech, exploring strobe eyewear technology which trains visual reflexes by simulating game day experiences, i.e., cognitive stress, in sports. The next five all-consuming years were spent in R & D and prototyping his first invention… "a process not for the faint hearted."
Tim, busy on his laptop, added, "after the Super Bowl, I wanted to capitalize. Tonya (Payton) told me about Ben and we connected." I added that in May, Tonya somehow discovered me and introduced me to Tim.
Ben smiled at the connection history. "I met Tonya through my brother who dated her. He told her about the work I was doing with strobe glasses… I was working on applications for sports visual training. Later, I began working on algorithms, quicker frequencies for different types of cognitive stimulation via the optic nerves…thereby increasing blood flow to the occipital region of the brain… essential protocols that may be useful one day with cognitive decline issues such as Dementia and Alzheimer's. There are also Military applications that function like Sports sensory training protocols… and finally there are medical training applications for practitioners like laparoscopic surgeons…. a few of which I had the privilege to "beta train" at Cedar Sinai Hospital, Beverly Hills, CA., which is still in development. It's all about cognitive calibration (Neurobics-brain training). It's all in the algorithms." I shook my head trying to fathom and understand. Not
Then Ben talked about sympathetic resonance. (Best to Google it). It's frequency energy that we all have. Everything embodies algorithms (frequencies).  "Much of my understanding has to do with my years as a drummer…Tempos, how frequencies patterned and crescendos." The strobe eye wear project is evolving nicely with lots of serendipitous advancements. 
 "In an attempt to expand from visual to audio technology, I turned to bone conduction technology (i.e. transducers, e.g., speakers).  As I researched bone conduction headphones, I discovered that every model on the market only had two speakers (placed in front of the ears). I reasoned (from my experiences as a producer of music) that two speakers were OK for audio books and podcasts, but would not suffice with achieving full fidelity… like conventional headphones… I surmised that two transducers had to be doubled… Hence more acoustic response equals the birth of Dome Audio technology… Bone conduction headphones, in their conventional functionality, are not sufficient for full-fidelity audio listening." He invested a year in R & D to achieve a suitable ergonomic design (patent pending), dynamic transducers (speakers), custom electronic design, and marrying everything in their prototype, now in its third iteration.
"I didn't know exactly what I was looking for… With each step I would sense what I thought was needed… what I wanted to create (a process akin to producing music) … I figured out how to write patents, starting with provisional patents to protect the ideas for one year… Regarding Dome headphones IP, there are two Designs and one Utility Patents Pending, and two granted Trademarks… and multiple patent applications in the Queue… The single biggest bleed (financially) for start-up tech companies are R & D and Prototyping. From experience, we understood very early how to solve that problem by reinvesting and establishing our own "Prototyping Lab." All prototypes and iterations are produced in house, which mitigates tens of thousands of dollars each month in outsourcing costs!"
In 2018, Ben and Tim joined forces and began working together. Tim was in the same place, "What's my next chapter in life." Great chemistry superseded formality and the rest is history. Over the last 1 ½ years, they've been building Dome Audio from the ground up. They raised over 200 thousand from seed investors because they have something so very viable. "As independents, we are principled in being self-sufficient and not totally reliant on outside sources."
Ben segued to his three children. "Life force is bigger, watching life unfold. Protecting, providing and nurturing them… and how that's somewhat analogous to "giving birth" to inventions (headphones, strobe glasses, etc.) witnessing it morph, coming into its own existence in front of me."
"Once Tim and I partnered, we were able to fine-tune a unique feature that we refer to as accessorizing." I called it boutique branding with literally a million brands waiting for their moment on Dome Audio headphones. It truly is limitless, infinite.
Next Ben started talking about the movie, "The Founder" (about the McDonald brothers, founders of McDonald's Hamburgers. "Why?" I asked. "Remember in the movie, someone told Ray Kroc that he wasn't in the Burger business, but rather in the Real Estate business. Once Ray Kroc realized that by owning the real estate that McDonald's franchises were built on, he became an integral "partner" in McDonald's Hamburgers global success. Similarly, we (Dome Audio) realized that we are not exclusively a headphone product company (just another listening device). Our interchangeable Dome Covers (patent pending) has "real estate" (surface space, "mobile billboards," for promoting brands) which affords us limitless opportunities to engage in collaborations with iconic and emerging brands across all industries. Dome Audio is a tech company in the "Headphone Real Estate game," Branding "headphone real estate" in an ingenious way, to accessorize. Dome is a disruptive headphone and branding, a fashion experience!"
Ben had promised me the week before that if I came down to Rahway, we would go out for this great thin crust pizza. "Are you ready Calvin?" I was ready such that I was in intermittent fasting mode. We'd come back and finish the interview with my favorite questions.
To Blaze Fire Pizza. A chain in part owned by LeBron James. You design your own pizza from sauce, to cheese, toppings, endless combinations.  As Ben was ordering, I mentioned that I don't eat red meat. He didn't either. We were exactly the same, called flexitarians, only poultry and fish. Another synchronistic bond between us. Hard to put in words. So very refreshingly special to share so much.  Oh, the pizza was great too.
Back at the lab. Satiated. Winding down our time together.
"So, Ben, Living or Dead, who'd you like to have dinner with?" He was deep in thought, commenting on how many answers. "My mother. R.I.P." 
"Five things you can't live without." Answers instant. "God, Family, Business, Music and Amazing People."
"Before I leave this earth, I won't be satisfied until I…?" "I'm all used up!"
"What keeps you awake at night?" "The drive to realize the full potential of Dome."
Next, we took a tour of the stages of development, equipment, the machine making that funny noise every few seconds, (some kind of 3D thing). There were stacks of experimental speakers. Ben mentioned the speakers now are 2.5 whatever that is. I didn't ask.
Our day had become five hours including pizza drive and mastication time. We hugged, shook hands and strangely, Ben mentioned his sauna. I did my, "Huh?" A few steps, and a real beige wood sauna at the entrance of the lab. I never noticed it. "I've been doing the sauna since 1998. For me it is the fountain of youth. If I can't find the time to exercise, then I sweat in this sauna, sometime twice a day. It'll add quality years to your life… A process of expelling toxins. Twenty minutes in the sauna is equivalent to a two-mile run… I had no releases in my life, no alcohol, no drugs, so the sauna for the last 22 years."
We hugged again. Shook hands. I marveled at our synchronicity, chemistry, destiny. The sauna thing resonated even more. I mentioned trying to sell this sauna thing to my wife, thinking it would become an historic day all around, meeting Ben. Later that night I got an email from Ben saying it was an historic day. Indeed, it was.
FYI: Dome Audio Inc. is a disruptive tech company introducing "The Ultimate Headphone Experience". Dome is the multi-patent pending holder of the World's First Bluetooth Surround Sound Bone Conduction Headphone, which has uniquely captured Audio, Fashion, and Branding in one unmistakable design with FOUR speakers. Therefore, it is the future of sound.
MORE DOME INFORMATION LINKS;
Dome Audio Product Overview:  
https://domeaudio.vids.io/videos/189cdbb11e19e4c790/dome-audio-promo-black-friday
Philosophy of Dome:
https://online.flippingbook.com/view/875130/
Dome x The Future Kingz:
https://domeaudio.vids.io/videos/7c9cd8b11b1ce8cdf4/dome-x-the-future-kingz  
Dome Website:     
domeaudioinc.com
SOME RUTGERS REACTIONS TO DOME HEADPHONES: