Behind the Scenes:  Rutgers Men's Basketball Team Media Day. Interviews. Practice. Prognostication.  By Calvin Schwartz AND  IN DEPTH With Geo Baker, Shaq Carter, and Ron Harper Jr. By Juan Guarin for NJDiscover    November 2, 2018
My second year at Rutgers Basketball Media Day. I've been a Rutgers season ticket holder for 20 years, played and watched basketball for a solid six decades, so somewhere in this hardwood journey, there are descriptive words for me, akin to authority, expertise, passion. Journalism for me now is a perfect evolutionary expression. A need also exists to be a bit quirky, distancing my writing from traditional sports journalism. Interviewing for elemental fun.
A few dozen sports journalists and broadcasters attended Media Day. After an introduction by Kevin Lorincz, Rutgers Senior Associate Athletic Director for Communications, Coach Steve Pikiell came to the microphone. I'd prefer to extract highlights from the coach, rapid fire.
"I love the job… tons of things going on… I was with the Wrestling coach the other day…they are in the top 20… Field Hockey, top 20… Coach Stringer, three games from 1000 victories… I love my team… season tickets are up… recruiting up… I like my team… there is a new chemistry… we're improved in every area."
Next coach talked about the team, from seniors to freshman class. The player analysis is on line, in media guides and at https://scarletknights.com/
 "We have to get back to rebounding and defense… we're way ahead offensively… and excited where the program is… my whole staff; they tried to steal them but they're all back… great continuity… unbelievable chemistry… the kids are in the gym all the time… they want to be at Rutgers… they love the athletics, academics, social life and the Big Ten… they want the challenge… It's the best conference academically and athletically… we get better every year… it's the best league in the country…we have 20 league games and a difficult non-league schedule… our passing is 1000% better… talent improved… and don't forget that the fifth-place team in our league (Michigan) played for the National Championship."
Next, the team sat down for individual interviews with media who jumped from table to table, microphones, note pads, camera and action. Fun stuff. I wanted the players to get a good visual memory of me, so I showed them a very old picture (on left) of me jumping ball in a tournament game in Canada, March, 1963.  I was hugely elevated, out jumping a guy my same height by two feet. Next, a copy of a letter the Rutgers- Newark basketball coach wrote, asking me to play for the team, October 1966. Visually, it facilitated bonding. I prefaced my questions by saying they're fun, insightful and basically far from basketball.
The questions asked. Basketball role model? (basketball) Living or dead who would you like to have dinner with? (dinner) Five things in life you can't live without? (five). What keeps you awake at night? (night) Favorite movie? (movie) Before I leave this earth I won't be satisfied until I……….? (earth)
It was an impossible assignment to get to the whole team before practice.
NICK BROOKS  (#1) Junior guard. Red shirt. Major-journalism
(basketball) LeBron James because of who he is on and off the court. (dinner) Michael Jackson and Tupac Shakur. (movie) 'Space Jam'. (night) Thinking about what I can do to be better and listening to music. (earth) Writing my own story.  
Nick is a journalism major. And I mentored 14 students last semester in journalism, media and communication. So, we'll stay in touch.
SHAQ CARTER  (#13)  Junior forward. From Florida.  Major-labor studies employment relations.
(basketball) LeBron James. (five) Air, water, food, technology. (earth) Take care of my family.
MAMADOU DOUCOURE  (#11 ) Soph. forward/center
(movie) 'Beasts of No Nation' (Civil war rages in Africa, a fierce warlord trains a young orphan to join his group of guerrilla soldiers.)
(basketball) Joel Embiid who plays for Philadelphia 76ers originally from Cameroon.
(earth) Have a good basketball career.
JOEY DOWNES (#10) Soph. guard. Major-Engish
(basketball) My two older brothers. David Goggins ultramarathon runner, ultra-distance cyclist, triathlete and former world record holder. He is a retired United States Navy SEAL. Joey suggested I research Goggins. (movie) 'Catch Me If You Can' 'Dark Knight' 'Finding Nemo.'  (night) School work. Thinking about the future. (earth) Seeing my kids have kids.
MONTEZ MATHIS  (#23) Freshman guard.  From Baltimore, Maryland. We talked about my favorite deli in Owings Mills and my hanging out in Maryland.
(basketball) My family are my role models. (movie) 'Cooley High.' House Party 1 and 2.' (dinner) Dr. Martin Luther King, Bernie Mack. (night) When I'm just thinking about a lot of things.
CALEB MCCONNELL (#22) Freshman Guard From Jacksonville, Florida
(basketball) Steph Curry (It took him a minute. He had several role models.) (five) God, parents, family, basketball (movie) 'Blow.' Johnny Depp   (earth) To be successful financially, playing in a league. (night) Just everyday distractions keep me up at night.
LUKE NATHAN (#55) Soph. forward/center. Randolph, New Jersey 
Major-business
(basketball) Tim Duncan. I like the way he carries himself. (dinner) Michael Phelps. His answer a bit synchronistic as I had written about Michael Phelps just the other night (my 2nd novel) when he was competing in Beijing. (five) Food, family, basketball, beach at Long Branch. (movie) 'Captain Phillips' 'Star Wars.' (earth) Until I travel the world.
Finally, media was invited to watch practice. Since I had a Rutgers 1776 Magazine writers meeting later that night, I stayed and watched practice until I was the last media left. I do have some observations, without revealing trade secrets. The passing was so very improved; sharp, cerebral, effective. There was a special spirit, pervasive. The team were into each other, constantly supporting, high-fiving, genuinely caring. Where does this come from? Coach Pikiell and staff. The kids so open to absorb and learn. The air in the building inhaled through deep breaths, attitude, spirit, the unpalpable as I call it. Times are changing. So glad I'm into my 22nd year watching Rutgers basketball. Dreams come true. I just clicked my heals.
Calvin Schwartz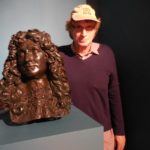 IN DEPTH With GEO BAKER, SHAQ CARTER, and RON HARPER JR. by JUAN GUARIN for NJDiscover   
Rutgers Men's Basketball's regular season is set to start November 9th against the Fairleigh Dickinson Knights right at home in the RAC. Expectations are running high for this young core of shooters, as returning players like Geo Baker, Eugene Omoruyi, & Issa Thiam are expected to step up as leaders for this young squad, while incoming players like Shaq Carter, Montez Mathis, & Ron Harper Jr. infuse a vibrant amount of youth and raw talent into this squad.
With so many expectations riding on Coach Pikiell's squad, it's important for these guys to keep a cool head, relax, & have fun.
I sat down with three of these gentlemen to talk a little basketball, but also asked them some down-to-earth questions just to talk with them about things outside of the court.
GEO BAKER:
Juan: In your RU profile u said that if Sarcasm was an Olympic sport, you'd win a medal. I gotta ask, man, why so salty?
Geo: "I'm just a pretty sarcastic dude, pretty laid back, so, I just always use sarcasm when asking questions. People think it's pretty funny, which is what I usually go for."
Juan: What are your expectations going into this season, not just for the team, but for yourself?
Geo: "We want to win as many games as possible. I definitely have some personal goals, but all that comes down to whether you win or lose. I know last year, when we were winning in the Big 10 tournament and we were getting noticed, it felt great. But no one notices you when you lose. No one talked about Corey [Sanders'] 25 points in the last game of the tournament because we lost. But I want to be on the all Big 10 team, I know the freshman want to be on the all-freshman team, but all that matters is that we come together and win."
Juan: Speaking about Corey, we know that he's gone on up to the NBA's G-League. Was there any lesson he passed down to you to make sure you became the guy for Rutgers?
Geo: "One thing I learned from Corey was that whether he was making or missing shots, he still had to be that guy and his confidence was consistent. I need to learn to keep that composure. Sometimes, when I miss shots, I get a little down on myself. But now that I'm the guy, I gotta keep my composure for the sake of the team."
Juan: You said that a famous person you've met in your life is LeBron James. How'd that happen?
Geo: "I was very little. My grandparents lived out in San Diego, so I always used to go out there. Back then, he had a basketball camp for youth kids there, and I got to meet him, get his autograph, it was awesome."
Juan: As a kid, you used to play soccer, all the way up until high school. Who was your favorite soccer player growing up?
Geo: "I didn't really watch soccer growing up. Don't get me wrong, I loved playing it, I just didn't have a favorite team. I did like Cristiano Ronaldo, though."
SHAQ CARTER
Juan: What are your expectations coming into Rutgers after making the final four with Eastern Florida?
Shaq: "Well, in terms of expectations, I'm just trying to learn as much as I can, and do whatever coach tells me to do. I'm ready for whatever comes my way."
Juan: Your full name is Shaquille O'Neal Carter. Were you bullied because of it, were you always picked first for basketball, how was it like?
Shaq: "Well, at first, I was playing soccer, and I started getting really tall, thought that maybe I should try basketball. I wasn't always good, but my older brother pushed me to getting better and better. The name came from my grandma, and I'm not sure if she knew I would play basketball when I grew up."
Juan: You said that you met Drake while down in Eastern Florida. How did that happen?
Shaq: "Well, one of my previous teammates at JUCO knew Drake, so we got connected through him. Drake wore his jersey 103, because my friend scored 103 points in a game in Toronto. Drake hooked us up with some tickets and it was amazing."
RON HARPER JR.
Juan: You said that if you weren't playing basketball, you'd be an actor. Can you do any impressions?
Ron: "Oh no, not really. When I was a kid, I just used to think of acting as pretty fun. I used to just play around and that kind stuff, but never really took it seriously. "
Juan: I know you get questions about your dad a lot, but if you had to go up against him in his prime, who would win?
Ron: "I would win, definitely. I'll give him a little room, make him beat me from the outside, but I'll come out with the win. Sure, he's got 5 rings, I don't have any yet, but he's got to remember I'm still young."
Juan: Fair enough. Same question, but against MJ (Michael Jordan).
Ron: "Now we're getting carried away here. Uncle MJ, always. Can't beat him, don't think anyone can."
Juan: You're a [New] Jersey kid that decided to stay in state and come to Rutgers, not to mention you were undefeated here in Piscataway (3-0). What are your expectations going into your first season?
Ron: "I'm really excited for the season to start, and I want to just go out and prove a lot of people wrong."
Juan Guarin