Donate or Come to Rutgers Water Gala, Hosted by Passionate Rutgers Students. Goal. Raise $1500 to Bring Clean Water to Developing Countries. November 15th, 7-11pm. WHY? TIME. AWARENESS. THE SPECIES. TOMORROW. By Calvin Schwartz October 12, 2018
Talk about the alignment of the synchronistic stars, moon, and priorities of the universe. My writing this intro at this exact moment in time is perfect. Today is my seventh anniversary at NJ Discover. I'm replete with sentimentality and a fear; to be explained. Firstly, those of you who know me or don't; I've never made an appeal for monetary donations. Frankly, my dear, I never gave a damn because of being inundated with so many good causes, I didn't know what to do first. Political correctness always in subconscious.
A few weeks ago, I was contacted by Joy Bibaoui, a student at Rutgers University, whom I met a few years ago at a Communication Career Panel Discussion. She explained that Rutgers students have organized to put on a very first Water Gala, where 100% of ALL profits go towards communities in developing countries that lack clean water access. A lot more information below. Why me? My journalism and platform at NJ Discover. Proudly, I mentioned being at the very first Earth Day on April 22, 1970 so I was completely aboard to promote and write about the event.
Here's a huge cut to the chase. Folks, read on, find the place where even sending $10 to Water Gala makes such an impact in their wonderful efforts to provide clean water to developing countries that are in such need of the things (clean water) that we take so for granted. Please donate anything. It's a gesture that you are beginning to realize the depth of our climate problems. Water everywhere and disappearing.
Now, why my fear and synchronicity in writing today? We the human species are really running out of time. Examples of climate change. Yesterday Hurricane Michael, a scary devastating storm that seemingly came out of nowhere, entered the hot waters of the Gulf of Mexico and exploded. A portent of things to come. I am petrified for my son and future generations and our species. I love our species.
The subject of climate change is on the international front burner THE LAST FEW DAYS.  The world's leading climate scientists have warned there is only a dozen years for global warming to be kept to a maximum of 1.5C beyond which even half a degree will significantly worsen the risks of drought, floods, extreme heat and poverty for hundreds of millions of people. It's serious stuff. I am scared. This is a nice planet. Perhaps we've been living in the Garden of Eden all this time.
So please read on. Learn what these creative Rutgers students are doing to raise money for clean water. They don't need lots of money. Send something. Kind of like a gesture ($10) that you know we've got problems that need to get solved quickly. The species can't afford waiting and inaction. Yes, a gesture. A vote. A few dollars. An awareness. A hope.
Calvin Schwartz    October 12th 2018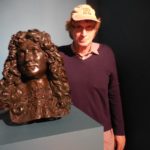 PRESS RELEASE
FOR IMMEDIATE RELEASE
Contact: Joy Bibaoui      Phone: 609-781-5420              Email: CharityWaterRU@gmail.com
Passionate Team of Rutgers Students hosting The Water Gala to raise $1500 to bring clean water for developing countries
The Water Gala is a formal charity event filled with food, entertainment, and tons of enjoyable activities for family and friends, where 100% of all profits go straight to charity: water, a non-profit that brings clean and safe drinking water to communities around the world.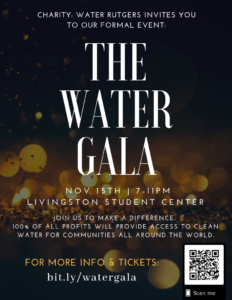 [PISCATAWAY, NEW JERSEY, October 10—] charity: water, a national non-profit organization dedicated to solving the water crises, has established its first student led subdivision at Rutgers University. The goal for the Rutgers chapter is to spread awareness about the water crises and allow students to be involved in bringing safe, clean water to developing communities. Rutgers students have hosted many awareness and fundraising events for their charity chapter, and they plan to expand even more through their first annual Water Gala. 
Charity: Water Rutgers is hosting The Water Gala at Rutgers University, a formal charity event open to the public. The mission of The Water Gala is to bring awareness to the water crises, and raise $1500 for clean water.
The event will be filled with food, dance and vocal performances, a keynote speaker, photobooth, Virtual Reality, an Art Gallery Auction, and many more activities for friends and families to enjoy together. 100% of all ticket sales, along with public donations, go straight to the field to create successful water projects. By reaching a minimum goal of raising $1500, 50 individuals will have lifetime access to clean water (learn more: https://www.charitywater.org
There is a $10 admission fee that goes directly to charity – tickets can be purchased here:   https://sabo.tix.com/Event.aspx?EventCode=1097799
The Water Gala will take place on November 15th, 7-11pm, at Livingston Hall in the Livingston Student Center. Tickets are $10 each, which will fully go directly to charity. The event caps at 150 seats, so it is recommended to buy tickets early, and to bring a friend! Formal attire is suggested. Tickets and more information can be found on their website: https://charitywaterru.wixsite.com/thewatergala   Their goal is for people to come out and support, it will be a great time, for a great cause.
There is a $10 admission fee that goes directly to charity – tickets can be purchased here: https://sabo.tix.com/Event.aspx?EventCode=1097799
charity: water rutgers is the first University Chapter for charity: water. Our aim is to bring clean and safe drinking water to people in need around the world, improving health, education, and opportunity – especially for women and children.
If you would like more information about this topic, please reach us at
EVENT DETAILS
Date and Time: November 15th, 7-11pm

Location: Livingston Student Center 
$10 / ticket that goes directly to charity (plus a mandatory $1.50 service fee from Rutgers Ticketing System)
Formal Attire Recommended 
EVENT DESCRIPTION
*Public event*
Get ready to make the biggest splash of all time at charity: water rutgers' very first Water Gala! With food, entertainment, virtual reality, photo booth, art gallery, Water Walk, and much more, you'll walk away knowing that you've helped someone get access to clean water! How? 100% of ALL profits go towards communities in developing countries that lack clean water access.
Come raise a glass and help us in our mission to spread awareness!
-There is a $10 admission fee that goes directly to charity – tickets can be purchased here:  https://sabo.tix.com/Event.aspx?EventCode=1097799
-Donations are welcome
-This event is PUBLIC! Bring your friends, family, co-workers, anyone!
-Formal Attire Suggested
Questions? Message us or reach us at 
CharityWaterRU@gmail.com
Water scarcity already affects every continent. Around 1.2 billion people, or almost one-fifth of the world's population, live in areas of physical scarcity, and 500 million people are approaching this situation. … Water scarcity is both a natural and a human-made phenomenon.
Facebook Event page: bit.ly/thewatergala (perfect place to get updates on event and reminders)
There is a $10 admission fee that goes directly to charity – tickets can be purchased here: https://sabo.tix.com/Event.aspx?EventCode=1097799
Contact info: