COMING ATTRACTIONS: MIKE MARINO, "Make America Italian Again Tour" at NJPAC April 7th    by  Calvin Schwartz    3-28-18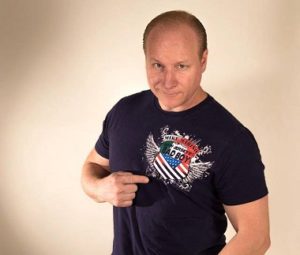 I've been watching Mike Marino in concert for more than a half-decade, when I saw him at the First Annual Asbury Park Comedy Festival. And now whenever Mike is in town, floating around his home here in the Garden State, I run to see him, so I can laugh for 90 minutes. These days I love laughing, and Mike's comedic grasp on our world, and unfolding history is precious and very funny. The best, now Mike is appearing at NJPAC in Newark on April 7th.  What a night. Check it out. He appears with Jon Bramnick, "the Funniest Lawyer in New Jersey" and hosted by Bill Spadea, television personality and top-rated morning drive radio host.
"The genius of Marino's humor is to take our modern (expletive omitted) lives and shove it under a comedic microscope.  And when you see him in concert, you get a chance to see the 'Marino' face; how he loves to laugh with the audience at his own humor; that genuineness and warmth draws us in and embraces. Even more than that, being a comedic snob, countless times looking at Mike, I can't help but see Jack Benny, who had one of the greatest comedic facial expressions as well as incredible timing. Benny was Johnny Carson's all-time favorite; Mike Marino's expressions and timing is right there with Jack Benny."  Calvin Schwartz (me) a while back on NJ Discover.com
For tickets go to  www.mikemarino.net
Sponsored by Northeast Spine Center, Rockstar Clothing @rockstarclothinginc, ReMax – Berkeley Heights, K9 Resorts, DiFabio Construction Company, Ace Tech Pest, Carmine's Pizza Factory @jerseypizzaboys and Direct Waste Services.
This Is Jersey – Mike Marino & Jon Bramnick at NJPAC : You Tube promo:
https://www.youtube.com/watch?v=72zhORhaTpE&feature=youtu.be