NJ DISCOVER TV SHOW: In Depth with Comedian Julia Scotti, Quarter-Finalist NBC's America's Got Talent AND Dr Gloria Bachmann, Professor of Obstetrics and Gynecology and Medicine; Director, Women's Health Institute Rutgers Robert Wood Johnson Medical School.  TUNE IN Thursday August 9th 8 PM njdiscover.com WITH hosts Tara-Jean & Calvin  

Often, I marvel at the exigencies of the universe, how a TV show comes together, the moving parts, commonalities, relevancies, timeliness. So yesterday (August 1st), with comedian Julia Scotti committed to appear on our August 9th show, the bright light bulb (as opposed to dim) of the aforementioned qualities, illuminated my perspective and I reached out to Dr. Gloria Bachmann and it all came together, bringing these two unique personalities, with distinct commonality of mission and purpose to our NJ Discover TV Show with hosts Tara-Jean and myself. What we've got here is a funny (comedic), serious, informative, timely, in many ways, TV Show with such very accomplished guests. Please join us or catch us throughout Central Jersey, local access TV on Princeton TV and most of Mercer County, Rutgers University TV, Long Branch TV, Old Bridge TV, Marlboro TV, North Brunswick TV, You Tube TV. A very poignant hour show. Also thanks to  Suzy Yengo from Catch a Rising Star Comedy Clubs for connecting us to Julia. 
Calvin Schwartz  August 3rd 2018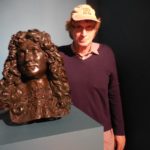 TUNE IN AUGUST 9TH 8 PM  njdiscover.com
ABOUT JULIA SCOTTI    http://www.juliascotti.com/about   
Julia is a nationally headlining comedian, former teacher, author, speaker, and woman of transgendered experience. She was a quarter-finalist and fan favorite on season 11 of America's Got Talent on NBC in 2016.
Originally from Fairview, New Jersey, for the first 48 years she was better known as comedian Rick Scotti. She toured the country, appearing at venues all over the United States and Canada, both as a headliner in comedy clubs and as an opening act for artists such as Lou Rawls, Chicago, and Frankie Valli and The Four Seasons. Julia has appeared on numerous television and radio shows as well as commercials.
In 2000, Julia left comedy to begin her life altering transition, and also to begin her new career as a teacher, where she remained for seven years. She was self-employed for a time, but in 2011, after a ten-year layoff from comedy, Julia returned to the stage. Her new brand of comedy is fierce, honest, and fearless. She has been described as a "force of nature", "a cross between Sam Kinison and Mrs. Doubtfire", and like a "chainsaw flying through the room".
Julia was a quarter-finalist on season 11 America's Got Talent in 2016. She was a judge's favorite with Simon Cowell saying "you genuinely made me laugh", and Howie Mandel quoted as saying "you have so much to offer, you are a joy."
In 2012, Julia had been named one of the Top Five Transgender Comedians in the country by Advocate Magazine. Since then, she has gone on to become the first transgendered woman and finalist in the New York Based Ladies of Laughter Competition. She has performed at the Boston Comedy Festival, and in 2014 was one of the winners of the Laughlin Laugh Festival in Nevada.
Today, you can find Julia performing at comedy clubs and theaters around the country. When she isn't making people laugh, Julia often speaks at teacher in-services on the subject of bullying and transgendered youth issues.
NJ DISCOVER 2016 INTERVIEW WITH JULIA SCOTTI: https://bit.ly/2vxN3mG
TUNE IN:  njdiscover.com  August 9th 2018 8 PM or You Tube njdiscover.com
ABOUT DR GLORIA BACHMANN
Women's Health Institute Website: http://rwjms.rutgers.edu/departments_institutes/whi_new/about_us/index.html
A leading expert in Obstetrics and Gynecology, Dr. Bachmann is a well-known authority on midlife and older women. She is Professor of Obstetrics and Gynecology and Professor of Medicine at Rutgers RWJMS. She holds numerous professional positions at Rutgers RWJMS and RWJUH, including the Interim Chair of Ob/Gyn, Associate Dean for Women's Health and Chief of the OB/GYN Service at Robert Wood Johnson University Hospital . Dr. Bachmann is a well-known authority on women, especially in the areas of midlife and menopausal health and sexual function. Dr. Bachmann currently serves on the editorial board of the journals The Journal of Sexual Medicine, Maturitas, Journal of Reproductive Medicine, Menopause, Medical Crossfire and Women's Health in Primary Care She has published extensively and has over 400 articles and chapters in the medical literature. Dr. Bachmann is actively involved in the American College of Obstetricians and Gynecologists (ACOG), an organization in which she serves in several leadership capacities.
Her excellence in advancing the health care field has been recognized by the profession, which has accorded her numerous awards. Honors include the Issue of the Year Award by the American College of Obstetricians and Gynecologists, Best Scientific Paper at the Annual Meeting of the American College of Obstetricians and Gynecologists, Editorial Board of Obstetrics and Gynecology, Editorial Board of Managing Menopause and numerous awards from Rutgers such as Best Teacher Award, and the American Medical Women's Association Gender Equity Award.
In 1995, Dr. Bachmann was the recipient of the Lifetime Achievement Award from the Middlesex County Commission on the Status of Women and in 1996 was selected by the Delaware-Raritan Girl Scout Council to receive "The World of Women" Girl Scout Award. For twelve consecutive years, (1996-2008) Dr. Bachmann has mentored OB/GYN residents, medical students and PhD students in research trials and these projects have gone on to be awarded national recognition such as the prestigious Woodrow Wilson/Johnson and Johnson Award in 2003. In 2000, she was honored by both the Robert Wood Johnson University Hospital and the Women's Health & Counseling Center for her advancing the health care field for women.
Dr. Bachmann was honored by American College of Obstetricians and Gynecologists (ACOG) as a recipient of the 2001-2002 President's Community Service Award. In 2002, she was given the New Jersey Academy of Medicine's Educator Award and awarded the Humanitarian Award from the Hemophilia Association of New Jersey. Also, in that year, ACOG placed the teaching video on bone health prepared by her into the ACOG Video Hall of Fame. In 2003, Dr. Bachmann received an Award of Excellence from the Women's Heart Foundation. As well, she mentored the resident in the Ob/Gyn department who won the first place for research in the 2003 Junior Fellow ACOG competition. In September, 2003 she was honored by the North American Menopause Society (NAMS) for her pioneering vaginal health research. In May 2004, Dr. Bachmann and her research team won second prize at the annual ACOG meeting for their teaching video on vulvodynia. In October of 2004, she was honored by Women Helping Women for her contributions towards women's health and in 2005 was appointed to the ACOG Patient Education Committee. Since 2005 she has been serving on the N.J. Governor's Women's Health Advisory Commission and the Women and Bleeding Advisory Panel to the Governor. In that year, she also served on the Clinical Advisory Committee for the Association of Reproductive Health Professionals and the National Women's Health Resource Center
In 2006 she was inducted into the National Library of Medicine as a Local Legend Female physician, a prestigious recognition, as she was one of two physicians selected from central New Jersey. In that year, she was also selected by UMDNJ as a Master Educator. Last year she was honored by the Rutgers-Newark Alumnae Society as an outstanding graduate of that school and recognized by the Russell Berrie Foundation for community outreach and volunteerism. This year, the North American Menopause Society named Dr. Bachmann as the chair of the national writing group that developed the clinical guidelines for local hormonal use in women as well as selected her as a member of their national writing group on systemic estrogen therapy. Also, in 2008, two of her research publications were chosen by the American Board of Obstetricians and Gynecologists as required reading for all physicians sitting for their recertification in obstetrics and gynecology. In 2009, she was asked to chair the ambulatory services committee for the state of New Jersey. Currently, she sits on the executive board of the New Jersey section of the American College of Obstetricians and Gynecologists.
Dr. Bachmann earned her BA from Rutgers University, an MMS degree from Rutgers Medical School and an MD degree from the University of Pennsylvania Medical School.
TUNE IN:  njdiscover.com  August 9th 2018 8 PM or You Tube njdiscover.com