The Evolution of October 17th Show,  "NEO-LATINO ARTISTS COME TO NJ DISCOVER LIVE TV"  TUNE IN  8 PM.  Monday October 17th   Hint: "NOT to be Missed. Hugely RELEVANT"    by Calvin Schwartz  October 9, 2016

TUNE IN MONDAY OCTOBER 17th  njdiscover.com  8 PM to 9 PM with your hosts Tara-Jean Vitale and Calvin Schwartz
ALSO SEEN on YOU TUBE TV, LONG BRANCH COMMUNITY ACCESS TV CHANNEL 20, RUTGERS UNIVERSITY TV, MONMOUTH COUNTY CABLEVISION CHANNEL 77, MONMOUTH COUNTY FIOS CHANNEL 44
Evolution means how it came about. With our upcoming special Neo-Latino artist themed show, it was a few blinks of an eye, a gaze to a painting on a wall followed by a conversation with the curator, Monica Camin, of the exhibit Neo-Latino: Critical Mass now showing at Monmouth Museum (Brookdale College) until November 6th.
When I was at the Monmouth Museum researching emerging artist, Dion Hitchings, Laura Alexander, museum public relations, suggested I glance at the setting up of their new feature exhibit "Neo Latino: Critical Mass."  As I walked into the exhibit, I first saw artist Ricardo Fonseca's "An Act of Love-Trumpet."  It was mesmerizing, relevant, cerebral and fascinating. I was captivated with all the art in the exhibit. Then I accepted an invitation to attend the opening reception on September 16th.  I love saying, "the rest is history."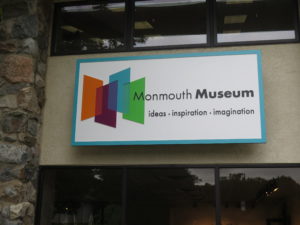 Prior to the reception, I sat down, as an interviewing journalist, in the museum garden, for an hour, with four of the artists, Raul Villarreal, who coined the term 'Neo-Latino," Monica Camin, exhibit curator, Olga Bautista and Professor Jose Rodeiro. The collective of artists representing at this exhibit is ground-breaking. It was explained that 2016 is a crucial year for the Latino voice, especially in this year's 'relevant' election.  The art in the exhibit is so expressive of the cultural and socio/political Latino experience. The artists featured have roots or ties to Argentina, Columbia, Cuba, Dominican Republic, Ecuador, Mexico, Panama, Peru, Puerto Rico, Portugal and Spain.
That light bulb of clarity, relevant and grasp suddenly went off in my vision. I've been on this mission to explore the exigencies of educating people. I was on that mountain top, seeing clearly, but not quite forever, and knew N J Discover could get involved in telling their story and exploring their art. The moment I suggested doing an NJ Discover TV LIVE TV Show, it was one of those simultaneous group moments of clarified vision. We all saw the light and possibilities to further bring awareness/ presence and voice of Latinos in the arts to mainstream. It's a journey to education and understanding.
Come TUNE IN to the experience with a very special group of Latino artists on October 17th 8 PM. Of note, I've mentioned the word, "relevant" often in this opening.
TUNE IN MONDAY OCTOBER 17th  njdiscover.com  8 PM to 9 PM with your hosts Tara-Jean Vitale and Calvin Schwartz
ALSO SEEN on YOU TUBE TV, LONG BRANCH COMMUNITY ACCESS TV CHANNEL 20, RUTGERS UNIVERSITY TV, MONMOUTH COUNTY CABLEVISION CHANNEL 77, MONMOUTH COUNTY FIOS CHANNEL 44
BIOS & RELEVANT INFORMATION ON APPEARING ARTIST GUESTS!!!
MONICA S. CAMIN
As an Argentine born, New Jersey and Texas-based artist, I experienced my upbringing in Latin America as a first generation Argentine. In the work presented here I examine my roots as the daughter of German-Jews who escaped the worst years of the Holocaust and found refuge in Argentina. The questions I explore in much of my work straddle the experiences of being brought up as the daughter of immigrants in Latin America and the experiences of personal immigration and identity in my adulthood as I emigrated to Israel and then the United States.
While the catalysts for the movement between countries differ vastly, the commonality that ensues is that the culture and communities that so strongly shape our identity and understanding of the world in which we live are uprooted, causing us to seek out and reinvent the stories that make us whole. I sift through my ancestral stories in order to connect to those roots that have been torn from their origins and to remember and pass on the stories of a living history whose survivors are aging.
DESCRIPTION OF REPRESENTED ART: Between the years of 1976 and 1983, Argentina was governed by military rule steeped in austerity and cultural genocide. Leaders of the military dictatorship called this the "National Reorganization Process," but the people called it "The Dirty War."
During this time, the economy was in chaos, jobs were not available, poverty was growing, and human rights were ignored. Individuals who were considered a political or ideological threat to the military- largely young people fighting for social change- were abducted, imprisoned, tortured, and killed. One method of torture was called the "Flight of Death"- victims were injected with a fatal substance and thrown from an airplane.
30,000 people- known as los desaparecidos- disappeared during this war. An estimated 500 babies born in captivity were given up for adoption, and left with no real identity.
PERPETUALLY SETTLING DUST (EL REZO) is both a meditation on the repeated atrocities of state terrorism and a prayer for a different future.
The piece was created in Buenos Aires, Argentina. The embroidery of the names was a call to the community, a call which was responded to immediately by the young people in the community and by the relatives of the desaparecidos.
JOSE RODEIRO
Contact Info:  jrodeiro@aol.com    Relevant Websites:  http://www.duendeart.org/#!jose-rodeiro/c1x0m
Jose Rodeiro was born in February, 1949 and was raised in Ybor City, Tampa, Florida.  Rodeiro's ancestry is Cuban-American.  Rodeiro received his BA in Studio Art from the University of Tampa; and his M.F.A from the Pratt Institute in New York City (NY) and his Ph.D. from the College of Fine Arts at Ohio University, Athens (Ohio).  Rodeiro is a former Professor of Art and Art History and a former-Coordinator of Art History at New Jersey City University. Jersey City, NJ.  His academic/artistic awards include a Visual Artist's Fellowship in Painting from the National Endowment for the Arts (1986-1987), a Fulbright Fellowship (as a Fulbright Scholar in Nicaragua) (1995), and a Cintas Fellowship in Painting (1982). Rodeiro has received major public art (mural) commissions from Tampa Arts Councils, Tampa, FL, and Maryland State Arts Council, Baltimore, MD.  He has lived and worked in Spain and Central America.  Nationally and internationally, he has exhibited in scores of acclaimed art exhibitions and his art is included within significant art museums, art institutions, and art collections.
DESCRIPTION OF REPRESENTED ART: José Rodeiro.  "Picnic at Bath Beach."     
Oil-on-canvas.   30" w  x  40"h.    2016.
ICONOLOGY:                                                                     
In early fall, 1890, during a friendly Bath Beach, Brooklyn, NY, excursion, José Martí entertained his goddaughter María Mantilla and her mother, Mrs. Carmen Miyares de Mantilla. Clearly visible, in the distance, are Admiral Giovanni da Verrazano's "Narrows" (which were first discovered by the Florentine in 1524). However, because it was not completed until 1964, missing from the background's calm Neo-Luminist seascape is the Verrazano Narrows Bridge.  Meanwhile in the forefront, all three figures and their picnic luncheon are shielded from Bath Beach's sandy-dirt by a woven brown Dutch carpet, symbolizing Jan Rodrigues's 1613 first Dutch settlement in the area, which became New Amsterdam (eventually New York City).   Held by Martí is the young child María Mantilla (a US-born citizen), who waves undersized Cuban and American flags that catch a brisk headwind, causing straw hats to be held tightly.  With a Masonic pin on his lapel, Martí sits on a portable metallic stool, dutifully embracing his goddaughter Maria Mantilla, who is the future mother of Cesar Romero Jr., the acclaimed Hollywood actor, who played the iconic DC Comics' role of "The Joker" (from 1966-68) on the "Batman" television show.   Via Amnesis aesthetic theory, hiding behind a picnic basket, between two Cuban breads, a string-puppet of "The Joker" is held by Mrs. Carmen Miyares de Mantilla (the grandmother of Cesar Romero Jr. aka "The Joker").  Carmen Miyares de Mantilla wears a lace mantilla, a visual-pun on her late-husband's name: Manuel Mantilla, who had died in 1885.  Her mantilla is clasped by a cameo-broach depicting a white rose signifying Martí's famous poem about friendship "Cultivo una rosa blanca."
Around and in the picnic basket are typical Cuban foods as well as a bottle of dark Cuban rum. The mysterious and menacing Atlantic Ocean connects Bath Beach to Cuba, as does the blue rubber kickball on which Carmen Miyares de Mantilla rests her right-elbow, which contains a green geographical image of Cuba.
TUNE IN MONDAY OCTOBER 17th  njdiscover.com  8 PM to 9 PM with your hosts Tara-Jean Vitale and Calvin Schwartz
ALSO SEEN on YOU TUBE TV, LONG BRANCH COMMUNITY ACCESS TV CHANNEL 20, RUTGERS UNIVERSITY TV, MONMOUTH COUNTY CABLEVISION CHANNEL 77, MONMOUTH COUNTY FIOS CHANNEL 44
RICARDO FONSECA
Contact Info:  rick@ricardofonseca.com    www.RicardoFonseca.com
Ricardo Fonseca has been a graphic designer for more than 20 years. He earned his MFA from New Jersey City University (Jersey City, NJ) and his BFA from William Paterson University (Wayne, NJ). He has been a graphic/web designer and photographer at Kean University (Union, NJ) for more than 12 years. He received design awards from the Arts Directors Club of New Jersey (ADCNJ) in 2010, 2011 and 2012. As a freelancer, he provides artistic consulting and creative solutions in design, fine art and photography.
DESCRIPTION OF REPRESENTED ART: RICARDO FONSECA   "GREEN CARD"  Digital Manipulation.
Green Card is an artwork that explores the topic of identity, and how that identity relates to the individual and mass society in the United States. The artwork is a reflection of this most precious legal document, which has been reproduced to a colossal size, and easily appropriated with the use of a smartphone camera, to be replicated effortlessly, infinitely, and in real time; and possibly shareable through very public means, such as social media. Each person that steps up to the mirror in Green Card, is actually reflecting back his or her own situation and journey. But, it's also an artwork of empathy, perseverance, and opportunity.
OLGA MERCEDES BAUTISTA
Contact Info: http://www.olgamercedesbautista.com
.Colombian-American sculptor Olga Mercedes Bautista has been awarded several certificates of appreciation from the mayors of Newark, Jersey City and Perth Amboy. She worked for the city of Perth Amboy as a Founder-Director of the Perth Amboy Gallery, as a curator of art exhibitions, organizer of the Festival of the Andes and art shows in the city for which she was in charge in securing grants. After receiving a Master in Fine Arts Education from Kean University, she became an art teacher at the Perth Amboy Education Center. Bautista has held this position for the past 17 years. Currently she is candidate for a Fine Arts Master degree from New Jersey City University
REPRESENTED ART: OLGA MERCEDES  BAUTISTA  "EL DORADO PROJECT"
"More than 113,000 trees were damaged or destroyed in the state of New Jersey two years ago due to severe winds and waves from Hurricane Sandy. Small branches, roots, and leaves among other debris were found scattered around through out the coastal area. Once the storm strong winds dissipated, organic materials could be found all around. They were laying on the beach sand after all the devastation.
A Colombian-American artist got inspired to make good use of those organic materials which although detached from their roots by mother nature were still blending in their new environment. She would assure us that those organic materials continued their own transformational process long after. In her own sculptures the artist tried to bring about an acute sensibility to the nature of the materials with which she worked. She wanted to show each minimal detail as if viewed under a microscope. Respecting their natural forms as she blended them together to combine raw materials of a variety of sources.
The viewer may recognize patterns and compositional elements in a new familiar form. Her sculptures intent to generate an appreciation and respect for a natural balance of nature"
TUNE IN MONDAY OCTOBER 17th  njdiscover.com  8 PM to 9 PM with your hosts Tara-Jean Vitale and Calvin Schwartz
ALSO SEEN on YOU TUBE TV, LONG BRANCH COMMUNITY ACCESS TV CHANNEL 20, RUTGERS UNIVERSITY TV, MONMOUTH COUNTY CABLEVISION CHANNEL 77, MONMOUTH COUNTY FIOS CHANNEL 44
LISETTE MOREL
Dominican-American artist born 1974 in Manhattan, NY.
In October Ms. Morel will participate in "Raw Forms Forum" curated by Artist Dominique Duroseau, Newark Museum, Newark NJ and exhibit in the group show "Accumulating Experience" curated by Betty Jarvis, Newark NJ 2016. Currently her work is included in the Neo-Latino group exhibit "Critical Mass" Monmouth Museum, NJ. This past summer, Ms. Morel was awarded the First Sustainable Arts Fellow Residency, Gallery Aferro, Newark, NJ, 2016 and participated in the "Perspectives3" exhibits and workshops at Nurture Nature Center Easton, PA. She also co performed "Run to Your Friend Until You Can't Anymore" an endurance performance with performance artist Ayana Evans 2016. Ms. Morel exhibited in the "I Kan Do Dat" exhibit curated by Daniel Simmons and Oshune Layne, Skylight gallery Brooklyn, NY.  In 2012 /2013 she was invited by artist Gregory Coates of Fuse Art Infrastructure to participate in experimental installations in Allentown, PA.
Ms. Morel was awarded the Artist in Residence at Soho20 Chelsea Gallery, NY in 2012. She was also invited to participate in the Aljira Emerge10 Program and at El Museo del Barrio Fifth Biennial: The (S) Files. She is a recipient of the prestigious Joan Mitchell Foundation MFA Grant. Lisette Morel received her Master in Fine Arts at the Tyler School of Art, Temple University and her Bachelor of Arts at Rutgers University.
REPRESENTED ART: LISETTE MOREL "STILLNESS AND SILENCE HANDS HELD IN HE DEEP BLACK"
"This art is an opportunity to think about space and time…what would happen if I mixed certain materials together and experiment….Pieces have been chaotic…my response to the world…How I am as a female, supposed to be viewed, act, or taking a cue….It translates to a variety of surfaces……the use of limitations…….What happens if I push my body."  Lisette Morel in an Interview at Opening Reception, Neo Latino: Critical Mass September 167, 2016
HUGO X BASTIDAS
I am a painter/digital artist working in New York City. I received a state scholarship to attend Rutgers University where I was awarded a bachelors degree. I completed my graduate studies in fine art at Hunter College in Manhattan. I received a Robert Smithson Scholarship to attend the Brooklyn Museum School of Art where I studied sculpture in between obtaining my degrees. I am a Fulbright Fellow, a recipient of numerous awards. The Nohra Haime Gallery in NYC has represented my paintings for fourteen years now and recently I have began to show my digital work at the Gallery Boreas in Brooklyn. My artwork is in numerous shows yearly throughout the world and is in public and private collections worldwide. And it has been widely written about frequently in magazines, newspapers and stock literature including for example The New York Times, Art in America and Nexus Art. I am an Associate Professor at New Jersey City University and a painting instructor at The Art                                                                                             Students League of New York.