BACKSTAGE MUSICAL MAGIC: Coming Attractions- Sammy Boyd Productions- Summer Music Series. Paramount Asbury Park: A.J. CROCE (7-23) PETER YARROW (8-6) JOHN SEBASTIAN (8-20)   by Calvin Schwartz     
BACKSTAGE 
It was a few years ago when I discovered the pure magic and emotion of backstage concerts. I feel like Captain Hooked. (on backstage) There is nothing, truly, quite like the experience.  A few rows of chairs facing an empty surreal theater. A dimly lit chandelier. When you first walk in and sit, the silence of a thousand empty seats and the realization that you're several feet from the performing musician. A glass of wine for contemplation. A certain feeling of anticipation and heightened excitement; it's the intimacy of the night. You could be in a living room as the artist walks out, staring directly at you. The artist converses with you. You're smiling, deep in thought, pinching yourself. That's the level of belonging and involvement being backstage.
That first song. A raised eyebrow. A furrow on the forehead. A gasp of breath. You feel it and see it all. The artist's crafted words piercing your sensibility. It's like surround sound. Backstage you are a living moving part of a performance. The artist's intent is absorbed easily. I love backstage events. And the Paramount Theater in Asbury Park. When they open the doors to let someone in, a deep inhalation of that idyllic Jersey ocean salt air.
So what does this description really mean?  To thank Sammy Boyd Productions for bringing Backstage to the Paramount for the second year. You all have the opportunity to partake BUT obviously, limited seating, but what a special thrill awaits. It's Asbury Park, with a plethora of eateries pre or post show.  Get it? See you on the Boardwalk.
Calvin  Schwartz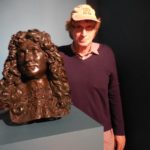 7-18-16
Paramount Backstage returns this summer to Asbury Park   
The 2nd Annual Paramount Backstage summer music series that puts the audience right on the stage with the performers is not to be missed.  With their backs to the house, each artist performs facing the backstage where there are a limited amount of seats creating a true one-on-one experience with the artist. Enter through the stage door to receive your backstage pass and enjoy the show.  Bar, snack shack and artist merchandise are all right on stage.
DOORS at 7 PM   SHOWTIME 8 PM
July 23, 2016
A.J. CROCE: A.J. Croce is a multi-instrumental roots-rock artist, known for his boogie-woogie piano playing reminiscent of Dr. John.  Croce has recorded eight studio albums for both major and indie labels in 23 years as a professional artist and musician. His music incorporates pop, blues, folk, and jazz, and has charted on seven radio charts including Top 40. He's shared the stage with many notable artists including James Brown, Willie Nelson, Bela Fleck, co-written songs with greats like Leon Russell, and been produced by legends like the late Allen Toussaint.  Croce has appeared on many television shows including Good Morning America and The Tonight Show.
August 6, 2016
PETER YARROW: Peter Yarrow's talents as a creative artist—both with the legendary trio, Peter, Paul & Mary, and as a solo performer—are frequently directed at using music to convey a message of humanity and caring. His gift for songwriting has produced some of the most moving songs from Peter, Paul & Mary, including "Puff, the Magic Dragon", "Day is Done", "Light One Candle" and "The Great Mandala." As a member of the renowned musical trio, Yarrow has earned multiple gold and platinum albums, as well as numerous GRAMMYs.
August 20, 2016
JOHN SEBASTIAN: Over four decades the contributions of John Sebastian have become a permanent part of our American musical fabric. His group, The Lovin' Spoonful, played a major role in the mid-'60s rock revolution.  Throughout the '70s and '80s he continued to record and tour, pleasing long-time fans and winning new ones.  Sebastian is also a welcome media presence; his commentary, insights and anecdotes and stories are regularly featured in print, radio, TV and film documentary projects. John Sebastian is not only a master musician, writer and performer, he remains one of the best ambassador's American music has ever known.
FOR TICKET INFO: