'FUNNY' COMING ATTRACTIONS: MIKE MARINO BACK IN JERSEY FOR 2 CONCERTS; FRIDAY APRIL 24TH  and Friday May 1st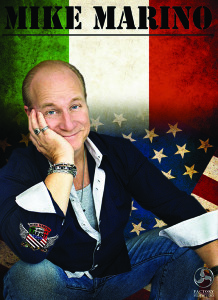 I've been a huge fan of Mike Marino for the last three years since I first met him at the Asbury Park Comedy Festival.  Why not; I love to laugh for 90 minutes straight each and every time I see him; it's this stressful world we live in. Mike has a unique handle, a release and grasp of our world.
It's funny, every time (which is several times a week) I go in to one of those convenience stores, some with those strange birds in their logo, and I pass by the computer station to order sandwiches, I stop, stare, smile and think of Mike Marino. And I know customers see me smiling and they must think I'm a little out there. But Mike makes me smile and laugh even when he's in California, a few thousand miles away.
The genius of Marino's humor is to take our modern (expletive omitted) lives and shove it under a comedic microscope.  And when you see him in concert, you get a chance to see the 'Marino' face; how he loves to laugh with the audience at his own humor; that genuineness and warmth draws us in and embraces. Even more than that, my being a comedic snob, countless times looking at Mike on stage, I can't help but see Jack Benny, who had one of the greatest comedic facial expressions as well as incredible timing. Benny was Johnny Carson's all-time favorite; Mike Marino's expressions and timing is right there with Jack Benny.  His concerts are a happening especially when he's back home in front of a Jersey audience.
Calvin Schwartz   April 22, 2015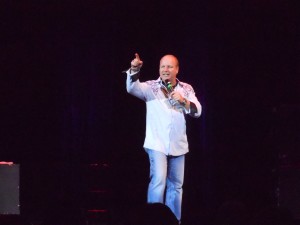 Mike Marino's Official BIO:
Mike Marino – affectionately known to thousands of his fans as New Jersey's Bad Boy – is one of the most unique comics of our time. He has performed in every major comedy club from New York to Los Angeles including: The MGM Grand, Catch a Rising Star, The Comic Strip, Stand Up NY, The Improv, Rascals and The Icehouse. Mike, who has worked with some of the biggest names in the business, can be seen nightly as a top headliner at both the world famous Laugh Factory and The Comedy Store in Hollywood.
Mike was born in Jersey City, New Jersey. He entered the world of theatre at an early age, and is a graduate of the prestigious American Academy of Dramatic Arts. Mike has appeared in over 200 national television commercials, and has received a Best Actor Clio Award Nomination. He has acted in many Prime Time soaps and television shows including: As the World Turns, One Life to Live, Becker, Nikki, Frasier and Party of Five. His film credits include Crooks, Pizza with Bullets, Hangin' in Hedo and Steven King's Lucky Quarter
HEADLINE:  "Mike Marino – Out of the Hospital & Back on Stage!"   Mike recently finished an 8 month battle with diverticulitis on April 1st when he had successful stomach surgery at Riverview Hospital in Red Bank. For me, the best is that he's recovered, back on stage and ADDED  all this new  material from being in the hospital and if its Mike, it has to be hugely funny!!!!! (side-splitting)
And don't forget Mike's  new DVD is out now on iTunes, GooglePlay, Xbox and Sony and now also on Amazon Prime!  Currently it's a TOP SELLER on iTunes!!!
Mike's new website coming soon!!   http://mikemarino.net/
CHECK OUT THE FLYERS BELOW  ALSO THE AFTER PARTY FOR FRI APRIL 24TH CONCERT IN METUCHEN