NJ DISCOVER SPOTLIGHT: SPECIAL COMEDY COMING ATTRACTION: May 17th, Mike Marino, Sunda Croonquist, Michael 'Wheels' Parise  and hosted by Ronnie Marmo. Union County Performing Arts  Center, Rahway NJ   By Calvin Schwartz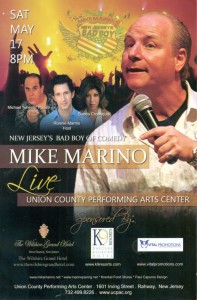 THIS JUST IN:  The entire concert cast (Mike Marino,  Sunda Croonquist, Ronnie Marmo, Michael Parise) and Cylk Cozart will be in New Jersey a week before the May 17th concert  shooting  a TV pilot called "Reconstructing Jersey" which is the story of Mike Marino growing up in Scotch Plains, New Jersey.   April 30th 2014
Let me share the reasons why you all should catch this very special night of comedy. This event is celestial with the perfect alignment of the moon, earth, stars and Garden State Parkway which helps you to get to Rahway and this special comedy show.
Website for tickets and info:  www.ucpac.org
Perhaps the best way to begin a serious comedy announcement/article (oxymoron?) is to credential myself in order to strive for the utmost credibility with a growing global readership. So here goes. Back in the late 1960's (it was so late, the summer of 1971 slipped in quietly) the Broadway play 'Lenny' opened to critical acclaim. Being a recent college graduate, I needed to expand my cultural horizons and saw the play and in the process discovered the genius of comedian Lenny Bruce, who thereafter set my standard of excellence in social contemporary comedy. Then 41 years later (2012), almost to the day, I discovered the genius of comedian Mike Marino in Asbury Park, a mere 55.8 miles from where I saw 'Lenny'. Mike was performing at the first Asbury Park Comedy Festival.
Why I mention Lenny Bruce is my metamorphosis (since buying all his vinyl albums) into a 6'5" comedic snob. I need sharp incisive cerebral worldly comedy to laugh. Mike delivers that. And concomitantly (along the way), I've become a huge fan of Mike Marino. Why not; I love to laugh for 90 minutes straight each and every time I see him; it's this stressful world we live in. Mike has a handle, a release and grasp of our world
The genius of Marino's humor is to take our modern (expletive omitted) lives and shove it under a comedic microscope.  And when you see him in concert, you get a chance to see the 'Marino' face; how he loves to laugh with the audience at his own humor; that genuineness and warmth draws us in and embraces. Even more than that, being a comedic snob, countless times looking at Mike, I can't help but see Jack Benny, who had one of the greatest comedic facial expressions as well as incredible timing. Benny was Johnny Carson's all-time favorite; Mike Marino's expressions and timing is right there with Jack Benny.
Then last summer, I had the opportunity (which became a thrill) to see Sunda Croonquist perform at the Second Annual Asbury Park Comedy Fest. Sunda dazzled with her sharp, quick wit (cerebral intelligent humor) and I got a chance to chat with her back stage. Sunda's humor is rare, precious and beautiful as she is. What's particularly meaningful for me as a comedic snob is Sunda'a ability to reach (in an extremely personal way) every single person in the audience. Hemingway wrote effectively because he lived each and every story. He drove an ambulance in World War I and then wrote 'A Farewell to Arms,' about an ambulance driver.
So what does this Hemingway reference have to do with Sunda Croonquist?  Of course I should (and will) emphasize you need to be there at the May 17th concert to absorb the humor of Sunda. Shortly into her act, you'll understand how she so effectively and personally reaches you (makes you identify) She's this dynamo of personality and like the Hemingway of comedy(she  constructs comedy from her so many varied viewpoints of life) just made this up because I saw her last summer and I get it.
This is pretty cool and right out of my synchronistic spiritual world remembering I'm writing about this comedy show on May 17th and in the first paragraph here, I made reference to my attachment to Lenny Bruce. Well Ronnie Marmo is the host of this comedy  evening. He's quite an impressive producer, actor, and writer. A few years ago The Edison Valley Playhouse staged the one man show "Lenny Bruce is Back (and boy is he pissed)." Of course Ronnie Marmo had the lead in the play and of course I sat in the fifth row and I was riveted by his acting and the play and now I get a chance to see him again. Synchronicity is alive and well.
I have not had the pleasure to catch Michael 'Wheels' Parise in concert yet. May 17th will be my first exposure and I'm hugely looking forward. Michael is a comedic pioneer going back to his touring with one of the most controversial comedians of the day, Andrew Dice Clay.
The preceding paragraphs help to answer and expound on my original statement; let me share the reasons why you all should join us on May 17th at the Union County Performing Arts Center for a very funny night.
CALVIN SCHWARTZ  April 29, 2014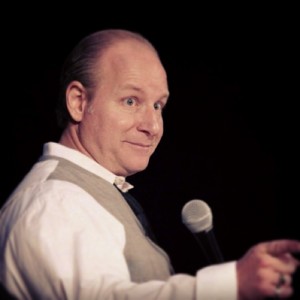 Mike Marino BIO:
Mike Marino – affectionately known to thousands of his fans as New Jersey's Bad Boy – is one of the most unique comics of our time. He has performed in every major comedy club from New York to Los Angeles including: The MGM Grand, Catch a Rising Star, The Comic Strip, Stand Up NY, The Improv, Rascals and The Icehouse. Mike, who has worked with some of the biggest names in the business, can be seen nightly as a top headliner at both the world famous Laugh Factory and The Comedy Store in Hollywood.
Mike was born in Jersey City, New Jersey. He entered the world of theatre at an early age, and is a graduate of the prestigious American Academy of Dramatic Arts. Mike has appeared in over 200 national television commercials, and has received a Best Actor Clio Award Nomination. He has acted in many Prime Time soaps and television shows including: As the World Turns, One Life to Live, Becker, Nikki, Frasier and Party of Five. His film credits include Crooks, Pizza with Bullets, Hangin' in Hedo and Steven King's Lucky Quarter
Sunda Croonquist BIO
At a chance encounter in New York City, Croonquist was joking around at a party when she met Jackie Mason, who told her to seriously consider doing stand-up comedy and with her husband's encouragement, took a comedy class and had her first paid gig within weeks. Her first performance was at a club called Don't Tell Mama.
Croonquist has produced her own comedy shows including: "Femmes Fatales" one of the longest running female comedy showcases for NY's Toyota Comedy Festival for eight years. She is also the Chairperson for the Annual "Laugh Off", an event that brings awareness to Gilda's Club in Northern New Jersey. This is a cancer support group that was formed by comedian Gilda Radner.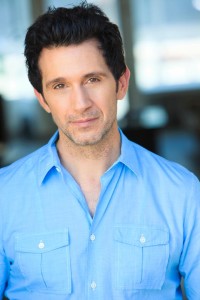 Ronnie Marmo BIO
Ronnie has produced 30+ stage plays including the critically acclaimed Bill W and Dr. Bob (which has enjoyed hundreds sold out performances over the last nine years, West of Brooklyn with Jerry Ferrara, Bent with Tyler Christopher, What the Rabbi Saw with Eva Longoria, The Last Days of Judas Iscariot and  Subway Series.
Ronnie's feature films include West of Brooklyn with Joe Mantegna (available on DVD), Limbo Lounge with Tamara Braun, Fish Without A Bicycle with Brian Austin Green, and Another Happy Ending. He also starred in the short film, Stage 4, filmed at Theatre 68.
Some of the plays Ronnie has directed include Bill W. and Dr. Bob, Love, Sex and the IRS, 68 Minutes, Saint Nick, Something About Something That Means Something, Life in Session, Resting In Pieces, The Last Days of Judas Iscariot and Subway Series.
Ronnie has guest starred on Jag and Young and the Restless. He enjoyed a three-year run on ABC's General Hospital in the role of Ronnie Domestico.
He has also starred in over 30 stage plays including two six-month runs of the one man show Lenny Bruce is Back (and boy is he pissed). He toured with the Broadway National touring company as Tony/Barry in Tony and Tina's Wedding.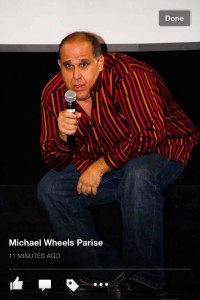 Michael 'Wheels' Parise BIO
25 year veteran comedian Michael Wheels Parise. 'Wheels' has been the opening act for Andrew Dice Clay for over 20 years stemming from their Brooklyn days back at Pips Comedy Club on Emmons ave in Sheepheads Bay.as well as numerous appearances on HBO, and Late Night Talk Shows. Wheels has starred in movies such as "Meet Wally Sparks" with Rodney Dangerfield as and "A Low Down Dirty Shame" with Keenan Ivory Wayans and Jada Pinkett Smith, just to name a few.
Wheels Also Costarred in a VH-! Reality Show called "Dice Undisputed" with Andrew Dice Clay in 2008. After spending 20 years in Hollywood California at the World Famous Comedy Store as a house favorite, he decided to make Las Vegas his new home with his family. Still having a passion for comedy and acting he decided to bring his act to Vegas and can be seen headlining all the clubs Las Vegas as well as all over the country.
Michael Wheels Parise just launched "Parise Group Productions", a production company/marketing group. PGP Studio is located at 2790 East Flamingo Rd. Ste F Las Vegas Nevada, 89121. PGP is currently seeking podcast productions and video productions to be produced on location.
Michael Wheels Parise has been a comedian for over 25 years, most of those years, touring with the most controversial comedian of our time, Andrew Dice Clay. Starting in the comedy trenches in New York to becoming a International favorite as well at the # 1 comedy club in The world, the Comedy Store in Los Angeles CA. Wheels had one thing on his mind "Making it". Now is his time!