If You Missed It- New Jersey Film Makers Garry Pastore ("Destressed") and P.j. Bracco ("goin down") both films entered in Garden State Film Festival. Video & Podcast
TUNE IN HERE MONDAY MARCH 24TH  8 PM       http://www.spreaker.com/show/the_nj_discover_radio_show
With great anticipation we look forward to Monday March 24th when NJ Discover's Tara-Jean and Calvin spend a precious hour with two dynamic and extraordinary talents. We're thrilled to have Garry (who's incredibly busy these days with his acting career) and whose film "Destressed" premieres in Garden State Film Festival( April 3-6th) (he produced, wrote and directed) and P.j. who also proudly premieres his first film, "goin down" at the Garden State Film Festival which he also wrote, produced and directed. Indeed, hugely special multi-talented guests and much behind the scenes 'stuff' to 'discover' on Monday.   Calvin Schwartz
TUNE IN HERE MONDAY MARCH 24TH  8 PM     http://www.spreaker.com/show/the_nj_discover_radio_show
FOR MORE INFORMATION ON GARDEN STATE FILM FESTIVAL ON APRIL 3-6TH  VISIT:  http://www.gsff.org/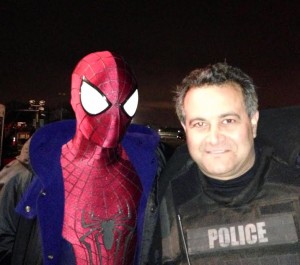 MEET GARRY PASTORE
Garry Pastore was born in New York City in the early 1960's, a middle child in a family of six.  His parents were both born in New York and are now deceased.  Currently, Mr. Pastore resides in Central New Jersey with his wife, Melody and four children.   Garry has appeared as an actor in well over 50 television productions and feature films since his career began in the early 1980's.  His passion for film has driven him to cultivate skill in almost every aspect of the business.  He was nominated for a SAG Award in 2012 and was an "Ensemble" Emmy Winner in 2006 for his work on "30 Rock".
At this time, he is in the development stage of ten screenplays he has written for film and television, with his company Willowcreek Entertainment.  His original film, "DESTRESSED" which premieres at the Garden State Film Festival on April 5, 2014, is his sophomore directorial effort.  His first,  "Waiting for… Budd", earned him a total of eight "Best Director", "Best Producer" and "Best Film" awards during its debut in 2009.
Garry Pastore can be seen currently in the feature film, "Rob the Mob" and in a recurring role on the CBS smash, "Blue Bloods".
All media inquiries should be directed to his publicist:  
Brigette Lutz  Artist Development Group  C -908.309.7887  F- 732.612.3949   artistdevgroup@gmail.com
DESTRESSED article:  http://www.newjerseystage.com/articles/getarticle.php?ID=3156
DESTRESSED MOVIE TRAILER: https://www.youtube.com/watch?v=nHavA3G_nuc
Here's a look at SOME of  Garry's acting credits:
2014Rob the Mob Sammy         2013-2014Blue Bloods (TV Series)  Stavros       2013The Wolf of Wall Street  Rao's Patron
2011Tied to a Chair Eddie Fos      2009A Secret Promise Officer Prlaine     2005-2006Law & Order: Criminal Intent (TV Series)
2004The Sopranos (TV Series) Jerry Basile    2004Everyday People     2001100 Centre Street (TV Series)
2000Everything's Jake  Sergeant Steiner     2000Growing Down in Brooklyn  Mike Redface   2000The Yards  Detective Tommasino
2000It Had to Be You   Witness to the Mob (TV Movie) Frankie Hearts   1997Cop Land  Core Cop 'Johnny B'
1997Cosby (TV Series)    Sergeant Rayes       1997Donnie Brasco Carmine Galante's Bodyguard (uncredited)
1994Hand Gun Earls Man Tommy (as Garry Blackwood)    1993Carlito's Way   Copa Wiseguy (as Garry Blackwood)
1993A Bronx Tale Chez Bippy Customer (as Garry Blackwood)   1990Goodfellas  Henry's 70's Crew (as Garry Blackwood)
1989Do the Right Thing  P.O. Bonamo (uncredited)    1988Cocktail Well Dressed Man (uncredited)    1985Prizzi's Honor Usher #2 (uncredited)
MEET P. j. BRACCO
P.J. Bracco, an Alumni of Boston University's School of Theatre Arts, started his post college career tending bar at Robert DeNiro's Tribeca Grill, while producing theatre in NYC's Alphabet City.  Shifting his focus midtown to work at The Ensemble Studio Theatre, ultimately lead to the launching of his own motion picture production company Red Hook Films (www.redhookfilms.com) in 1997.  Bracco has since been working on the fringes of the independent film scene producing, directing and/or acting in movies, commercials and music videos.  Some of his credits include; "Ursa Minor", "Raimo's Price", "The Watchmaker", "The Goner", Smoker in "The Gambler's Club",  and the documentary "Stocks Bonds and Notes".  P.J.'s latest projects include the music videos "When I Sing" for Grammy Nominee Linda Chorney, "After Life" for newcomer Camryn James, along with his revamped directorial debut feature film "goin down", all of which are premiering in The 2014 Garden State Film Festival in April.  Bracco currently has several feature projects and music videos in development, along with a newly started Web Series Screenplay Competition (www.redhookfilmsseries.com) that will ultimately turn one script into a completed Web Series.  In addition to making movies, P.J. is the harmonica player with The Red Bank Blues Band (www.theredbankbluesband.com) and can be caught once a month playing at The Downtown in Red Bank.
"goin down" MOVIE TRAILER:    https://www.youtube.com/watch?v=a3qjDI-yJ90   
TUNE IN HERE MONDAY MARCH 24TH  8 PM     http://www.spreaker.com/show/the_nj_discover_radio_show
ALSO OF NOTE: P.j. Bracco has two music videos in Garden State Film Festival. One with recent author and Grammy nominee Linda Chorney called "When I Sing"
"