NJ DISCOVER LIVE RADIO/TV SHOW: "A NIGHT IN THE ART GALLERY"; TUNE IN & MEET 3 UNIQUE JERSEY ARTISTS; KORTEZ ROBINSON, MARIA SAVARESE, SHEILA GRABARSKY; MONDAY FEBRUARY 8TH 8PM with Hosts TARA-JEAN VITALE & CALVIN SCHWARTZ

TUNE IN MONDAY FEBRUARY 8TH  8PM;    www.njdiscover.com
THE SHOW ALSO AIRS ON LONG BRANCH COMMUNITY ACCESS TV CHANNEL 20  EVERY NIGHT 9 pm Beginning Feb 15th
Art is always on our minds. Hosts Tara-Jean, Calvin and friends were together at an art party in Asbury Park this summer. They created art and knew it was time to delve and explore. Recent trips to Rutgers Zimmerli Museum, Monmouth Museum, Princeton Art Museum, MOMA and art galleries of Central Jersey solidified the motivation and content for February's show.  The artists appearing represent a broad panoply of art, background, arrival, courage and commitment; fascinating stories and its way more than just art. Maybe a little Hollywood thrown in, shaken not stirred.
Also check You Tube for our last show on "Adoption" with special guests playwright/ singer/ songwriter Zara Phillips and Broadway actress & documentarian Nam Holtz
https://www.youtube.com/watch?v=SoEio5gn6aI
TUNE IN MONDAY FEBRUARY 8TH  8PM;    www.njdiscover.com
MEET THE ARTIST GUESTS: 
KORTEZ ROBINSON:
Kortez, a fine artist residing in Freehold, New Jersey, uses mixed media collage, acrylic, watercolor and works on paper, wood and found objects. The art of Kortez is one of a kind as he is able to find inspiration and unconventional medium upon which to use as canvas. The subject matter of his work comes through vividly. Vibrant colors and provocative topics such as race, politics, social commentary and pop culture break through his art with bright colors and vibrant deliberate lines. Exhibiting a strong hand and intentional shapes, Kortez makes his point through bright colors and bold lines.  His art is currently being show at Vonda's Kitchen  and Duke's Southern Table in Newark NJ. Palette Arts space and At The Table in Asbury Park NJ.  In his residing home town Kortez has art at The Freehold Art Gallery and a restaurant called Uncle Ralston's Home Style Cooking also has a few of Kortez' paintings.
Esotericurbanism is the title and description for some of the art created by Kortez.  The journey is an ongoing exploration into visual art via mixed media collage, drawing, painting, sculpture, print making and photography.
      http://www.esotericurbanism.com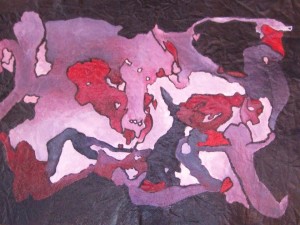 MARIA SAVARESE: 
Mixed Media Artist, Maria Savarese  has been creating since she was a young girl.  She started with weaving potholders and painting trinkets for her mother, and now weaves beautiful silver and copper pendants and is a professional potter.  Maria also paints and creates wall art out of found objects, has been in juried art shows and has had her work presented in galleries in PA, NY and NJ.
Maria works year round at Yellow Duck Preparatory School and runs the Ceramics/Pottery and Jewelry Programs at Country Roads Day Camp in Manalapan.  She also gives private and group lessons in her studio at home.  You can find her on Facebook on her Art Page, Mia Art, and on her website,
She specializes in creative paintings and art that have deep personal and emotional meanings. She bridges the gap between self-taught and professionally driven skill that has taken her on a journey starting from early childhood, to college, and diving into her own creativity with professional pottery, lessons, fine art, and crafts.
Maria is many things, a potter, fine artist, crochet enthusiast, to durable and functional artist. From teaching classes to one on one art fun, Maria is much more than just an artist sitting in a studio. She loves people, loves engaging with art, and loves teaching and working with children and young adults. From pottery to learning how to mix paint, have fun with art, and create masterpieces, Maria teaches with a level of whimsy that keeps her students coming back for more.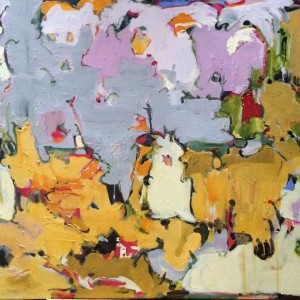 SHEILA GRABARSKY:   
Sheila is a seasoned, classically trained, national award-winning artist with biographies in numerous Who's Who's. She has worked and exhibited across the U.S. for over 25 years in corporate, educational, commercial, and healthcare venues as well as museums and online.  Her work is in numerous private / public collections. She is currently showing works in a Hollywood film to be released this year, American Pastoral, based on Philip Roth's novel of the same name starring Dakota Fanning and Jennifer Connelly. Sheila also recently published a back cover testimonial for a book of poetry entitled Leaves of Absence by Sally Brown Deskins.
"Color creation is very exciting. As a small child I painted a yellow watercolor sun into a blue sky and was thrilled to have accidentally created green, which hadn't been there before! I remain awestruck, still, at color creation."
Classically trained at Syracuse University, Sheila's work evolved from expressionistic portraits into gestural abstraction." I do not have a preconceived notion as I approach my easel. I work in multicolored, multi-textured layers. Lately I've been adhering dried skins of acrylic residue off my palette, as I find them incredibly beautiful and inspiring. Watching as forms literally present themselves as foreground is an amazing experience, always requiring hours of concentrated studio time. I am fascinated by the discovery and the mystery of harnessing chaos into a cohesive composition.
TUNE IN MONDAY FEBRUARY 8TH  8PM;    www.njdiscover.com
                                                                                THE SHOW ALSO AIRS ON LONG BRANCH COMMUNITY ACCESS TV CHANNEL 20  EVERY NIGHT 9 pm Beginning Feb 15th
THANKS TO OUR SPONSORS:
WINDMILL RESTAURANTS  http://www.windmillhotdogs.com/home
          NEOS ZOE WELLNESS CENTER  http://www.neoszoe.com/      
   THE FOOD BANK OF MONMOUTH & OCEAN COUNTIES
http://www.foodbankmoc.org/about-us/
Did you know that 1 out of 10 people living in Monmouth and Ocean Counties receive food from the FoodBank? In addition to food, we provide services that help to solve hunger.   It takes community support to build food secure communities. Together, we can make a difference in the lives of the 131,000 men, women and children who struggle with hunger.