NJ DISCOVER SPOLIGHT: TOM RYAN,  Dynamic New Jersey Filmmaker, Writer, Actor; An In-Depth Morning and Afternoon Through the Looking Glass.  By Calvin Schwartz   December 8, 2018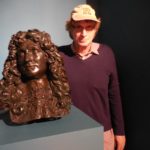 I had to use the 'Looking Glass' reference in the title; spending three hours talking to Tom, I felt having visited a special world of filmmaking, dreams, destiny, dedication, pre-production and premieres.
Of late, I find the evolution of the interview integral to the story-telling. How did I meet Thomas (Tom)? Movie lingo. Cut to March, 2018, Asbury Park, USA and the first night of the Garden State Film Festival; the cocktail party for actors, actresses, directors, personalities, red carpets. Friend, filmmaker, and fellow Rutgers graduate Keith Armonaitis said, "Calvin, you need to meet Tom Ryan." Enough said. And here we are, Tom, myself, and a Rutgers business and film student, a mentee, Archhit Upadhyay, sitting around my kitchen table, talking and listening to Tom's compelling journey to imagination, celluloid and digital.
Tom was born in Jersey City; somewhat ironical that his film anthology, 'Theatre of Terror' premieres January 12th 2019 in Jersey City (Loews). He grew up in the 1980's. I'm always curious where passion (for film) comes from. "In the days of VHS and VCR, I bought movies like Star Wars, Halloween, Friday the 13th, Mad Max. Constantly absorbing them. The threat of nuclear war and apocalyptic films fascinated…. Friends had a VHS camera, so we got some GI Joe's, toy alligators and did our own version of things…. mostly ad lib."
"And what about your writing, Tom?" "I started writing at 13. Some scripts not capable of shooting like nuclear wars. But it was the beginning of the process of getting thoughts down…. I also drew comic books."  Quickly, I interjected that he needs to meet my son, Neil, deeply (an understatement) involved with comic books.
"Directing heroes?" "Spielberg, George Lucas. 'Empire Strikes Back.' Seeing creativity blew me away; more than what was on the screen…. I was a fan of 'Clash of the Titans,' The stop motion. Combining toys, film and fantasy drove my passion. The possibilities of what a filmmaker can do." As I'm listening to Tom, his depth, passion, commitment; feeling of a certain film destiny surrounded me. More later.
"Early work?" "Yes, I started showing people my films. "Arabs on the Moon.' 'Dictators on Mars,' which wasn't completed. But what I did learn is that it's part of the process to work within budget." I turned to my mentee, film student, Archit, and re-emphasized how critically sophisticated and important this was.
"College?" "Yes, I went to Jersey City State College, majored in Media Arts. My mom had a brain tumor, but went back to work. Eight years of disability money was given to her. Eventually, I couldn't really afford to stay in school so I dropped-out and sold cellular phones. My dad pushed me into computer programming, but I hated it."
Somewhere in my memory banks, I heard about Tom being in a band. "Yes, I was a bass and drum player." "And leading up to modern times?" "I heard about a zombie web series, 'Dead Road,' called the director and asked if I could help with special effects…. Came on board, did some acting…. Then I met Patrick Devaney, a zombie hunter from 'City of Dead.' With the advent of new software, I bought a Panasonic digital camera and shot my first short film, 'Day 9."
Tom reached out to the Independent Film Community. It was a propitious time to tell him my own personal commitment to independent artists; music, film, life. Of course, I brought up my journalism formative period seven years ago being magnetized to anything independent. Almost on cue, Tom said one of the most important ingredients of this interview and a learning beacon, especially for my film student (and all young impressionable students of film). "I learned how important pre-production is. I like telling stories. I wanted to make a good, important zombie movie…. In 'Day 9' I wanted a human-interest story. About a guy not prepared for life change."
Tom showed the finished film at the MoJo Lounge, a bar, when 70 people came and loved it. He used the music from his band's album in the film and actors he already knew. The film was entered in the Macabre Film Festival in Long Island, January, 2013. He sat at a table selling his film DVDs and did outside sales to support himself. "You have to sell yourself to be successful." He won the Audience Choice for Best Short Film and made many contacts.
Soon after, he started writing his first feature film, 'Faces.'  The zombie scenes were all shot in one day. I asked about the world of Indie films, meaning costs and budgets. "With Indies, no one really gets paid. Pre-production means everything in one day. Planned. We all eat but no one gets paid."
"What about people seeing your films?" "You Tube has 'Day 9.' 'Faces' is on Amazon Prime." "What's 'Faces' about?" Tom took a deep, prideful breath, anticipating, waiting for me to ask. "Frank Walker, character (me, the actor) has a hint of mental instability. He kills people and sees their faces in the wall. Police are getting close to him," He paused, took a deep breath, conjuring emotionality. "It was the most challenging thing in my life to make this film. A lot of special effects involved…. 'Faces' was a difficult project and so many things went right…. When making a film you have to talk to as many people because you never know." My thinking, listening, was his words seemed to be coming from someone with thirty years under his belt, not such passionate youth.
On my mind, before I forgot, I had to ask about his take on film festivals, after all it was where we originally met. "I'm more into audience feedback, sitting with people at festivals, getting their reactions, different takes on characters. I want my films to drive home a story or point. 'Faces' got accepted to eight festivals, rejected by a bunch of others…. I sold 400 DVD's for Faces."  He shopped for distributors on line and now is on Amazon Prime.
"What about the birthing of 'Theatre of Terror'?  Tom talked about the anthology, 'Bookworm,' 'The Gift' with Heather O' Scanlon, which I saw and hugely liked because it emoted me (and I love being emoted), 'Abducted,' UFO/Sci-Fi, and 'Endangered,' about werewolves. "For this anthology project, we needed money, to pay actors, to showcase what I can do, so I started an Indie-Go-Go project and raised $4500."
For Tom this was all about trying to make movies. Next, he quoted Elvis which was so appropriate at this point in the interview. "Once Elvis was asked about the Vietnam War. Elvis said, "I'm just an entertainer."  Tom wants to work with people always sending positive messages. "I'm so aware of diversity, I like being around different people."  With a broad smile, he told me everybody got paid.
In the filming, he reached out to the Township of Bloomfield and shot a scene at the local library. When it was time to film in Branchville (northwest New Jersey, seemingly next to Vermont), he joined the Facebook Branchville Community Page and got an amazing response. "I even put the mayor in the film. Everybody came out to the filming. People even made their own protest signs as part of the scene…. Always reach out to the community where you are filming. Everybody wants to be in movies." Almost briefly, I told Tom when I was in a film with Meryl Streep. "Same idea. I just wanted to be in movies."
There were two private screenings, not necessarily for horror fans. It was determined through surveys, that the film could be marketed to all. Good writing, story, dialogue is key to success. Tom mentioned the movie 'Twelve Angry Men' as it embodies just that. "Just one location, one story and twelve actors and riveting."  He reminded again just how important pre-planning and pre-production is.
I asked about future think, projects. "I like horror, stuff that disturbs, maybe even a horror-comedy."
My turn to take a deep breath, change direction of interview and get in a few 'Calvin' questions before he's off to pick up his kids.
"So, Tom, Living or Dead, who'd you like to have dinner with?"  Eleven seconds elapsed. "Stanley Kubrick."
"Five things you can't live without?" A smile arrived. "Love, friendship, art, passion. My wife, Melanie and my kids."
"Before I leave this earth, I won't be satisfied until ……….? "Seeing my children grow-up."
"What keeps you awake at night?" "Writing and other tasks of being a filmmaker."
"Comments on 'Theatre of Terror' premiere?" "It took 1 ½ years to complete the anthology. Everyone- join us January 12th 2019 at the Loews in Jersey City, Journal Square."
The best summary to the last three hours: Archit, the sophomore Rutgers business student and dreamer of making films someday, said, "I've learned more about filmmaking today, than in all my years combined." We all hugged with a special familiarity that comes from travelling from morning to afternoon. My eyes briefly closed for special effect. "Tom, I see all the ingredients of a major filmmaker. I see it happening. The old-fashioned way. Dreams, dedication, determination, passion and a certain something (an old movie title?) well beyond your years, intrinsic, innate, and purist Tom Ryan."
TOM RYAN CONTACT INFO:
Facebook:  https://www.facebook.com/thomas.ryan.520
Theatre of Terror Premiere Facebook: https://www.facebook.com/events/2097351903863634/
THEATRE OF TERROR website:  https://www.theatreofterror.net/