NJ DISCOVER LIVE TV SHOW welcomes "A Night of Entertainment" featuring John Hulme, director, HBO's "Unknown Soldier-Searching for a Father," Josh Flitter, actor, Disney's "The Greatest Game Ever Played," Brianna Eve, actress, "Oklahoma," and Neil Schwartz, Editor, contributing writer, "Puerto Rico Strong-An Anthology"  Monday January 15, 2018   8 PM  Tune In with hosts Tara-Jean and Calvin.   njdiscover.com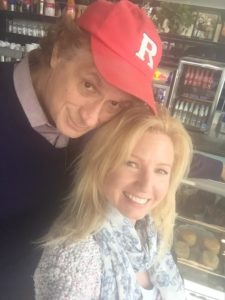 January tradition is to kick off a new broadcast season with fireworks and blockbuster entertainment. We've been working for quite a while to put this show together. The line-up of accomplished guests speaks loud and clear. A very special group.  Happy Healthy New Year.  Check out their bios and credits. NJ Discover is so HUGELY proud to welcome them and explore their 'young' worlds of achievement 
MEET OUR GUESTS
JOHN HULME
John Hulme is a writer/filmmaker from Highland Park, NJ. He directed the feature length documentary Unknown Soldier: Searching For a Father (HBO), and created the original radio drama, Vanishing Point (NPR, XM Radio), which he later expanded into a multimedia story-world for Microsoft. He co-authored The Seems, a trilogy of fantasy  novels from Bloomsbury Children's Books, and wrote the screenplay adaptation for 20th Century Fox. Hulme and his Digital Storytelling students at Highland Park High School are currently at work on the Highland Park African-American History Project, a digital archive capturing the oral history of the black community in their hometown.
Website Bio
After graduating from the University of Michigan, I found success in a wide variety of jobs, including envelope stuffer, professional movie extra, and independent blood delivery contractor. But after a fortuitous reunion with Michael Wexler — my high-school soccer and tennis teammate — I decided to walk away from those lucrative careers and pursue the traditionally stable path of writer/filmmaker.
Michael and I co-created a host of projects in various media, including VANISHING POINT, an episodic radio drama broadcast on National Public Radio and XM Radio's Sonic Theater, which we later adapted into an online role-playing game for Microsoft. We co-authored five books together, most recently THE SEEMS: a trilogy of kids' fantasy novels from Bloomsbury Children Books. We also wrote The Seems screenplay adaptation for 20th Century Fox, which hasn't resulted in a movie yet but at least got my family some much needed medical insurance. I'm still hopeful Book 4 of The Seems will soon see the light of day, but as of this moment, Michael's whereabouts are unknown…
As a filmmaker, I've made many short films and music videos, some of which you can see on the Film/Video section of this website. My first-feature length project, UNKNOWN SOLDIER: SEARCHING FOR A FATHER — a documentary about my quest to know my father, who was killed in Vietnam before we ever had the chance to meet – premiered on HBO's America Undercover in 2005. I am currently at work on BLOOD, SWEAT & TEARS: A BASKETBALL EXORCISM – a documentary about the state championship game I lost in high school and all the racial, religious and class issues that simmered underneath — and MR. ALLEN, a feature-length horror film inspired by a series of recurring nightmares that I had as a child. I started having them again after my children were born, and this is the only way I can think of to make them go away. Stay tuned to the Blog and I'll let you know how it goes…
I live in Highland Park, NJ with my wife, Jennifer, and our children, Jack and Maddie.
WEBSITE :  http://hulmeproductions.com/
Monday January 15, 2018   8 PM  Tune In   njdiscover.com
JOSH FLITTER
Monday January 15, 2018   8 PM  Tune In   njdiscover.com
BRIANNA EVE
Brianna Eve Vitale has been performing on stage in Theater, Musical Theater, Choirs, Modeling, and Vocal Performances for over 10 years.  She just got back from her first professional gig in the show Gloria! at Busch Gardens in Williamsburg, Virginia as the lead role of the Virgin Mary. This past May she graduated Rutgers University with a music degree and a minor in Entrepreneurship. In college she performed as Laurey Williams in Oklahoma!, was in the ensemble of the full staged opera, Lakme, and was a member of the Voorhees Woman's Choir as well as the elite Kirkpatrick Choir. A few years ago, she was cast as Jayne in the new Off-Broadway Production of Broadway Jayne in NYC. She has trained with vocal coaches from English National Opera House in London, Mason Gross, NYU, and Juilliard.
She has performed at local Community Theaters in productions such as Into The Woods (Cinderella), Lucky Stiff (Annabel Glick), Sweeny Todd (Asylum Patient), Sound of Music (Nun Sophia), Bye Bye Birdie (Kim McAfee), and Godspell (Peggy). She was awarded the Rising Stars Finalist for Best High School Classical Vocalist at the Algonquin Theatre. She was nominated for a Count Basie Award for Best Leading Actress in a Musical and Best Supporting Actress in a Musical for two consecutive years. She was nominated for Outstanding Leading Actress in a Musical at Paper Mill Playhouse for her role as Annabel Glick in Lucky Stiff. In 2012 she studied at the NYU Steinhart Opera Summer Program and in 2013 she attended the Paper Mill Playhouse Musical Theater Summer Conservatory. She also writes her own music and was nominated for Best Female Vocalist at the JAM Awards in New Jersey for her single "Like a Rose", that is on iTunes. She is currently going on auditions in the city, singing every chance she can, writing music, taking classes in NYC (workshops), and focusing on growing as a performer and as an artist. She's excited for the future and determined to keep pushing herself until she reaches her goals.
NEIL SCHWARTZ
Neil Schwartz, a longtime comic book enthusiast, brought his passion for comics into reality by working at both Dabel Brothers Publishing and DC Comics. Although he has since transitioned from those positions, he continues to keep his love of comics alive by writing in his free time.
Over three months ago,   Hurricane Maria plowed through Puerto Rico with a destructive force that left island residents desperate for survival or forced to flee to the U.S. mainland, the island is still struggling to rebound. Today, St. Louis publisher Lion Forge has announced their commitment to relief efforts with the publication of Puerto Rico Strong, a comics anthology from a number of prominent Puerto Rican creators.
Puerto Rico Strong is a comics anthology that explores what it means to be Puerto Rican and the diversity that exists within that concept, from today's most exciting Puerto Rican comics creators. All profits will go to towards Disaster Relief and Recovery Programs to Support Puerto Rico. Puerto Rico Strong is co-edited by Lion Forge's Desiree Rodriguez, alongside Marco Lopez, Neil Schwartz, and Derek Ruiz.
FROM AMAZON YOU CAN PRE-ORDER COMIC BOOK: 
BY THE WAY, FOR A COMIC JUST FINISHED AND NOT BEING RELEASED UNTIL MARCH, THEY ALREADY HAVE AN IMPRESSIVE RANKING ON AMAZON
THEY ARE NUMBER 1  NOW!!!!!!!!!!!!!!       puerto rico strong #1 amazon
Monday January 15, 2018   8 PM  Tune In   njdiscover.com