NJ DISCOVER TV: On The Road to AXELROD THEATER to Meet the Cast,  REMEMBER JONES, REBECCA KRAINIK, ADRIANNA MILBRATH  From "JEKYL AND HYDE  The MUSICAL" November 5th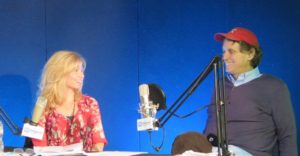 NJ Discover LIVE TV Show co-hosts Tara-Jean Vitale and Calvin Schwartz have been together as a team for the past six years beginning as special assignment journalists, covering homelessness, hunger, Hurricane Sandy, the arts and stories that elevate positively, the people and places of New Jersey. Three years ago, we began our broadcasting collaboration with an internet radio show which quickly evolved into NJ Discover TV Show which now reaches a potential cable subscriber audience of 500,000 in Central Jersey, Rutgers University TV and You Tube TV. Yes, we've come a long way continuing to adhere to the mantra "of, for and by the people of New Jersey, always in a positive light."
On Sunday November 5th, we went on the road, on location for the first time, bringing our unique perspectives and easy interviewing style to the Axelrod Theater in Deal, New Jersey to spend a very special evening with the dynamic, exceptionally accomplished cast, Remember Jones, Rebecca Krainik & Adrianna Milbrath from the hugely anticipated production of "Jekyl and Hyde, The Musical"  opening night November 4th.  By the way tickets selling very fast. For real.
Please tune in, catch this special show, with unique on stage insights. As with all NJ Discover TV Shows, in addition to all the Central Jersey local listings throughout the counties, the show is archived on our You Tube station.
And Happy Thanksgiving everybody.
Calvin Schwartz
THIS JUST IN: Tara-Jean & myself had the extreme pleasure to see the 2nd day of 'Jekyll and Hyde The Musical' a few hours ago. I'm not an official reviewer like Siskel & Ebert, but I know what I saw today. This was a riveting performance by Remember Jones bringing his unique electricity, dynamism, character grasp and intensity. Indeed, it is a very heavy story.  Then there's the set, staging, lighting, mood which it put me in a surreal place almost outside the audience. I was carpeted away to England. The cast was 'beyond' which means  "wondrous." The music, lyrics were meticulously performed. 'Take Me As I Am' is a perfectly beautiful song. And the two lead actresses, Rebecca Krainik (Lucy Harris) and Adrianna Milbrath (Emma Danvers)are so very accomplished which also means incredible voices. Big time voices. When they sang together, 'In His Eyes'  there was sniffling around me including my wife. Back to Remember Jones; his performance; the ease of believability in duality of his two characters, changing back and forth, portryals of those differences; a pure acting achievement. This was a special day, firstly interviewing cast on stage pre-show and then being swept away by them.   Calvin Schwartz  11-5-17  8:59 PM 
TUNE IN:    with your hosts Tara-Jean & Calvin    njdiscover.com     https://youtu.be/UIJvKzm1XBI
BIO INFORMATION ON OUR GUESTS FOR SUNDAY NOVEMBER 5TH    
REMEMBER JONES  " (Dr. Jekyll & Mr. Hyde) is humbled by this opportunity. Heralded by music and theatre critics ("New Jersey's most ambitious song interpreter" ̶ The Star Ledger, "soul sensation" – ̶ The Asbury Park Press, "…remarkable vocalist…" ̶ Popdose, "…truly captivates audiences every time he performs…" – ̶ BroadwayWorld, "…consistently entices…" – Chicago Reader), he returns to the theatre stage after such roles as Judas (Jesus Christ Superstar), Che (Evita), Frank'n'Furter (The Rocky Horror Show), and many more.
 He was Director/Music Director of the NJ debut of Hedwig and the Angry Inch and starred in a revival production, several notable productions of HAIR under the mentorship of Michael Butler, Ring of Fire, Rocky Horror, Godspell, JCS and more. An acclaimed vocalist/songwriter supported by a large band, he co-produced his debut album "Ladies and Gentlemen, Remember Jones!" after raising close to $19,000 through nearly 300 small donations. The album was created in front of a live studio audience with a 25-piece band. It was released in May 2016 at Asbury Park's Convention Hall, the first independent local band to play this venue in many years. His show, back to BACK TO BLACK, a revival of the entire Amy Winehouse album with an orchestra, has sold out throughout the country.
He has sold out revivals of Joe Cocker's Mad Dogs & Englishmen with a 20-piece band and notable guests, the first ever to present and sing R. Kelly's Trapped in the Closet alongside a 20-piece orchestra, performances of the entire Jeff Buckley album Grace alongside guitar legend Gary Lucas, and an upcoming EP, A Kick in the Head!, will celebrate the 100th birthday of Dean Martin, produced by Richard Barone and featuring a duet with Deana Martin. Remember Jones continues to tour the country as part of Glen Burtnik's Summer of Love Concert and makes frequent appearances alongside many celebrated artists. His band's second album, Tranquilizer!, was produced by Andrija Tokic at The Bomb Shelter in Nashville and released with two sold-out shows on the roof of The Asbury Hotel. Thank you to Jess and Andrew for your bravery and trust, and for continuously lifting me up. Love41Another. www.rememberjones.com "
REBECCA KRAINIK (Lucy Harris) "is thrilled to be working with such an amazing cast. Rebecca's has had the pleasure of performing at NJPAC in productions of Sweeney Todd and Carousel. She was recently seen as Charlotte Owens on TV's Law and Order: SVU, Rita on A Crime to Remember and as a featured singer aboard Royal Caribbean Cruise Ships.
Some of her favorite theatre credits include: Last Kiss at The York Theatre, Everything Old Is New Again at the Paper Mill Playhouse and Imogen in Cymbeline at Dragonetti Theatre. Rebecca is a native to New Jersey and very excited to be marking her debut at the Axelrod. She studied at Marymount Manhattan College (BFA Acting)."
ADRIANNA MILBRATH  (Emma Danvers) is excited to be playing one of her dream roles. Favorite regional work includes Martha; (1776, Engeman Theatre), Ariel (Footloose) and Babette (Disney's Beauty and the Beast with the West Virginia Public Theatre), Shelly (Evil Dead: The Musical, The No Name Players) and productions of Spamalot (Resident Theatre Company) and Les Miserables (Pittsburgh Musical Theatre). NYC: Ben Virginia and Me (Acorn Theatre/NYMF).
Film work includes Not Cool (dir. Shane Dawson) and music videos with Arcade High and The Jacob Jeffries Band. She can next be seen in the upcoming North American tour of Cabaret as Fraulein Kost, touring through May 2018. BFA Musical Theatre from Point Park University. AdrianaMilbrath.com IG: @adrianagiselle
TUNE IN:    with your hosts Tara-Jean & Calvin    njdiscover.com   https://youtu.be/UIJvKzm1XBI