MY NEW BALANCE: A GIRL ON A JOURNEY TO A BALANCED LIFE & WRITING ABOUT IT ALONG THE WAY: MENTAL ILLNESS: MY STORY          By Holly Chok     May 20, 2017
MY NEW BALANCE
A GIRL ON A JOURNEY TO A BALANCED LIFE & WRITING ABOUT IT ALONG THE WAY.     By Holly Chok 
Editor's Note:  by Calvin Schwartz
I've expressed it often, the joys of synchronicity, networking and social media and how they can enrich the soul. Two months ago, I was a panelist at Rutgers University, "Road to Communication and Media Kickoff" as part of Career Services. It was well attended by communication students and afterwards, the five panelists continued to engage students. For me, it's the 'post' panel time, which reinforces the entire event.
One of the students I met "post" event was Holly Chok. More importantly and what I've always encouraged when I participate in student-alumni events, is continuing dialogue, social networking contacts, and even mentoring; generations sharing and working together.
Holly and I did just that, staying in touch. A few weeks ago, she shared a link to her blog, "MENTAL ILLNESS: MY STORY" https://mynewbalance.wordpress.com/mental-illness-my-story/
I read it immediately and was mesmerized with her eloquence, bravery, honesty, writing style and willingness to give back and help others by sharing. And I thought about how a young college student was so frank and outspoken with her personal life; not easy to do in our world. It hit me after I read it again, that this should be shared with a much wider audience, so I asked her permission to share here on NJ Discover.
MY NEW BALANCE
A GIRL ON A JOURNEY TO A BALANCED LIFE & WRITING ABOUT IT ALONG THE WAY.
ABOUT HOLLY:  Hello, all! I am a college student who loves her coffee, and is devoted to promoting positive body image, healthy lifestyles, and balanced mindsets. I cannot thank you enough for joining me on my journey to wherever this blog may take me!
mynewbalanceblog@gmail.com
Instagram: @hollychok
MENTAL ILLNESS: MY STORY   HOLLY CHOK
Prior to diving into my experience with mental illness, I cannot thank you enough for taking the time to visit and read my personal story. I hope that it brings to light mental illnesses; diseases which are too often darkened and concealed from the public. However, if you find yourself struggling while reading, I advise you to stop and take a moment. At this point, I encourage you to visit the "Helpful Links" tab on this site for a list of vital resources devoted to helping you through this tough time.
Note: This posting will contain images of my experience, however, these images are not to say that mental illnesses have a certain "look." In fact, eating disorders especially, affect people of all races, socioeconomic statuses, and physiques. A common misconception with eating disorders is extreme weight loss, however, this is NOT the case. *
If someone asked me when I began to struggle with a mental illness, I couldn't answer; it kind of just, in lack of other words, "happened." My family and friends can attest to this, as if you ask any of them, it felt as though the "happy" Holly was one day laying in a hospital bed, on the brink of death.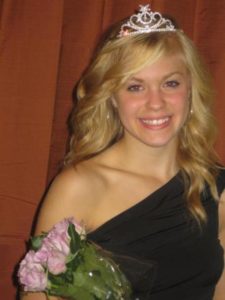 However, if I had to guess, I would say high school is when I began to transform from the typical teen to someone I couldn't recognize. While I had always maintained honor roll, participated in sports and clubs, and had an active social life; it wasn't always easy. While on the surface I was homecoming queen, on my class student council, and a leading member on my cross country team, I never felt as though all these accomplishments were ever enough.
I had always been a perfectionist; it was in my blood. My parents are the two hardest-working of individuals I know, and my brother is just a natural genius. Needless to say, I strived for the best, and only the best for myself. This is not to say I blame anyone for my eating disorder; so many factors go into the onset of these illnesses – factors which I'll never truly know.
Senior year of high school, spring-time if I remember correctly, it began to really hit me. At the time I didn't know what "it" was, but I knew something wasn't right. For this reason, I chose to go the college closest to me, because deep-down I knew that this "it" did not want me to go far away for school; regardless of all the acceptances and scholarships I received.
As summer progressed, and college came closer, my stress grew larger. While Rutgers was close enough to commute, I had committed to living in the dorms. What should have been an exciting decision, was a terrifying one, as the "it" that I was talking about before, was just growing worse and worse.
That is when my habits, like "healthy" eating and exercising, grew into obsessions. If someone asked me what was most important to me at this time in my life, I would say the gym, eating "right," and then everything else. I spent the whole summer malnourished and exercising until my lungs couldn't take anymore; and then I'd wake up and do it all again the next day. Pounds were shedding off my body, but for my troubled mind, this was not enough validation that perhaps I was doing "too much."
Prior to the school-year starting, I knew that something was wrong, yet I didn't know "it" was an eating disorder just yet. However, my obsession with food and the gym was too strong for me to move into the dorms. For this reason, I opted-out, and decided to live at home. I don't know what would've happened to me if I decided to move away, but one thing about living at home was keeping my same, dangerous obsession with food and the gym – an obsession my eating disorder loved.
This obsession carried with me the whole first semester of college. I did one of three things: attend class, work out, or sleep. My social life came to a halt; I can't say I went out with friends more than once a month – if that. Every day was just filled with thoughts of working out and eating 'right.' However, this routine was just making me more malnourished, weak, and slowly, but surely, killing me.
As I walked out of my last final of the semester, my physical body was alive, but inside, I was already dead. I felt weak, dizzy, and barely even mobile. I felt so bad that later that night, I paid my (first) visit to the ER.
I don't remember this visit much, in fact, I just remember being completely "out-of-it." Nothing significant was discovered (or so I thought). I thought it was just further justification that my obsessions and habits were normal; that being well-below a healthy weight was normal. Little did I know what would the next week of my life would entail.
While at the time I was disappointed this happened "behind my back," I am glad doctors noticed that I wasn't "normal." It turns out that they gave my mother a phone number for an eating disorder program at the hospital, which she was told to call and set up an appointment. I was scared, shocked, but when approached by her about it I agreed; I should follow through with that appointment.
A week later, I showed up at the ED center, confident as ever I would be sent home once again, just like that first ER visit. After all, in my disordered mind, everything I was doing was "normal." However, when examined by the doctors, my vitals told a different story. My pulse came back at a whopping 28 beats/minute. I was literally on the verge of dying from a heart attack.
From that moment, I was rushed back to the ER and admitted later that night. I will never forget it, as it was the last day of 2015. Yep, I watched the ball drop in Times Square on my little emergency room TV. Happy New Year? It was pathetic, but boy, it was necessary.
From that point on, I spent a month in inpatient treatment, and further months in an outpatient setting. I gained much needed weight, but also tools to help me cope with the underlying emptiness causing my disorder. I had to take the semester off from college, which the perfectionist in me hated, but that was necessary too.
I write this story a year later; happy, healthy, and in what I consider-to-be full recovery. I still see doctors, but I am doing well for myself. My health is in order, and I have that peace of mind that I lost some-time-ago. I still have my struggles on a daily basis, but I am dealing with it, one day at a time.
I have found my new balance, which is why I named this blog as such. Now that I have reached this healthy point in my life, I am ready to share my struggles, offer advice, and hopefully inspire those reading that there is light on the other side. Mental illness, as I know from experience, is so real. However, I hope by sharing this, I can help break the negative stigma which unfortunately encompasses it.
Thank you for reading, as always.                              Lots of love, Holly ❤
BLOG: "MENTAL ILLNESS: MY STORY" https://mynewbalance.wordpress.com/mental-illness-my-story/