NJ's-Hollywood Songwriters Come to NJ Discover: An Evening with FRANKE PREVITE & ARLAN FEILES. TUNE IN Monday March 6th 8 PM with hosts Tara-Jean & Calvin

TUNE IN MONDAY MARCH 6th  8 pm  at    njdiscover.com        ALSO SEEN on YOU TUBE TV, LONG BRANCH COMMUNITY ACCESS TV CHANNEL 20, RUTGERS UNIVERSITY TV, MONMOUTH COUNTY CABLEVISION CHANNEL 77, MONMOUTH COUNTY FIOS CHANNEL 44
It has long been our mantra at NJ Discover to elevate and promote the people and places of New Jersey. We like to think of ourselves as a positive force in the universe. We've grown these past six years from being an amazing full service video production company to also a specialized feature news entity fulfilling our mantra and these last few years also becoming a radio and cable TV Live show with an ever expanding audience in New Jersey.
We take a great deal of pride in the content of our character and shows; we never want to go on air just for the sake of hearing ourselves talk. We need diverse, fascinating, unique topics/guests who appeal to the same diverse audience and age demographic. We want everyone to like us (just as if we're Life Cereal).
Our show on Monday  March 6th is right on target. Come spend an evening with FRANKE PREVITE (Academy Award for Best Achievement in Music; Best Song for 1987 for Dirty Dancing's "(I've Had) The Time of My Life") And ARLAN FEILES (wrote & produced song, "First Time I Saw You" featured in Bruce Willis and John Goodman's upcoming film "Once Upon A Time in Venice"
We'll explore the music/business side of life and then segue to some of the personal particulates which make them flourish and achieve such exceptional creativity.
TUNE IN MONDAY MARCH 6th  8 pm  at    njdiscover.com    ALSO SEEN on YOU TUBE TV, LONG BRANCH COMMUNITY ACCESS TV CHANNEL 20, RUTGERS UNIVERSITY TV, MONMOUTH COUNTY CABLEVISION CHANNEL 77, MONMOUTH COUNTY FIOS CHANNEL 44
FRANKE PREVITE:
He was born and raised in New Brunswick, New Jersey to Franke Previte, Sr., an opera singer.
Franke was with the New Jersey rock quintet Franke and the Knockouts as the singer and songwriter. Previously he had sung with the Oxford Watch Band and the heavy metal band Bull Angus. Franke and the Knockouts were signed by Millennium Records in 1981 and had three U.S. Top 40 singles and two Top 50 albums. Franke and the Knockouts' biggest single, "Sweetheart", was written by Previte and Knockout guitarist Billy Elworthy and became a Top 10 hit in 1981. The group's other two Top 40 hits were "You're My Girl" and "Without You (Not Another Lonely Night)". The band switched to Music Corporation of America in 1984, but they split up around 1986. Franke Previte co-wrote music for the hit soundtrack to the 1987 movie Dirty Dancing.
Franke won the Academy Award  for Best Achievement in Music; Best Song for 1987 for Dirty Dancing's "(I've Had) The Time of My Life" with co-composers John DeNicola and Donald Markowitz.
That same year Previte also received a Golden Globe and a Grammy nomination. Also the song (I've Had) The Time Of My Life won the ASCAP song of the year award. And recently the song was chosen as ASCAP top 20 songs ever written, landing at number 15. Franke also was chosen as one of America's top 25 songwriters to represent the USA in a songwriter summit in the USSR. Today Franke helps raise money for the charity THE PANCREATIC CANCER ACTION NETWORK in Patrick Swayze's honor. He continues to raise money for the charity with his new band, THE BROTHERHOOD. Franks says " If you're a songwriter then you're in the Brotherhood."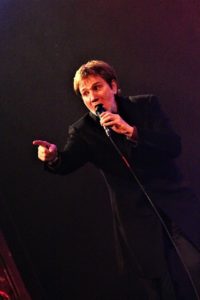 Franke also is Creative Director for "Decades of Divas" a dazzling musical journey through time with the world's most influential women of song. DECADES OF DIVAS re-invents and revolutionizes music from the 1940s through the present. Popular New Jersey shore vocalist-dancer Lisa Sherman, the show's creator, leads an arsenal of singers and musicians across a pair of nightclubs (G-Dog's Jazz Café and the Roxie Lounge) and straight down Memory Lane, which runs between them, to evoke and pay tribute to the greatest divas we've embraced through the decades. Featuring the songs of Billie Holiday, Ella Fitzgerald, Etta James, Aretha Franklin, Tina Turner, Dolly Parton, Carole King, Janis Joplin, Celine Dion, Donna Summer, Whitney Houston, Bonnie Raitt, Diana Ross, Barbra Streisand, Madonna, Adele and so many more! Indeed, there is something in every genre for EVERY generation to enjoy
DECADES OF DIVAS has performed to rave reviews and wildly enthusiastic audiences since premiering in November, 2014 at the Count Basie Theatre in Red Bank, NJDECADES OF DIVAS features timeless music to an multigenerational, ageless demographic –a barrage of hits ,capturing one unforgettable song after another, from the 1940s to the present. Core demos: Men & Women 25 and up; LGBT Adaptable in customizable formats and time lengths, with orchestra or core band (4 to 12pieces with horns and violins), and option to insert legacy stars.
FRANKE PREVITE RECEIVING ACADEMY AWARD  IN 1988!!!
YOU TUBE:  https://www.youtube.com/watch?v=XQS-OTFIC-s
Liza Minnelli and Dudley Moore presenting Franke Previte, John DeNicola and Donald Markowitz the Oscar® for Best Original Song for "(I've Had) The Time Of My Life" from "Dirty Dancing" at the 60th Annual Academy Awards® in 1988.
ALSO THIS JUST IN: LISA SHERMAN performing  Broadway and Beyond show April 22 at the Spring Lake Community Theater.
TUNE IN MONDAY MARCH 6th    8 pm  at    njdiscover.com    
ALSO SEEN on YOU TUBE TV, LONG BRANCH COMMUNITY ACCESS TV CHANNEL 20, RUTGERS UNIVERSITY TV, MONMOUTH COUNTY CABLEVISION CHANNEL 77, MONMOUTH COUNTY FIOS CHANNEL 44 
ARLAN FEILES
http://www.arlanfeiles.com
In the tradition of many great troubadours before him, Los Angeles native Arlan Feiles has made his way across the American landscape.  Along the way, Arlan has shared stages and worked with some of the great legends of Music. The Band, The late Warren Zevon, R'n'R Hall of Fame Produce Tom Dowd, Dave Grohl, Hot Tuna, Joan Baez, Richie Havens, Warren Haynes, Dave Mathews, Bob Pollard, and many more.
                "Arlan is a gifted songwriter… with pulsating and passionate performances"
                                                                                              Sandra Schulman- Billboard Magazine
                 Tom Dowd and Chris Blackwell of Island Records signed Arlan to his first record deal. Demos, recorded with Dave Grohl of Nirvana and Foo Fighters fame, became the inspiration for a new album. Tom Dowd and Arlan recorded "Troubled Monkey" that included tracks backed by the legendary group The Band, featuring the late great Levon Helm, the late great Rick Danko, and keyboardist Garth Hudson. 
"Arlan is like a modern Bob Dylan, although he sings a sight better"
                                                                                               Tom Dowd- Producer
              In 1999 Arlan was recruited by award winning composer Stephen Trask to be the first to play his role as The Music Director, Skshp, in the first touring company of the Glam Rock Off Broadway hit show "Hedwig and The Angry Inch". After the run, Arlan Returned to his new home in Brooklyn to form the group Gift Horse. Who's hit "Ive Gotta Tell You" was featured in Ed Burns' Sidewalks of New York. Arlan then went on to record two solo albums with the help of legendary Miami Producer Frank "Rat Bastard " Falestra. The first, 2005's "Razing a Nation", was honored with the "Best Album of the year" award by the Miami New Times. The second album was the highly anticipated "Come Sunday Morning" for new label Not-Pop Records. "Come Sunday Morning" would go on to win the Asbury Music Awards "Best Album of the year" honors as well. Both Albums made strong showings on The Euro Americana chart and enjoyed radio play worldwide.
"Razing a Nation is an American Classic"
                                                                                                  Uncle Mike- Two River Times
        Arlan continues to be extremely busy performing and enjoying a great deal of radio play, and T.V/ Film placements for many of his songs.  Most notably, Ed Burns' "Sidewalks of New York" and the award winning film "Handsome Harry" starring Steve Buscemi and Jamey Sheridan. Currently you can hear 7 of Arlans songs on the now airing controversial MTV show "16 and Pregnant".
 "If songwriters were bad weather, Hurricane Arlan would be a category 5…
he'll blow you away"      Greg Baker- The Miami Herald
In 2012 Arlan released "Weeds Kill The Wild Flowers". Joined by his group The Broken Hearted, Arlan has put together another great collection of songs that take the listener and Arlan full circle through an Americana voyage of truth and discovery. With Cover Art by Guided By Voices vocalist and collage artist Robert Pollard, this Album is a must own for any Audiofile. John Pfeiffer of the Aquarian says "If Come Sunday Morning was the crown Jewel, Weeds is the King"  Weeds  recently brought Arlan his 3rd  "Album of the Year" honor.  
 "Arlan writes with pinpoint accuracy, sings with unbridled conviction,
and plays his instruments with both soul and precision."
                                                                                     Greg Trooper – Award winning Americana Songwriter
 2014 Arlan contributed the song "Wake(Don't Back Down)",  to the international trailer for the Academy Award winning film The Dallas Buyers Club. And in 2015 "Step Into My Shoes" for Adam Sandlers The Cobbler Film Soundtrack
2016 wraps up with the release of two new albums. One live album "Arlan Feiles and the Broken Hearted Live From The Strand" featuring Jack Petruzelli, Bess Rogers, Eryn Shewell, Layonne Holmes, Dan Green and Michael Scotto; and the much anticipated new studio album "Stranger" which includes guest appearances by local Asbury talents Emily Grove, Eryn Shewell, and Stacey Smith. We also look forward to two Arlan Feiles songs featured in the upcoming Bruce Willis, John Goodman film "Once Upon a Time in Venice"
                                                                                Action Entertainment!!!
                                                          818-980-0889 
                                                 music@aaandaction.com
TUNE IN MONDAY MARCH 6th  8 pm  at    njdiscover.com    
ALSO SEEN on YOU TUBE TV, LONG BRANCH COMMUNITY ACCESS TV CHANNEL 20, RUTGERS UNIVERSITY TV, MONMOUTH COUNTY CABLEVISION CHANNEL 77, MONMOUTH COUNTY FIOS CHANNEL 44