NOW HERE THIS: MIKE MARINO humor on St. Charles Riverboat on the Raritan River in NJ Sat, July 30th along with Pam DeButts  and Steve Trevelise. Brought to you by Catch a Rising Star, Princeton             by Calvin Schwartz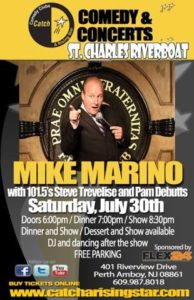 BUY TICKETS ON LINE AT  www.catcharisingstar.com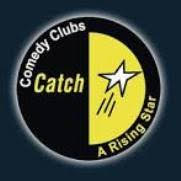 There are numerous particulates which define my summer spent. Time on the beach, crashing waves, boardwalk, frozen custard, night music with a pastoral view and setting aside time to laugh. If you take that time for laughing (and purist enjoyment) and find a riverboat right here in Jersey, throw in some dinner and drinks, and of course the humor of Mike Marino, then it becomes a slice of nirvana.
When I heard Mike is performing on a Riverboat, I thought "nice try" but I'm not going to Mississippi. But happy days. The  Riverboat is permanently (non-sailing) docked on the Raritan River in Perth Amboy. So Saturday July 30th becomes a comedy night to remember, Mike Marino, Jersey's Bad Boy of Comedy along with the special humor of Pam DeButts and  101.5's  Steve Trevelise and brought to you by Catch a Rising Star in Princeton. St. Charles Riverboat, dinner, drinks, comedy right here in New Jersey. I love it.
I've been a huge fan of Mike Marino for the last three years since I first met him at the Asbury Park Comedy Festival.  Why not; I love to laugh for 90 minutes straight each and every time I see him; it's this stressful world we live in. Mike has a unique handle, a release and grasp of our world.
It's funny, every time (which is several times a week) I go in to one of those convenience stores, some with those strange birds in their logo, and I pass by the computer station to order sandwiches, I stop, stare, smile and think of Mike Marino. And I know customers see me smiling and they must think I'm a little out there. But Mike makes me smile and laugh even when he's in California, a few thousand miles away.
The genius of Marino's humor is to take our modern (expletive omitted) lives and shove it under a comedic microscope.  And when you see him in concert, you get a chance to see the 'Marino' face; how he loves to laugh with the audience at his own humor; that genuineness and warmth draws us in and embraces. Even more than that, my being a comedic snob, countless times looking at Mike on stage, I can't help but see Jack Benny, who had one of the greatest comedic facial expressions as well as incredible timing. Benny was Johnny Carson's all-time favorite; Mike Marino's expressions and timing is right there with Jack Benny.  His concerts are a happening especially when he's back home in front of a Jersey audience.
BUY TICKETS ON LINE AT  www.catcharisingstar.com