NJ Discover Spotlight: With LAURIE HERNANDEZ, US OLYMPIC GYMNASTICS TEAM  at Monmouth Gymnastics Academy Tuesday July 12th    by Calvin Schwartz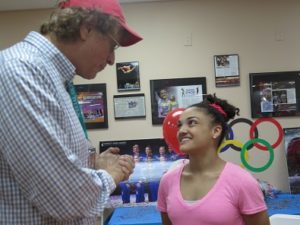 I've been watching US Women's Olympic Gymnastics for decades. Did I ever think I'd have this kind of hands-on opportunity to spend precious time with an Olympian? I am a long time devotee of Women's sports. I loved when Billie Jean King beat Bobby Riggs in tennis. And I've been a season ticket holder for Rutgers Women's basketball. And NJ Discover does the TV broadcasts for New Jersey's Sky Blue FC Women's Professional Soccer Team. I love roaming the sidelines absorbing; its helped me meet some of the players on our World Cup Women's Soccer Championship Team. It's on the NJ Discover TV LIVE Show agenda to do programming revolving around women's sports. Therefore, fitting and proper I was with (along with many media) Laurie Hernandez today.
There is so much press revolving around Laurie, who is as poised, eloquent and mature as a thirty-year old Olympic athlete. I marveled at her demeanor and sincerity. Watching her work out for a ½ hour, you could certainly definitively feel that amazing intensity that took her to the global pinnacle of her sport. I had one burning question for Maggie Haney, her coach, mentor of all these years. Laurie started when she was five. "Could you tell back then, that Laurie was a special athlete?" "Yes, we knew that we had a very unusual young girl here destined…." This destiny theme was what I wanted to pursue.
Laurie told me how thrilled and proud she is to represent the USA. "I've been working my whole life for this. It's been my dream. And to be part of this amazing team is also a dream come true…. I'm honored. I hope I can inspire little girls all over the world…. I still can't believe it…. I'm in awe of two nights ago. It's a big life change but so worth it."  Laurie will train at her home gym, Monmouth Gymnastics for the next several days then she  heads  to an intense, nine-day pre-Olympic training camp at national team coordinator Martha(Bela) Karolyi's Texas ranch. Maggie Haney will be with her.  Laurie is from Old Bridge. The township will honor its homegrown Olympian Thursday, at the high school on Route 520  from  6 PM to 7 PM according to Mayor Owen Henry.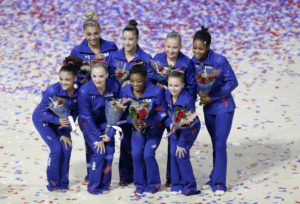 I talked next to Kaitlyn Avila. She has been working for Maggie and Julie (Monmouth Gymnastics) for four years. She worked at Monmouth Gymnastics for 10 years total. "I always wanted to work for Maggie. She hired me four years ago. It was a dream come true. Laurie and Maggie together are amazing. I've watched Laurie grow and become this amazing athlete. She has so much determination and perseverance to stick with it as long as she has."
Laurie started when she was five years old. "To see someone from five to 16 now, never give up the sport. It's incredible for me to be able to work for one of the best teams in the whole country." I gazed over to watch Laurie's mother. She was glowing, ebullient and filled with so much pride; like a poster defining those three words. She never stopped smiling.
Next I spoke with Hunter W. He also was at Monmouth for five years. Ever since he started working there, he knew Laurie. "She has been awesome in the gym, being humble. She shows so much dedication. Works so hard. She is here eight hours a day and home schooled here. Some days are harder but she works through everything." They are all so proud of Laurie. It gives all the kids someone to look up to. "They really feel special that they have an Olympian in the same gym."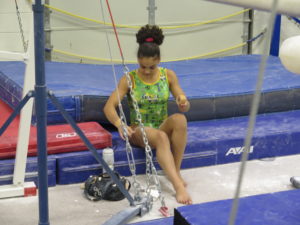 The destiny theme. "When did you both see a spark in Laurie that encouraged her to pursue this."  "We saw something when she was 11 years old." When Kaitlyn started five years ago, they all said Laurie is going to the Olympics. Nobody believed it. And she is. For me, being there as Monmouth Gymnastics opened their doors to the media, this quickly became one of those top ten days you dream about. Speaking about dreams. I'd like to call the Olympic Gymnastics team on their way to Rio, the "team of golden dreams."