COMING ATTRACTION: AN ITALIAN NIGHT OF COMEDY with MIKE MARINO, MICHAEL 'WHEELS' PARISE, UNCLE FLOYD at Uncle Vinnie's Comedy Club Sunday October 25th    bY Calvin Schwartz
Mike Marino is the consummate comedian; he just makes you laugh non-stop and with timely topics.  I discovered 'New Jersey's Bad Boy of Comedy' a few summers ago at 'Asbury Park Comedy Festival.'  And I said to myself "he's one of the funniest comedians I've ever seen." Point being, I'm a 'comedic snob.' Comedy is a gift and a special art form. Back in the sixties, I discovered Lenny Bruce, one of comedy's greatest pioneers and innovators, albeit quite controversial because society was not ready for his bad words and bits. I've been a fan of Lenny's ever since.
How perfect the synchronicity to catch Mike Marino that night for the first time. We had a chance to talk back stage afterwards; I marveled at his graciousness, affability and accessibility.  He's a cool, smooth and endearing guy with some of the best material I've ever heard.
Now here's where it all gets interesting. Some of Mike's routines I've actually used in a comedic way (giving him all the credit) and sometimes I go introspective and realize Mike Marino is also a genius and clairvoyant, almost with the gift of the 'shining.'  So what do I mean by this. Mike's comedy is so relevant and futuristic, it can be used by current politicians to propel them into major office; yes a provocative thought and so therefore I challenge my readers to catch Mike at Uncle Vinnie's  Comedy Club in Point Pleasant on Sunday night along with comedy ICONS Uncle Floyd and Michael Wheels Parise.  AN AMAZING COLLECTION OF COMEDIANS.  AN ITALIAN NIGHT OF COMEDY!!!!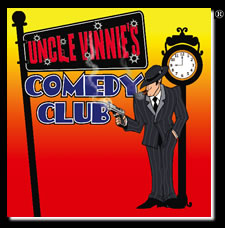 Uncle Vinnie's Comedy Club-    518 Arnold Avenue   PT PLEASANT BEACH     1-877- UNCLEVIN
Event Description
A 3-course meal starts at 4pm with Caesar Salad, choice of Chicken Parmigiana, Shrimp Scampi or Steak Marsala and ending with Cannoli for dessert.  We are a BYOB, so bring your vino!!  Show will start at approx..  6pm & end at 8pm.
WHEN
Sunday, October 25, 2015 from 4:00 PM to 8:00 PM (EDT) –
                                                                                     WHERE
                                                                                      Uncle Vinnie's Comedy Club – 518 Arnold Ave Pt Pleasant Bch, NJ 08742