Drummers…What's Your MO?
Modus operandi (plural modi operandi) is a Latin phrase, which can be translated as "method of operation". The term is used to describe someone's habits. We Americans like to shorten it to "MO", and Thino Cacciolo, owner and founder of MO DRUMSTICKS LLC.,  has chosen to build his own unique business around it. When first meeting Thino it is apparent his passion for music was the foundation for the creation of the Mo Drumstick. Thino believes "each and every drummer should be given the ability to create the perfect drumstick based on their own unique style of play, grip, age, physical abilities and experience"…a drummer's MO. According to Thino, the music industry has taken tremendous strides in the development of better instruments both electronically and structurally, but stick design still had a ways to go. That is until MO DRUMSTICKS TM. was introduced just about 6 months ago.
Drummers across the country have re-discovered their 'DRUMMIN' MOJO" and are not shy about letting everyone know how special these sticks are. Here are just a few…
Tom Motts has appeared in Modern Drummer, Metal Edge and Billboard magazines. Tom and Serial Obsession has performed on many legendary stages like CBGB, ,B.B.Kings, Lamours,Terminal 5 and Kenny's Castawys to name a few.
Tom writes… "I was fortunate enough to be among the first drummers to road test this innovative stick, which I found added much control to my playing.
By adding a numbered weight system that allows you to customize the balance of the stick which changes the "sweet spot, fulcrum) it allowed me great comfort especially for my old fashioned stick twirls, thus creating the "MOTTS ROCKS #147". Drummers, we no longer have to settle… Thino and MO DRUMSTICKS just made it personal!!! Having my Signature Stick makes me feel like a King and I'm loving mine!
Staff Sergeant Robert Hooks of The United States Army is stationed in Afghanistan. Every soldier carries a dream with him from back home to the forefront; Sgt Hooks dream was to play the drums. He found MO Drumsticks on Facebook. He sent a message through the internet asking about ordering custom drumsticks for when he comes back home.  
Thino thought "why wait?' He made Sgt Hook's personal and unique drumsticks as quickly as possible and shipped them out to where the soldier was stationed in Afghanistan. MO Drumsticks can be found all over the United States, from California to Texas to NJ to Ohio. But the package he shipped to Afghanistan for one of America's soldiers was one of Thino's favorite.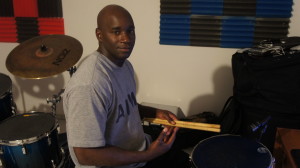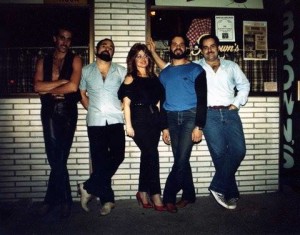 Thino with John Castellano and Good & Plenty posing in front of Brown's in Bay Ridge in the late 70's. Good & Plenty played many local hot spots in NJ: Robins Reef Yacht Club and Venice Restaurant in Bayonne.  Left to right… Thino Cacciolo, John Castellano, Doreen Rose, Ray Naccari, Phil Castellan0
MO's Patent Pending one of a kind, Grooved/Weighted Drumsticks combine machined ergonomic groove(s) filed into the stick at the fulcrum, (the sweet spot of the stick) with a weight distribution system that allows a drummer to customize the mass weight of each stick to match their play. Not just add weight to the stick, but distribute that weight across the stick! Thino believes that this custom design will give drummers of all levels of play the opportunity to reach their full potential just by using their own personally designed custom MO DRUMSTICK.
MO DRUMSTICKS LLC
Facebook Page: https://www.facebook.com/modrumsticks
Website: www.modrumsticks.com
Writer TaraJean Vitale
With Thino at American Hotel, Freehold NJ