NJ DISCOVER SPOTLIGHT: You've Got a Friend; Steve Conboy, CEO, ECO Building Products and the World's Tallest Sandcastle at Jersey Shore and Lumber and so Much More.   By Calvin Schwartz    November 9, 2013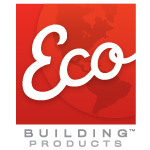 Three weeks prior to the October 29th ceremony with a representative from Guinness World Records adjudicating the World's Tallest Sandcastle at Point Pleasant Beach, I had a chance to interview the world renowned sculptor Ed Jarrett, who had just started construction of the sandcastle. I also knew that much of the practical realization of this most amazing accomplishment came from the sponsorship and support of Steve Conboy, CEO of ECO Building Products. As I walked around the circumference of the base of the sandcastle, I saw a red wood sign structure on the adjacent beach acknowledging the essence of this magical company, ECO Building Products, who've been supportive of rebuilding the Jersey shore after Sandy. The sign radiated the message, "Fire, mold, termite, and rot protected lumber." "The best defensive lumber in the industry"  Maybe a hundred seagulls congregated just behind the sign as if they sensed being in a safe environment.
ECO CEO Steve Conboy's Segment at the Sand Castle Evevnt

As a journalist, I set my future sights on spending time interviewing charismatic Steve Conboy. And that opportunity came on the celebration day on October 29th, when the intricate 40 foot sandcastle was being measured by Philip Robertson from Guinness World Records to certify yet another world record accomplishment for Ed Jarrett. Several hours before the start of proceedings, while a chilly pre-winter wind blew in off the Atlantic Ocean, Steve Conboy, Steve Cassidy, from New York City Fire Department and I stood in front of the sandcastle, squinting in bright sunshine and talking about ECO Building Products and a new 'wood' world.
Conboy and his company came here to support the Jersey shore's rebuilding efforts and the sandcastle too. They've got an amazing product and believe passionately in giving back and sharing. When Conboy started to explain his philosophy, I watched intently as his face exploded in emotion; his hands painted a picture for me that ECO Red Shield coatings on lumber is an eco-friendly (which I really love, being an environmentalist) and cost-effective alternative for protection against mold, termites, rot and fire. He told me there are no hazardous chemicals involved. His hands swept in a full circle as he talked about his goal; the protection with his ECO Red Shield lumber replacing raw lumber to become the standard in future wood construction projects. Of course I added an, "Oh wow." It is a wow. Steve Cassidy from New York City Fire Department explained how Red Shield treated lumber in new construction projects and even applied to existing wood structures can save lives and property by resisting fire; a huge no brainier, as I thought immediately.
Good reporters do research. I knew about Steve Conboy spending time and giving ECO products to people and projects in Haiti and in New Orleans. Giving back is a soulful expression and his unique way to build a successful company. Conboy, who is a native New Yorker, has had nearly 35 years in the lumber business world and started ECO in 2007. He explained that there is this great need for change in the industry.
I asked about his treated lumber being embraced by the retail world. Indeed, retail loves Red Shield as it protects wood from mold growth while on retail storage shelves and therefore reduces financial risks. And Conboy reiterated to me that his coatings can be applied to existing structures very cost effectively.
This blew me away. Raw lumber sales in 2012 approached $94 Billion which means there is a huge opportunity for incredible growth. It also means lots of lumber today on shelves may have mold growth. Then I told both Conboy and Cassidy an interesting anecdote. I love relevant anecdotes in the middle of an interview with the sun shining on my face.  When I wrote my original article for NJ Discover's website and Facebook page link about the Sandcastle and ECO Building Products sponsorship, one of our Facebook friends was intrigued and googled ECO. Based on everything he read, the next day he purchased several thousand shares of ECO stock. A week later, he met NJ Discover's producer, Tara-Jean Vitale for lunch and convinced her to buy stock in ECO. Our Facebook friend just celebrated his 80th birthday.
I could've talked with Steve for another hour but the celebration was near. I watched Conboy's face light up as a color guard raised the flag for the National Anthem. He's as passionate and dedicated a CEO as I've ever met in my travels. His passion is contagious. The ceremony continued with Frank Dicopoulos' upbeat emceeing and introductions of Ed Jarrett, Hometown Heroes (a New Jersey based amazing charity) Michael Schwartz and Jennifer Barna, of course Steve Conboy and Steve Cassidy and then comedian Mike Marino and a moving musical performance by Nick Clemons. Perhaps six hundred people gathered on the beach for the lighting ceremony commemorating the one year anniversary of Hurricane Sandy.  I sensed that in the very near future every one of those folks on the beach will have an awareness of ECO Building Products and I started to think  about the song, 'You've got a Friend.' I know most of the words. "You just call out my name, and you know wherever I am." It kind of sums up what Steve Conboy and ECO Building did to make this special day in Point Pleasant possible. I looked; the seagulls were still there by the ECO red wood sign.
FOR MORE INFORMATION ON ECO BUILDING PRODUCTS GO TO:   www.ecob.net    or     info@ecob.net
and Cal Schwartz, writer:   NJ Discover.com    and   vichywater.net   and Facebook: Cal Schwartz