It began over the weekend. An explosion of singers and songwriters booking out in every venue in Asbury Park. From The Stone Pony to The Saint you can catch talented artists from every genre coming together to share their music in support of a charitable foundation that was set up over 20 years ago. Welcome to the Light Of Day WinterFest 2020!
LIGHT OF DAY WINTERFEST 2020: THE 20TH ANNIVERSARY WORLDWIDE FOUNDATION'S ANNUAL 10-DAY FESTIVAL TO CELEBRATE 20TH ANNIVERSARY IN BATTLE AGAINST PARKINSON'S, ALS and PSP THROUGH THE AWESOME POWER OF MUSIC 

It all started in 1998 at a birthday celebration for Bob Benjamin, artist manager and music industry veteran. Recently being diagnosed with Parkinson's Disease, Benjamin ask for donations to be made toward the Parkinson's Disease Foundation rather than receiving any birthday gifts. From there, and with the help of Tony Pallagrosi and Joe D'Urso, the Light Of Day Charity was born.
The first Light of Day was held at The Stone Pony in 2000 with Joe Grushecky and the Houserockers
headlining the show. Many local, unsigned artists were excited to have the opportunity to perform that evening on stage, but their excitement escalated when Bruce Springsteen joined them on stage for a surprise performance.
They call it a "Grass Roots Effort",  so thanks to everyone who performs each year and the efforts of all involved behind the scenes, a once LOD evening has become the LOD 10 Day Festival in NY and NJ. And even more exciting, it is an international extravaganza of music touring the world on 3 continents through Europe, with stops in England, Wales, Ireland, Sweden, Belgium, Norway, Denmark, Italy, Switzerland, Germany, Spain, and Australia.
Light of Day has raised over $4.5 million in the fight to find a cure for Parkinson's disease.
The Stone Pony kicked off Light Of Day WinterFest 2020 on Sunday, January 12th with JoBonanno's Spirit of Asbury Revue, CC Coletti, the Moroccan Sheepherders, Almost U2 and more!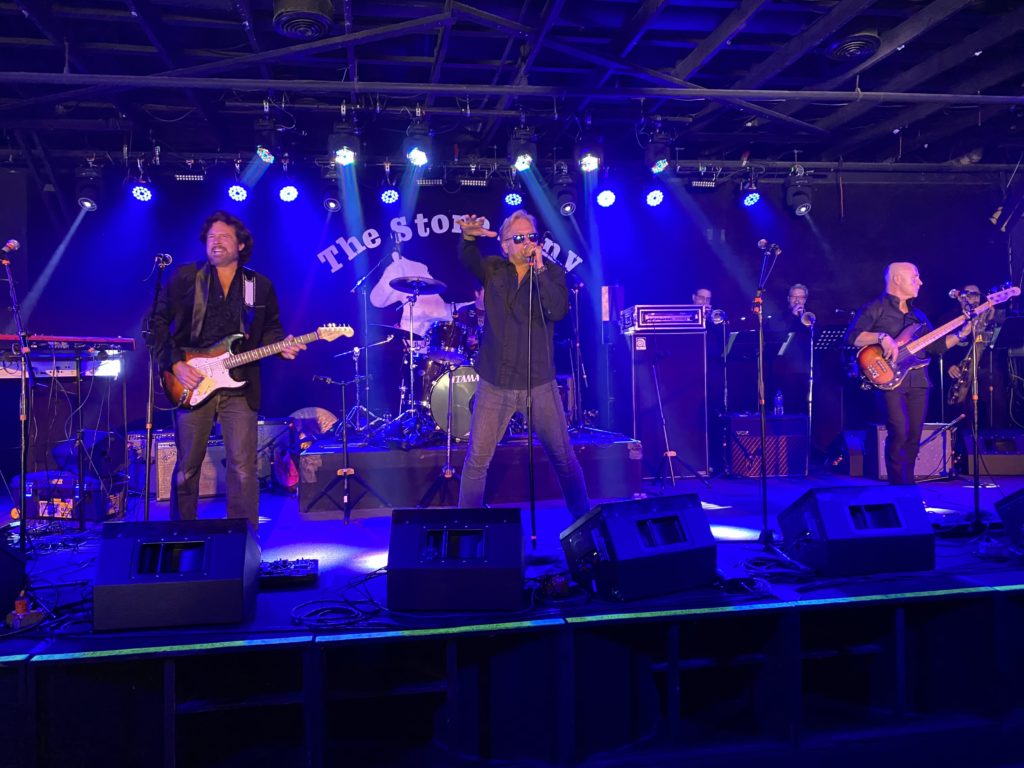 JoBonanno's rich vocals and vivacious energy on stage along with his talented band performed songs that celebrate the artists who developed the music in Asbury. JoBonanno explains, "I chose the classic songs of the artists who helped put the Asbury music scene on the world map."   http://jobonanno.com/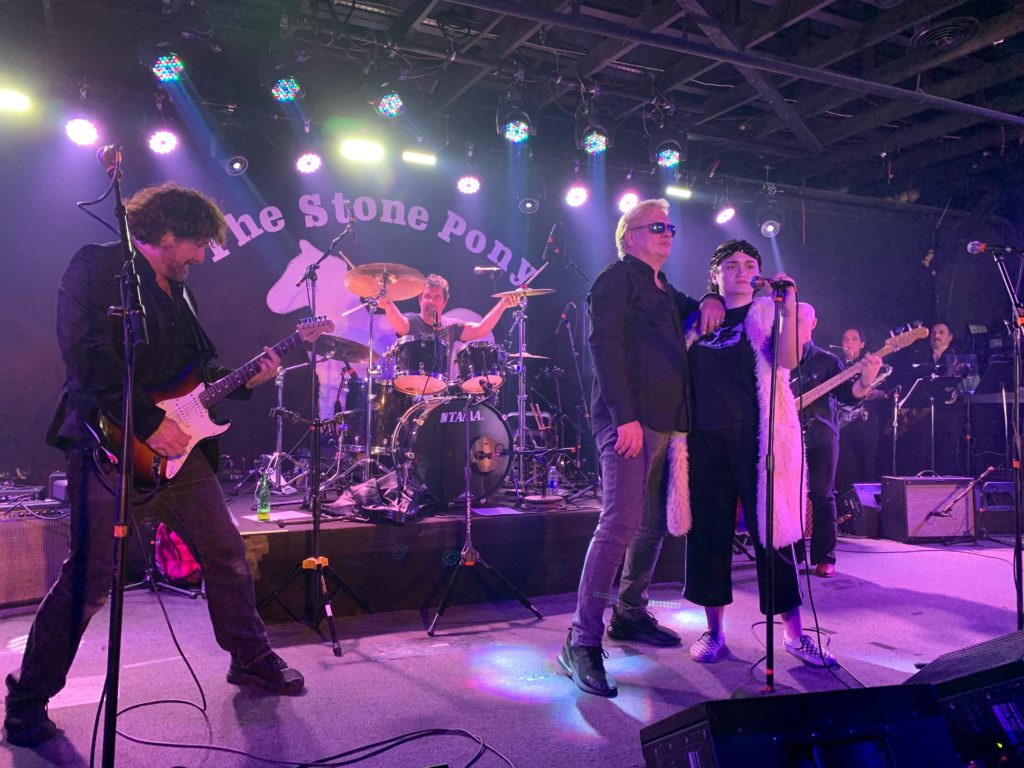 Jobonanno invited his daughter Ava Bonanno, singer and songwriter, to join him on stage. Her performance was fabulous, as she sang "I Put A Spell On You".
CC Coletti and the CC Coletti Band took the stage donned in feathers and neon sparkles as she performed Experience Janis for the crowd. CC 's performance was electric! Her powerful voice and her passion carried us back to the days of sultry soul and blues.    https://ccsings.cc/
The Moroccan Sheepherders never fail to excite the crowd with their music and dance moves. Bringing the party to the Stone Pony Stage, the band and full range of singers kept the jam going with dance hits from every genre!       http://www.sheepherders.com/
The Almost U2 Band was fantastic, playing their favorites to a crowd that stayed til the very last song! Their authenticity to the iconic band's live performances was spell-bounding.
This tribute band's performance was the perfect way to end a fantastic Light Of Day experience.
https://www.almostu2.com/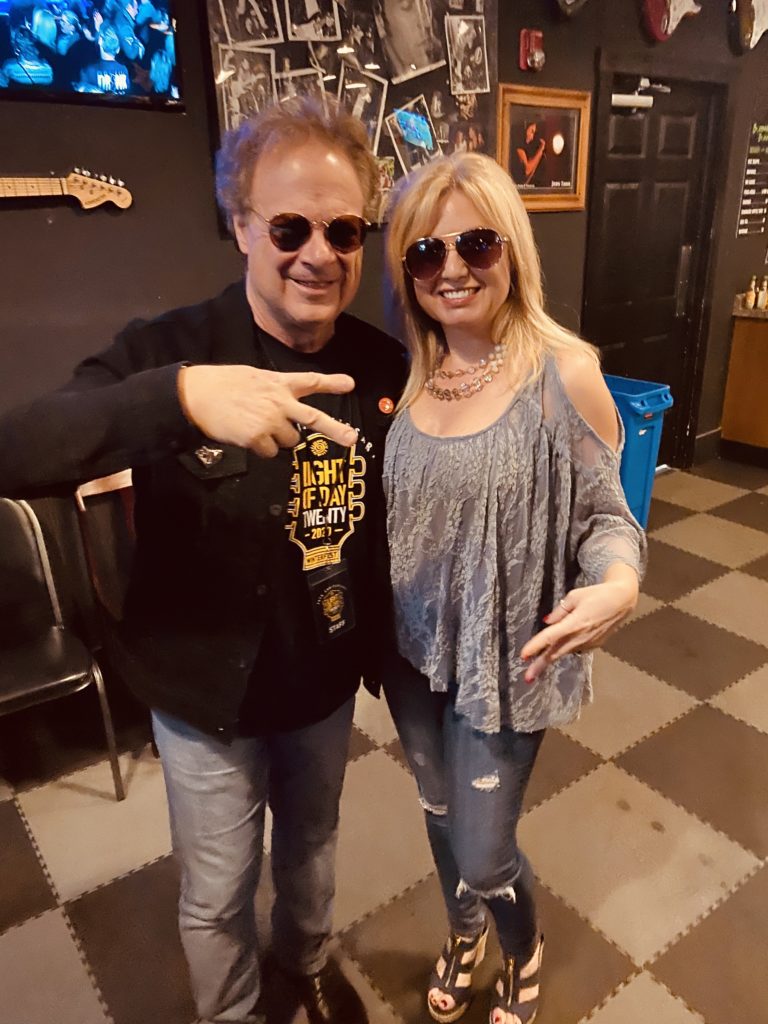 Tony Pallagrosi, Executive Director of Light Of Day Foundation, and me.
I plan on catching many local artist, singer, songwriter and band performances during the Light Of Day WinterFest 2020 in Asbury, NJ over the next few days. Hope to see you all there!
JoBonanno, of JoBonanno & The Godsons, and me.
Thanks for reading TJ's REVIEW of:
January 12, 2020 – Light Of Day WinterFest "Cover Me" at the Stone Pony       https://www.stoneponyonline.com/
With Almost U2, Moroccan Sheepherders, Bob Burger & Friends (performing the music of Elvis Costello), Experience Janis with CC Coletti, JoBonanno's Spirit of Asbury Revue , the Carl Gentry Band, Kyle Ward and Aaron Ward, and Stella Mrowicki.
For more information on Music Schedules, Locations and Tickets visit:
http://www.lightofday.org/