"The Long End of the Stick": My Journey to Four Time Rutgers All American Javelin Thrower by Chris Mirabelli (with Calvin Schwartz)  October 1st 2019
People are asked questions every day, whether it's about their kids, professions, clothes, houses or anything that has to do with their lives. But what about the unique questions we're asked; that which leads to thinking about your life and what you stand for? For me, one of those questions can be a paradoxical blend between extremely simple yet very challenging as to what was your first memory? Mine might be different and seemingly unnatural compared to other five-year-old kids but that first memory leads to a relentless pursuit of what I stand for and want to accomplish.
I know what you're thinking, "ah man, another long article with big words in every other sentence." That's not the case. Purposefully, I tried to hook you into reading this. My intentions are to sound intelligent. Importantly, I want to write this in the most down-to-earth form; a conversation between two people in a basic format. To story tell and in doing so, with a goal to capture attention and connect on a deeper level through my personal trials and tribulations. This story isn't about race, gender, or socioeconomic status, but about a person (me) dealing with battles through adversity and roadblocks. My hope is to share and empower others who have been in a similar life situation or not.  
Now, back to that first memory. Reason why such a difficult question, because it's so broad. A human being has about 70,000 thoughts every day, but which ones turns into memories? Which memories can you single out to be the first?  One of my first was at five years old, finishing a soccer game. I went home, ate and my father showed me a long stick. I said, "Are you hunting Dad?" He smirked and replied, "No, this is a javelin. I want you to try to throw it." Fifteen minutes later, across the street in a field throwing that javelin. I held it in the most natural way, then threw it. Immediately, I fell in love, not only throwing random things, but also throwing the javelin.
My father was a javelin thrower and football player in high school and college. After hanging-up his football cleats, he decided to stick to throwing javelin. He ended up training himself and throwing far enough to qualify for the 1980 Olympic Trials. He didn't make the Olympic Team but continued to throw until his career abruptly ended with a paralyzing shoulder injury in his throwing arm. My father taught me to throw javelin from five years old. Two ways to look at a coaching parent; one is the simple fact that you literally live with your coach, which could be quite overwhelming, as you're asked to train every time you sit on the couch. But, it's really fortunate for someone to care to about you, willing to sacrifice time, to make you the best. In my case, it was both; my father never overly pressured me to train 24/7, but he always made sure I did my training when no one else would push me.
Growing up in a family of six, with two older sisters and a little brother. Indeed, I was a middle child, but I wouldn't want it any other way. My two older sisters were extremely athletic; good enough to both play collegiate soccer. My little brother was the one to pick on, simply because he was the youngest. However, we've always been the best of friends; had each other's backs no matter what. Also, he started throwing javelin at five years old.
Much to say about being a middle child in a large Italian family. One powerful ingredient; we are very competitive, which is in our veins. It began with my mother; a woman that would enter any contest from a pool-side dance at a resort or any board game. She'd always look to put you away. No matter how hard you try, she tried harder; no matter how loud you yell, she yelled louder. Growing up in a family that is always competitive teaches core values as a person and athlete.
I played many sports; football, basketball, soccer, baseball, hockey; naturally skilled and extremely competitive. The two sports loved the most was Track and Field and Football. I loved both. At football, I was quarterback and kicker which began in eighth grade, throughout high school. They say I was a talented player who'd do anything to be successful while managing to balance off-season training for javelin.
Like other two-sport high school athletes, there's often a coach who doesn't like the two-sport deal. Therefore, I had many issues with my football coach in high school. Bottom line; javelin throwing to me was everything, so the football coach was rough on me. Too bad, I loved football too and wanted to play in college. After junior year, I quit football and concentrated on javelin. Time to work on my technique, strength training, nutrition with no other distractions. 
After junior year of javelin competition, I was recruited by prestigious Division 1 and Ivy League schools all over the country. After winning New Jersey State Championships and placing in the top three at Nationals, time to decide on where to start the rest of my life. I decided to stay at home in New Jersey, attending Rutgers University- New Brunswick. Simply, I fell in love with the team, coach, atmosphere, and everything Rutgers had to offer to make me the most successful student-athlete possible.
Freshmen year flew by. A fairly successful season, taking 5th in the Big Ten Championships; representing Team USA at the Junior Pan American Championship. I won the Gold Medal.
Sophomore year, I was hungry after a long off-season of endless training, so I won the Big Ten Championships and again, competed in the National Championships. A very memorable year, because I finally realized my goal of qualifying for the 2016 Olympic Trials. Nineteen and I was battling against professional athletes to compete for the huge honor to represent Team USA at the Olympic Games. Although I fell short, I learned priceless lessons that played a major role in my competitive life.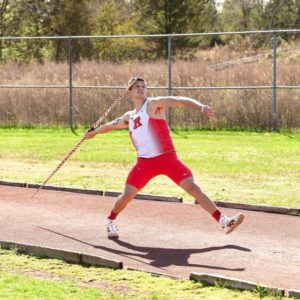 Junior year was a breakout year. I broke the longstanding Rutgers school record, won the Big Ten Championships again, and almost broke every meet record where I competed. At one of the most important track meets of the season, The Penn Relays, tragedy struck. I was in 1st place. Going into the last round. Another thrower edged ahead and took the lead. I was last and had a final chance to win the infamous gold watch. Running down the runway with great roars from the crowd, without fear, I threw the javelin. Next thing I know, I'm on the ground holding my shoulder, watching my javelin fly.  Good news, I won the meet. Bad news, I tore my rotator cuff in two parts and my labrum. The joy of winning overpowered pain, but reality set in the next day, when I couldn't move my shoulder. Devastation, but I still wanted to compete in the National Championships so I decided to get cortisone and saline shots every few of weeks to get through the season. With a torn shoulder, I managed to earn 8th place at the NCAA National Championships. Heads turned that season; I was able to make a name around the Track and Field world.
Then, I met the most beautiful woman I'd ever seen. One of the most talented athletes, not only Rutgers, but the entire country. She was one of the best soccer goalkeepers to ever play at Rutgers and broke almost every record possible. She too, has represented Team USA on multiple occasions, so we definitely had a lot in common. After hanging out for five months, we finally started officially dating. The most incredible time of my life. I came off a very successful season and now the girl of my dreams; to share with and be a part of her journey to become the best in the world. Connecting on such a deep level, we developed an unbreakable cherished relationship. She plays such an influential role in my javelin career and continues to make me a better person every day. So fortunate to call her my girlfriend.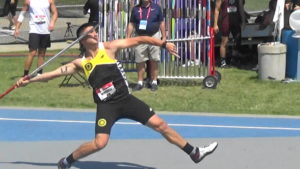 Another interesting question; what is a javelin and why should you care so much about this unpopular event? A question that I dealt with my entire life and still do. I'm one of the few 1st Team All-Americans at Rutgers. No problem telling people I'm good at a very random sport, which requires an extremely healthy and strong arm to compete (throw far). Presumably, a torn rotator cuff and labrum is a career ending injury for javelin athletes.
On September 13th, 2017, my competing was taken away from me. Finally, my surgery and a sling for eight weeks. When things couldn't get worse, I went for a regular medical checkup. Doctors noticed something with my heart. After tests, results showed that my aortic root was far wider than average, and if it got any bigger, I risked the chance of an aneurysm.  Two cardiologists told me that I shouldn't train anymore because it's too dangerous. To make matters worse, I couldn't afford rent, my car broke down, and my girlfriend left for France to play professional soccer.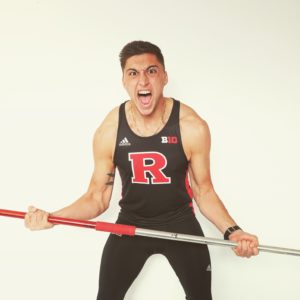 By far the lowest point(nadir) of my life. Felt lost with no direction.  Felt worthless because I was broke. Worst of all, felt depressed.  Didn't know where to start the healing process; always had a life plan, but so many things were wrong at once; completely overwhelmed.
First step; I decided to see another cardiologist since it was the biggest problem. Then, I was referred to a cardio-thoracic surgeon who referred me to an aortic specialist. After two weeks, a team of cardiologists helped me continue to train for the Olympic Team. Arm still in a sling, I worked out at a local New Brunswick gym to rebuild myself. Training was my getaway; it made me forget about my problems, taking my mind off the negativity in my life.
Remember that the purpose of this article is to empower those who have been in negative situations by shedding light, offering advice to help you understand that there is a way to get around negativity, even when things are bleak.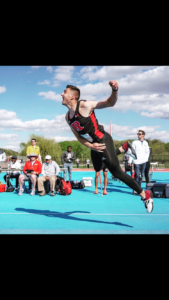 Even though my girlfriend left for France to fulfill a goal as a professional soccer player, we still made it work. My family and her are such an immense support system, helping me get through such low points. As a competitive athlete, I never liked feeling vulnerable and weak, constantly suppressing negative thoughts and internalizing. This year, I finally decided to share everything.  Having that support system enabled me to slowly gain my confidence and to keep working towards my goal.
One quote that I live by; Never Settle. Some think of the Hennessy slogan and others think it's something a perfectionist would say. I'm neither. Of course, I'd like to be perfect. But I think there's no fun in perfection, because the moment you become, you stop trying and learning. Never Settle means to never be complacent, always move forward even if you feel on top of the world. Having this type of driven mindset allows you to work endlessly and tirelessly towards your passion. No matter how many titles I've won or records broke, I never want to stop getting better. Always thinking to improve in something; whether my relationship with family and girlfriend, or nutrition. I know somehow, I can be better.
Being able to slowly build my confidence back is difficult; still in that process, but I'm out of a sling, been doing rehab for my shoulder to get back to 100% for the past eighteen months. As for my heart, the team of cardiologists developed ways for me to train but with limitations. As my girlfriend says, "Same goal, different path." Humans adapt and by adapting to whatever comes your way, allows you to become efficient. Sometimes, we have no control over what happens, but it's how you react when something negative arrives.  
Everyone loves a success story. Where my life is now with sports.  I'm not there yet, but I'm comfortable with that.  My future is how I want to work for it. People tell me that if you work endlessly, you will always be successful. Every day, I work, but have yet to see ultimate results, but I'm so confident that I will make all the difference in the world. We never know for sure if what we do will end up successful, but there's two ways to perceive it.  You can either be positive or negative. Whatever your mindset, it will define the quality and quantity of work you put into it.
As I write this article, I am now a fifth-year senior at Rutgers, studying to earn my Master's degree and finishing summer Track and Field season. My goal is to continue to train and throw professionally, but because of this, my recent spring season had a lot riding on it. With so much uncertainty, the only option that I want to have is to remain positive and focused on end goal.
Many doubts, but the common theme throughout the lowest points of my life is turning the smallest positive into a confidence builder. If I get my technique down in javelin just by a tiny bit, that boosts my confidence. If a doctor tells me I'm looking heart healthy and to check back in a couple months, that's another confidence builder. Our perspective on the things that happen to us on a daily occurrence can define how we will react to situations.
In the end, I'm just a 22-year-old with a huge dream; a dream that scares, but if it doesn't, then it's simply not big enough. I don't know it all and I never will, but if I continue to learn from my experiences and others, while helping those who've been in my situation or worse, I look at it, as a big success; life's real Gold Medal.