NJ Discover TV Show, NJ Filmmakers/Directors Come to NJ Discover. KEITH ARMONAITIS ('Be Home Soon') STEPHANIE ANGEL (www.angelightfilms.org) TOM RYAN ('Theatre of Terror') In Depth, Incisive, Introspective. Hosts Tara-Jean & Calvin   Sunday April 7th LIVE Noon njdiscover.com AND ARCHIVED YOU TUBE via njdiscover.com

TUNE IN SUNDAY APRIL 7  NOON LIVE  njdiscover.com   AND archived njdiscover.com via YOU TUBE
The evolution of this NJ Discover TV Show, "NJ Filmmakers/Directors Come to NJ Discover. KEITH ARMONAITIS ('Be Home Soon') STEPHANIE ANGEL (www.angelightfilms.org) TOM RYAN ('Theatre of Terror') In Depth, Incisive, Introspective. Hosts Tara-Jean & Calvin   Sunday April 7th Noon njdiscover.com" began exactly one year ago in a swirling syncope of synchronicity.
How I want to say, you can't make this up. Borderline extraordinary happenstance. Cut (an appropriate movie term) to Asbury Park Convention Hall, last March, on the first night of Garden State Film Festival, the cocktail party. NJ Discover was covering the event for GSFF. For me, I was in the land of Oz, wandering around, wearing my black blazer and red Rutgers hat. Everywhere, filmmakers, producers, actors, actresses. Suddenly, Keith Armonaitis, a friend, fellow Rutgers grad, cerebral personality and filmmaker. We did the cocktail party thing; talked about the business. Then, he suggested I meet Thomas Ryan, another Jersey filmmaker in the horror/terror genre. Thomas and I talked. The same magnetism as Keith. A spark ignited without a definitive length of incandescence. I just sensed something.  A few moments later, as if scripted, Stephanie Angel walked over and initiated a movie business conversation. Did I look like a denizen of Rodeo Drive after hours?  Stephanie explained Angelight films, working with young brain tumor patients and also having been a script supervisor for Blacklist on TV.  Again, a certain magnetism.
A few minutes later I bumped into Ronnie Marmo, actor, playwright, reincarnate of Lenny Bruce and now off-Broadway in a Joe Mantegna directed play, written by Ronnie, "I'm Not A Comedian, I'm Lenny Bruce" and fresh from his long run in Los Angeles. Ronnie Marmo was a guest on NJ Discover LIVE TV Show this past December.
AND it's been in my consciousness to do a TV show with Keith, Stephanie and Thomas for the past year. Step one, was to interview for a NJ Discover Spotlight article each separately; my acquisition of knowledge and part of an old Hollywood movie song, "Getting to know you."  So, I did, and now we've got that TV show for Sunday April 7th, live at noon, archived forever on You Tube TV with all three New Jersey filmmakers and Tara-Jean McDonald Vitale and Calvin Schwartz (me) doing our inimitable interviewing. 
 Calvin Schwartz   April 1, 2017
TUNE IN SUNDAY APRIL 7  NOON LIVE  njdiscover.com   AND archived njdiscover.com via YOU TUBE
NJ Discover Spotlight Articles at njdiscover.com
Keith Armonaitis:  https://bit.ly/2WyqpYb
Thomas Ryan:  https://bit.ly/2H2qi3p
Stephanie Angel: https://bit.ly/2IFZkiE
MEET THE FILMMAKERS
STEPHANIE ANGEL
Stephanie Angel's Bio
Stephanie is the founder of Angelight Films, a 501 (c)(3) nonprofit production company that produces short films with children who have brain and spinal cord tumors, giving them the chance to create and star in their own short film. 
To date, Stephanie has directed eleven and produced thirteen Angelight Films.  The kids have shown remarkable health improvements since creating their films.  The organization was formed in honor of Stephanie's younger sister, Ilana, who died from a brain tumor at the tender age of five.
In 2018, Angelight Films received the 2018 Broader Vision Award for Film Making Dedicated to the Greater Good presented by The Garden State Film Festival.
http://www.angelightfilms.org/  
Outside of Angelight, Stephanie also has more than fifteen years' experience on mainstream feature films, television series, music videos, documentaries and commercials.
"Everything is Wonderful," is her most recent feature film that she produced and co-directed.  https://www.imdb.com/name/nm1634107/
Currently, Stephanie has partnered with actor/director/producer Amir Arison (The Blacklist) and formed the production company Willmohr Street Productions, their 1st production being "Tati the Documentary" which tracks the making of eight-year-old Tatianna Bernard's own Angelight film as well as her health, triumphs and challenges that she and her family face while dealing with childhood cancer.
http://tatithedocumentary.com/
The Go Fund Me Page has descriptions and where one can donate directly to the documentary for credit.  In the film, various amounts equal various levels of credit etc.  here it is directly:
https://www.gofundme.com/the-quottatiquot-project-a-documentary
TUNE IN SUNDAY APRIL 7  NOON LIVE  njdiscover.com   AND archived njdiscover.com via YOU TUBE
THOMAS RYAN
Tom Ryan was born and raised in Jersey City NJ. Since his early childhood he's had a great passion for the cinema. He nurtured that passion by filming backyard VHS films, drawing his own slasher-comic series and religiously collecting every issue of Fangoria magazine. In college Tom studied the media arts for two years before eventually dropping out to work full time.
With a handful of childhood friends that share his taste for the macabre, Tom founded the independent production company Theatre of Terror. With a mission to make high quality low budget independent horror, they launched their first short film "Day 9" in January of 2013. Day 9 went on to secure digital distribution through SHORTS HDTV. 
Another of Tom's great passions is music. He's been performing in bands since the age of 17 and is currently the lead singer and bass player for the band "Vlad the Inhaler". The band released their first studio album "the Human Infection" in April of 2013. Vlad the Inhaler performed at the Macabre Faire Film Festival in June 2013 and Parafest in September 2013. Their 2nd album "The Aftermath" was released in late 2016.
Shortly after the release of "Day 9", Tom started work on his first feature film "FACES". Filming began in late 2013 and the production wrapped in August of 2014. The film premiered on October 10th at the Landmark Loews theater in Jersey City to an audience of over 250 people. Soon after submitting to several festivals the film was accepted to the NY Horror Show/Macabre Faire film festival (screening In January 2015). This is where the film won Audience Choice Best Feature, Best Soundtrack, and a Best Actor Award for Tom who played the lead character 'Frank Walker'. "FACES" went on to secure distribution through Green Apple Entertainment.
The latest feature anthology "The Theatre of Terror" premiered at the Landmark Loews in Jan 2019. Each of the four shorts included in the film have enjoyed festival screenings and the Blu-ray/DVD is currently for sale on his website.
Besides writing and directing Tom Ryan has also appeared in several independent projects:
Corrado Gadaleta's Dead Road (web series) as Sniper (episodes 5-8)
Can be seen here: www.deadroad.net
Theatre of Terror's Day 9 (short film) as Tom
Weber Pictures' Sheriff Tom vs the Zombies (feature) as partygoer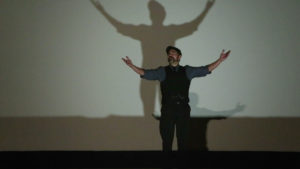 Mark Boutros' The Collectors (short film) as Frank
Devarez Films' Zombie Hunters: City of the Dead (tv series) as FBI Agent O'Malley (episode 10)
Weber Pictures' Zombies Incorporated (web series) as Gerald Jones
Weber Pictures' Witches Blood (feature) as Gerald Jones
Bradley Creanzo's Vicious Thunder (feature) as Geils Durstein
Theatre of Terror's FACES (feature) as Frank Walker (Won Best Actor)
Mass Grave Pictures' Theta States (feature) as Danny (won Best Actor)
Jeremiah Kipp's Black Wake (feature) as the Fisherman
New Needle Productions' Good Day (feature) as Eric   
TUNE IN SUNDAY APRIL 7  NOON LIVE  njdiscover.com   AND archived njdiscover.com via YOU TUBE
KEITH ARMONAITIS  
A true Jersey boy, Keith Armonaitis was born in Hoboken and grew up in Rochelle Park before moving out to Rockaway, where he currently resides. His formative years were spent with his nose in a book, writing his own stories, or building electronic kits and computers. He attended Mason Gross School of the Arts at Rutgers, studying in their BFA acting program. After graduation he tried to make a living as an actor and stand-up comedian, and was invited to join the improv troupe at CBGB's in the 90's.
He soon transitioned into IT, but never forgot his love for the arts, and over the course of the last 20 years has written a dozen screenplays, optioning two and producing three others. His movie "Missed" won Best Narrative Short, and his movie "Swung" won the Lou Costello Award for Best Comedy Short at the Garden State Film Festival.
Keith has also brought that same creative energy to his career in IT. He received his Master's degree in Information Systems from Stevens Institute, and has founded several startups, was a managerial consultant, and currently leads the innovation lab for the Port Authority of NY/NJ.
"I think my biggest challenge is that I have such varied interests that it can be hard to settle into one discipline."
Armonaitis recently directed the movie "Be Home Soon" which had its world premiere at the Garden State Film Festival in 2019.