NJ DISCOVER TV SHOW : A Very Special Evening with Actor, Playwright, Director RONNIE MARMO, currently Off-Broadway appearing in "I Am Not a Comedian, I'm Lenny Bruce" directed by Joe Mantegna. An in-depth introspective, relevant, incisive, insightful hour. With hosts Tara-Jean McDonald Vitale & Calvin Schwartz. Tune In & archived on You Tube at njdiscover.com  Tuesday December 4th 8 PM

BEHIND THE SCENES: How this TV show evolved, revolved.  by Calvin Schwartz 
How can I be brief when it comes to Lenny Bruce and Ronnie Marmo?  Cut to the late 1960's when I discovered Lenny Bruce, genius, pioneering comedian, with social commentary and battles for free speech. I should've been aware of Lenny Bruce; I was in college, the formative years of intellectual growth, but I was busy becoming a pharmacist. Then Lenny died in 1966. Then the Broadway play 'Lenny' in 1971 which I happened upon and saw. Then I really discovered Lenny Bruce, bought many of his vinyl albums, memorized his bits, and disliked myself for never having seen him perform in person. My head was somewhere else.
TUNE IN LIVE TUESDAY DECEMBER 4TH  8 PM  njdiscover.com  AND Archived YOU TUBE TV 
A lot of 'then.'  Then I was completely a fan of his genius, battles for free speech, legacy that so many comedians today owe their careers to his courage. Anything media about Lenny, I was down and absorbing. Then in 2010, Ronnie Marmo brought Lenny to life in the play, 'Lenny Bruce is Back (In New Jersey)' to the Edison Valley Playhouse. Then I discovered the genius of Ronnie Marmo. Then I realized that if you blink or close your eyes, the realization that Ronnie Marmo is Lenny Bruce overwhelms you.
These last few years, now as a journalist, I've bumped into Ronnie at various film events, festivals, premieres. Then last spring at the Garden State Film Festival, another bump into Ronnie. I heard he wrote a new play, "I'm Not a Comedian, I'm Lenny Bruce" directed by Joe Mantegna which was all rave reviews and extended performances in Los Angeles. I knew it was coming to New York. Opening night, November 4th, the NYC Marathon finished, my wife and I sat in the first row. One of the most riveting, gripping, emotional, funny, sad, heartfelt and real performances I've ever seen. Ronnie Marmo is Lenny Bruce. Yes, the play should be seen by many different generations. 
A few blocks from the theater, 'Cutting Room,' at a red light, on my way to Penn Station, a random strange woman asked how I liked the play and Ronnie's performance. A few light changes from red to green and back for me to explain. Synchronicity in the universe. She's Ronnie's agent and now he is appearing on NJ Discover TV Tuesday night.
One more circle of life story. A few years ago at the First Annual Asbury Park Comedy Festival, back stage, I met and hugged Lenny Bruce's daughter Kitty Bruce who has a foundation in her father's name and a place in Pennsylvania, 'Lenny's House,' a recovery house for women. For me, one of the most poignant moments to have met Lenny's daughter and now to have Lenny back as Ronnie Marmo on a TV show which I co-host. All beyond and so perfect.
Calvin Schwartz   December 1, 2018
MEET RONNIE MARMO  from Website:  https://ronniemarmo.com/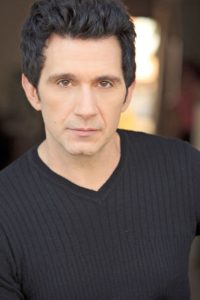 Originally from Brooklyn, Ronnie Marmo moved to New Jersey at six years old. At twenty four years old you could hear him say that he always knew in his heart that he would be an actor, but hadn't found the time to do it yet. He and his mother had an actor friend who they wanted to support, so they went to see him in every community theatre play in New Jersey. Ronnie would leave these shows lit up with excitement and his mother tried to convince him to audition. His mother died of cancer in 1995, and Ronnie finally called that actor friend to ask if he could audition for the next play. He was cast in the unlikely role of the evil farmer in Hide and Seek at the Edison Valley Playhouse. He hasn't looked back since.
His acting career began with leading roles in Italian American Reconciliation and Lusting After Pipino's Wife. He was recognized for both plays by the New Jersey ACT with awards for outstanding lead male actor. He won the Cable ACE award in 1997 as the host and producer of the Documentary of the Year. He then joined the Broadway National Touring Company as "Tony" in Tony N Tina's Wedding where he got married eight times a week for a year.
                                                            TUNE IN LIVE TUESDAY DECEMBER 4TH  8 PM  njdiscover.com  AND Archived YOU TUBE TV 
 
 Go West, Young Man
Ronnie knew his mother was running the show from heaven and that she would want him to follow his dream. He decided to drive his 1985 Toyota Tercel to Hollywood and pursue a career in acting, never giving a thought to a "plan B" if it didn't work out. Ultimately he landed the role of "Moof" in the MGM movie, Deuces Wild.
Ronnie was looking at his checkbook and had just told his friend that he only had 68 cents left in his account when he got the call saying he got the part. But while most people would say "I got a job, now I can relax", Ronnie said, "I got a job, lets start a theatre company." They lovingly named it the 68 Cent Crew. Ronnie has produced, directed and/or starred in dozens of plays, including the critically acclaimed Bill W and Dr Bob, which has played to many sold out audiences. He enjoyed a six month run starring as "Lenny Bruce" in the one man production of Lenny's Back . . . and boy is he pissed.
Life in LA
Since arriving in LA, Ronnie has starred in numerous films and enjoyed a 2-year run on General Hospital as Ronnie Domestico.
He has also written several scripts, both for the stage and the screen. His favorite is the semi-autobiographical story, West of Brooklyn. The 68 Cent Crew produced the play for the stage and received critics pick from the L.A. Times, L.A. Weekly and Backstage West. Ronnie adapted West of Brooklyn as well as produced and starred in the film for the screen and 68 Cent Features. It can be found on DVD. He produced and starred in the movie.
Ronnie has worked on a dozen films in 2015 alone. A complete list of Ronnie's work can be found at IMDB.
Still Working with Plan A
Ronnie's philosophy has always been that you have made it when you say you have. And he spends every day doing what he loves most. He says that if he had any sense, he'd probably be doing something else, but thank God he doesn't know any better and he doesn't feel he has a choice. There is still no "plan B" for Ronnie Marmo.
TUNE IN LIVE TUESDAY DECEMBER 4TH  8 PM  njdiscover.com  AND Archived YOU TUBE TV 
Ronnie has directed, produced and starred in too many plays to list them all.
Co-Founder/Artistic Director             68 Cent Crew, Theatre 68                   Los Angeles
Co-Founder/Artistic Director             68 Cent Crew, Theatre 68 NYC         New York
Lenny Bruce is Back                             Lenny Bruce/One-Man Show             Theatre 68
Bill W and Dr. Bob                                Lead                                                         Theatre 68
Love, Sex & the IRS                               Lead                                                         68 Cent Crew Theatre
West of Brooklyn                                   Lead                                                         68 Cent Crew Theatre
Starfire                                                       Lead                                                         Company of Angels, LA
Tony & Tina's Wedding                       Lead                                                         Broadway/Nat'l Tour
Lusting Pipino's Wife                           Lead                                                         Villagers Theatre, N. Jersey
Italian American Reconciliation     Lead                                                         Circle Playhouse, N. Jersey
RONNIE MARMO INFO    
IMDB:   https://www.imdb.com/name/nm0549370/
DIRECTOR JOE MANTEGNA INFO   
JOE MANTEGNA (Director) was awarded the Tony and Joseph Jefferson Award for his acclaimed performance as Richard Roma in David Mamet's Pulitzer Prize-winning play Glengarry Glen Ross. Some of Joe's film and television highlights are; House of Games, Searching for Bobby Fisher, Godfather III, his Emmy and Golden Globe nominated role of Dean Martin in The Ratpack, his Emmy nominated role of Pipi Delana in The Last Don and the voice of Fat Tony on The Simpsons. For two seasons Joe stared with Mary Steenburgen and Amber Tamblyn in the critically acclaimed CBS drama Joan of Arcadia, winner of the 2004 People Choice Award for best new drama as well as picking up three Emmy nominations. In 2008 Joe reprised his Emmy nominated role of Lou Manahan opposite Debra Messing in USA Network series The Starter Wife. Joe has also lent his voice to the Disney/Pixar film, CARS2 and continues his 23-year run as Fat Tony on The Simpsons.
IMDB    https://www.imdb.com/name/nm0001505/
 Wikipedia   https://en.wikipedia.org/wiki/Joe_Mantegna
TUNE IN LIVE TUESDAY DECEMBER 4TH  8 PM  njdiscover.com  AND Archived YOU TUBE TV 
I Am Not a Comedian . . . I'm Lenny Bruce
The Cutting Room   TICKETS AVAILABLE!!!
44 E. 32nd St     New York, NY, 10016   http://thecuttingroomnyc.com/                        
I'M NOT A COMEDIAN…I'M LENNY BRUCE ran for 110 performances in Los Angeles, to critical acclaim and over 20 rave reviews. An LA Times's Critic's Choice, this look at the life and battles of the most groundbreaking and impactful comedian of all time, Lenny Bruce, not only draws from his many court battles championing the freedom of speech but also includes many of Bruce's original comedic bits and insights from his own writings, masterfully woven together by the show's creator and star, Ronnie Marmo and expertly directed by Tony Award winning stage actor, film and television star, Joe Mantegna.
Fresh off  sold-out, wildly successful run in Los Angeles, Theatre 68 in association with Dennis Paladino and Kitty Bruce, Joe Mantegna will direct the Off-Broadway premiere of I'm Not A Comedian…I'm Lenny Bruce, written by and starring Ronnie Marmo. 
TUNE IN LIVE TUESDAY DECEMBER 4TH  8 PM  njdiscover.com  AND Archived YOU TUBE TV