HOW OFTEN DO YOU PROMO AND REVIEW A (NEPHEW'S) FEATURE FILM? Director JOSHUA Z WEINSTEIN & film "MENASHE" open at Jersey Shore this weekend by Calvin Schwartz 8-8-17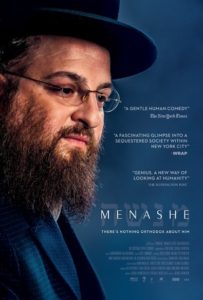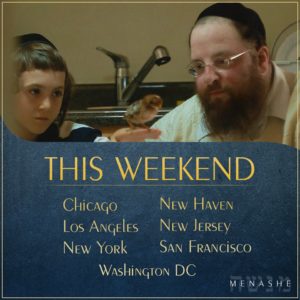 This has been a whirlwind few weeks with MOVIES/FILMS for me.  Two weeks ago, I covered the Indie Street Film Festival in Red Bank for NJ Discover which I loved & reviewed the short, riveting and tender documentary, 'BROTHERS' by Jack Ballo).  Then this past Friday night on our NJ Discover LIVE TV Show,  'SHOOTING CLERKS' director Chris Downie & cast members  Producer/actor Brett Murray, actor Jay Booton (plays Dave Klein) & actor Mark Frost, (plays Kevin Smith in film.) AND SPECIAL GUEST (who just dropped in) Brian O'Halloran, (Dante Hicks in 'CLERKS') ALL were interviewed by Tara-Jean & Calvin (me) Then on Saturday, I was invited to the premiere of 'SHOOTING CLERKS' in the Atlantic Highlands (It was a wondrous film, meticulously inventively acted & crafted)  And I sat right behind Kevin Smith and Jason Mewes. It doesn't get better. But it does.
NJ DISCOVER TV SHOW with 'SHOOTING CLERKS' now ON YOU TUBE: http://bit.ly/2hxoeUf
AND NOW I'm thrilled to announce (nephew) Joshua Z Weinstein's (a Jersey guy) film 'MENASHE' (a beautiful universal story of parenthood) opens this weekend in Red Bank (Bow Tie Cinema:
http://www.bowtiecinemas.com/locations/red-bank-theatre/
AND Showroom Asbury Park http://theshowroomap.com/coming-soon/menashe/
Indeed, a MUST-SEE film.  Yes, it does get better.  The film started at Sundance, was picked up by A24 (same company as Academy Award winner 'Moonlight') and is getting rave reviews from NY Times, Rolling Stone (one of top 5 summer films) and 4 stars from NJ Star Ledger Stephen Whitty, Huffington Post, et
"Deep in the heart of New York's ultra-orthodox Hasidic Jewish community, Menashe—a kind, hapless grocery store clerk—struggles to make ends meet and responsibly parent his young son, Rieven, following his wife Leah's death. Tradition prohibits Menashe from raising his son alone, so Rieven's strict uncle adopts him, leaving Menashe heartbroken. Meanwhile, though Menashe seems to bungle every challenge in his path, his rabbi grants him one special week with Rieven before Leah's memorial. It's his chance to prove himself a suitable man of faith and fatherhood, and restore respect among his doubters."  The Showroom Cinema
"With its intimate focus, Menashe avoids indicting the strict logic that stifles its anti-hero's individuality (though secular viewers can reach their own conclusions). Instead, it succeeds at showing how his challenges are more universal than judgmental viewers might think." – Eric Kohn, INDIEWIRE
"Menashe is a warm, relatable and tender tale about parental love, religion and belonging, told humanely and with vivid authenticity." – Claudia Puig, THE WRAP
"Joshua Z Weinstein's charming Menashe immerses us in an authentic environment of ultra-Orthodox Judaism and makes it relatable by weaving a sweet story familiar in its general contours, of a single father struggling to hold on to the son he loves." – David Rooney, THE HOLLYWOOD REPORTER
"A Gentle Human Comedy"   The New York Times
MENASHE  IMDB LINK:     http://www.imdb.com/title/tt6333086/
http://tickets.menashemovie.com
A REVIEW OF 'MENASHE'  by Calvin Schwartz    Saturday August 12, 2017
Perhaps a function of maturation (aging), but going to the movies these days, as opposed to the old days of Saturday afternoon double features, must be a special experience of viewing, learning and emoting.
I need visual artistry, story-telling and functions of cerebral challenges. I need thoughtful discourse long after I finish sucking on a mint that the theater employee hands out.  I personally need (and I'm sure many would agree) reasons to be in a theater, budgeting precious time away from the exigencies of modern life.  I need imagination and creativity. I need to learn about diversity of people. Yes, sometimes I need to be magically carpeted away. I need to feel good, laugh and empathize.
I love the artistry of motion pictures. It's a living, moving canvas of life, past, present and times far away.  Movies have helped develop my sensibilities and have conscripted me to causes and awareness. When I was in late pre-teens, I watched 'A Christmas Carol' with Alastair Sim and learned about children who represent ignorance and want (in 1843 when Dickens wrote it) and how Dickens' words echo true today. I wrote my first novel, 'Vichy Water' after watching 'Casablanca' for the 44th time.
Which brings me to yesterday and my seeing Joshua Z Weinstein's film 'Menashe' in Red Bank.  Indeed, it satisfied all of the above and beyond. I marveled at the film-making process, photography and seamless story telling. Attention to detail is fascinating; the camera's (director) view through the eyeglasses of Menashe on a sunset hill, lights sparkling in distance, or the faces of people visible through a bon-fire, or several city bird's street feeding then taking off; all part of the delicate tapestry of location shooting in Hasidic Brooklyn. The detail is striking and memorable.
The story is so universal; the love of a father and young son (essences of parenthood) and a depth and power to motivate and transform. Tender is this film (Yiddish, English subtitled) and the acting (in some cases not actors but real life) so real and powerfully emotive; an eyebrow raised, a smile, a frown; all part of the composition of this film, draped in a sadness, but bound with hope.
There is a unique bravery in the story telling, entering a very closed, secretive world in Brooklyn. Weinstein has emerged as a brave, sensitive, artistic, young breed of new director. Those of us who see his new film, 'Menashe' will certainly one day, exclaim, I remember his work at the beginning. I will.
Calvin Schwartz