NJ Discover LIVE TV Show: An Evening with PAT HOBBS, Rutgers University Athletic Director. An Inside Look into College Athletics   Monday April 24th  8 PM  TUNE IN   with hosts Tara-Jean McDonald Vitale and Calvin Schwartz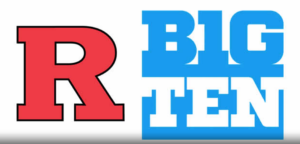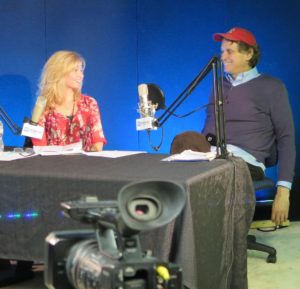 TUNE IN MONDAY APRIL 24TH   8 pm at    njdiscover.com        ALSO SEEN on YOU TUBE TV, LONG BRANCH COMMUNITY ACCESS TV CHANNEL 20, RUTGERS UNIVERSITY TV, MONMOUTH COUNTY CABLEVISION CHANNEL 77, MONMOUTH COUNTY FIOS CHANNEL 44
Most folks who know me these past five journalistic years, are well aware of the 24/7 nature of my wearing a Rutgers cap. It's a terrifically long story which began 21 years ago when I "re-discovered" my alma mater with my son Neil at our first Rutgers football game. Not to be trite, but the rest is history. I've come to realize the importance of education in our world and how a university helps one through the real formative years of college education. I'm also aware of the evolution/ contemporary marriage of athletics and academia.
The exigencies of life bring me to Rutgers campus some 70 times a year. Two weeks ago, I sat on a panel for Communication and Media students.  Just the other day, I was at a lecture and book signing with American freedom icon, Civil Rights Activist Congressman John Lewis. I pinched myself being on campus and absorbing Lewis' words. But it's really any college campus which excites and stimulates me as a citizen first and journalist.
I love the purity of college sports and have become that tailgating, multi-sport alum. After that first football game, my son asked me, "Dad, can we come to more games next year?"  I do suffer from some obsessive-compulsive tendencies so the following year I got season tickets for Football, Basketball which later morphed into Women's Basketball, Wrestling, Women 's Soccer, Lacrosse and an almost appearance at a Quidditch match (The Harry Potter stuff).
The point of these few paragraphs is to dramatize my involvement with Rutgers athletics so when Pat Hobbs came aboard in 2015, I was thrilled beyond with the opportunity for growth, Big Ten navigation and the infusion of his special spirit and energy. It was all self-evident in Pat's first few hours on the banks of the Raritan. We knew that Pat was going to guide this ship purposefully through the waters of Big Ten competition. And that's exactly what's he's doing with finesse, energy, dedication and a 24/7 commitment. I marvel at Pat Hobb's omnipresence and persona.  You'll see below some demonstrative pictures of the confirmation of this statement.
So here it is January 28th 2017 at Madison Square Garden for the Rutgers -Wisconsin basketball game, carrying with it national implications. I was with my Weequahic High School buddy Dr. Michael Kerner at a pre-game event on 36th Street which Pat Hobbs attended.  Thinking to myself, I've got nothing to lose, I went over to Pat and invited him to be a special guest on NJ Discover LIVE TV Show.  There was an immediate, "Yes."  I've been working these past months with Ryan Pisarri, Chief of Staff, Division of Intercollegiate Athletics. At NJ Discover, our mantra is uniqueness in elevating the people and places of New Jersey. And this is the show you'll see on Monday.   And so it goes.
Calvin Schwartz   April 17th 2017
TUNE IN MONDAY APRIL 24TH   8 pm at    njdiscover.com        ALSO SEEN on YOU TUBE TV, LONG BRANCH COMMUNITY ACCESS TV CHANNEL 20, RUTGERS UNIVERSITY TV, MONMOUTH COUNTY CABLEVISION CHANNEL 77, MONMOUTH COUNTY FIOS CHANNEL 44
PAT HOBBS BIOGRAPHY  (Courtesy of Scarlet Knights Athletics News )
A New Jersey native with over 20 years of leadership experience in higher education and public service, Patrick Hobbs serves as the Director of Athletics at Rutgers University.
Hobbs joined the Scarlet Knights on Nov. 29, 2015, moving south down the New Jersey Turnpike after notable achievements at Seton Hall University. He served as Dean at the Seton Hall School of Law from 1999 to 2015 and oversaw the Department of Athletics for the Pirates from 2009 to 2011.
"There is no question about the opportunity at Rutgers," Hobbs said at his introductory press conference. "New Jersey is a special place. This is New Jersey's university."
Patrick Hobbs
Hobbs stated that his first priority was to hire a football coach to lead young men and to serve as an ambassador for Rutgers University. Just eight days after his hire, he announced Chris Ash as the 30th head coach in the 146-year history of the program. Ash arrived with nearly two decades of collegiate coaching experience, including five years in the Big Ten Conference (four as a defensive coordinator) with four B1G Championships.
"Chris is absolutely the right coach at the right time for Rutgers football," Hobbs said. "He brings with him a national reputation for his coaching and recruiting abilities and, more importantly, for his character and leadership."
The positive momentum established during the fall semester continued to bloom in the spring. Hobbs restructured Athletics leadership to enhance communication, improve resource allocation and to enrich customer service and the game day experience. This new leadership is charged with developing a comprehensive strategic plan that will communicate a defined vision for Rutgers Athletics.
On March 22, Steve Pikiell, the 2016 America East Conference Coach of the Year who led Stony Brook to six post-season appearances over the past seven years, was introduced by Hobbs as the 19th head coach in the history of Rutgers men's basketball. A two-time team captain under Jim Calhoun at Connecticut, he arrived with 25 years of coaching experience, including the past 11 seasons as head coach of the Seawolves.
"Everywhere Steve has been, he's won," said Hobbs. "But most impressive, is that everywhere he's been, they started at the bottom and rose to the top. He will bring that same dedication and energy to build a successful program at Rutgers."
A media conference on May 10 further reinforced the positive trajectory of Rutgers Athletics under Hobbs. "R B1G Build," a comprehensive campaign launched to raise $100 million for new or upgraded facilities, had surpassed the $50 million milestone in just 15 weeks. The initiative was boosted 10 donations of more than $1 million during that span, including the three largest gifts in Rutgers Athletics history, which combined to exceed $11 million.
"This generous support will help meet critical needs for our student-athletes to successfully compete in the nation's premier academic and athletic conference," said Hobbs. "Having supporters who not only understand what it takes to compete on an elite level, but provide the resources to help lead us there, is integral to our success."
When the 2015-16 season came to a close, the achievements, both on the field and in the classroom, were unmistakable. Rutgers was one of just two universities to have its men's and women's soccer, wrestling and men's lacrosse programs all nationally-ranked. RU student-athletes combined to win 16 Big Ten Players of the Year honors and individual championships. In addition, Scarlet Knights earned 17 All-America and 46 All-Big Ten honors. These accomplishments were available for the world to see, as 279 competitions were televised or streamed, including 90 televised on national linear networks.
Rutgers had 228 student-athletes recognized as Academic All-Big Ten, an increase from 196 in 2014-15. RU also boasted 72 Big Ten Distinguished Scholars with cumulative grade point averages of 3.7 or better, an increase from 54 the prior year. In between their athletic and academic achievements, Rutgers student-athletes performed more than 3,500 hours of community service in 2015-16.
Prior to joining Rutgers, Hobbs also worked for New Jersey Governor Chris Christie. In April 2014, he was appointed Ombudsman to the Office of the Governor, serving as a resource for whistleblowers within the Office. He also oversaw ethics training and guidance to the 140 employees in the Office of the Governor.
As the Interim Director of Athletics at Seton Hall, Hobbs assumed supervision of the department and led searches for men's and women's basketball head coaches. He also conducted the search for and hiring of a permanent athletic director and added the sport of women's golf, which earned two Big East titles in the last five years. Another major accomplishment was negotiating a contract with the Prudential Center as a home site for men's basketball games.
Hobbs joined the Seton Hall Law faculty in 1990 with a specialty in tax law; he became Associate Dean for Finance in 1995 and was named Dean in 1999. In his years as Dean, Hobbs shepherded the Law School through a series of groundbreaking initiatives that raised Seton Hall Law to unprecedented prominence. The school was the fastest-rising law school in the U.S. News & World Report ranking over the past decade. One of the highlights includes the Health Law program, which is consistently ranked among the top 10 nationally. Seton Hall Law boasts a faculty that is world-renowned in such diverse areas as intellectual property, social justice, corporate bankruptcy, national security policy and employment law.
Hobbs was influential in fundraising at Seton Hall Law by spearheading the $25 million plus campaign, Seton Hall Law Rising, the school's largest fundraising initiative. Part of the success stemmed from revitalizing alumni support with over 70 percent contributing during the campaign.
During his tenure, Hobbs established several centers of excellence: The Center for Health & Pharmaceutical Law & Policy; the Center for Policy and Research; and the Gibbons Institute of Law, Science & Technology. Under his leadership, Seton Hall Law achieved worldwide prominence through a series of groundbreaking initiatives emanating from the school's social justice mission.
Hobbs advocated for the growth of the Seton Hall Law Center for Social Justice, offering clinical programs with students and professors taking on cases addressing predatory lending, domestic violence, international human rights, and education and housing policy reform.
In 2006, Seton Hall became the education partner of the New Jersey Law and Education Empowerment Project (NJ LEEP). The mission of the Project is to introduce economically disadvantaged students from 8th to 12th grade to the legal profession and to strengthen their academic skills. Since the graduation of the first NJ LEEP cohort in 2011, the program has achieved a 100 percent college acceptance rate among its participants, with several admitted to the nation's top-tier universities.
The Garden State product has been dedicated to fostering greater diversity in the legal profession. In 2008, he formed the Dean's Diversity Council, comprising faculty, students, alumni and administration working in concert to enhance the Law School's inclusive environment. In 2012, Professor Hobbs was honored by the Thurgood Marshall College Fund with its Excellence Award for his work on behalf of diversity within the legal profession and for "exemplifying Justice Thurgood Marshall's commitment to justice, civil rights and education."
Hobbs is a former member of the Standards Review Committee of the American Bar Association, Section of Legal Education and Admissions to the Bar and has twice chaired the Law School Development Committee. He also serves as a member of the boards of the Newark Alliance and Newark Beth Israel Medical Center. Additionally, he served as a member of the Advisory Board of Lexis-Nexis, the New Jersey Commission of Professionalism and the New Jersey Institute for Continuing Legal Education. In 2004, he served as Chair of the Newark, New Jersey Mayor's Blue Ribbon Commission on the Downtown Core Redevelopment, a key initiative driving Newark's resurgence and which led the way for the construction of the Prudential Center entertainment arena.
A member of the New Jersey State Commission of Investigation from 2004-14, Hobbs chaired the Commission for the last four years of his tenure. The independent, bipartisan law enforcement body originally conceived in 1968 as a fact-finding agency whose mission is to expose organized crime, public corruption, and waste and to recommend reforms in the service of the citizens of New Jersey.
Prior to joining Seton Hall Law, Hobbs was a tax attorney with the law firm of Shanley & Fisher in Roseland, N.J. He received his B.A. in accounting, magna cum laude, from Seton Hall University, his J.D. from the University of North Carolina and his LL.M. (in taxation) from New York University.
Hobbs, 56, is the proud father of three children and resides in Basking Ridge, N.J
TUNE IN MONDAY APRIL 24TH   8 pm at    njdiscover.com        ALSO SEEN on YOU TUBE TV, LONG BRANCH COMMUNITY ACCESS TV CHANNEL 20, RUTGERS UNIVERSITY TV, MONMOUTH COUNTY CABLEVISION CHANNEL 77, MONMOUTH COUNTY FIOS CHANNEL 44