StarDust
By TaraJean McDonald
 There are stars all around us in the universe – After stars were formed, the intensity of their energies caused them to explode – their stardust traveled through the universe eventually clumping together to give birth to planets.
The earth is formed from stardust. Our bodies are formed from the earth – so in essence we are all made up of stardust. Every one of us is made up of stardust – the famous and the not so famous; the people who we look up to and admire, and the people who are homeless on the streets. I write about people who shine. Maybe you know them, maybe you don't. But you are going to learn something about their lives, their passions and what motivates them. And in the end, I hope you realize that we all have the ability to shine, because after all – we are StarDust.
From Elizabeth to Marlboro to NYC – StarDust
Joey Merlo – poet, actor and playwright
This past weekend I took a full car ride into the Soho section of NYC to see an Off-Off-Broadway Play. I heard about this talented poet and playwright that wrote a new play called The Witch of St. Elmora Street. He grew up in New Jersey, he attended college in NYC, he travelled to Ghana where he completed his first Documentary and now he lives in Washington Heights and hosts a showcase for artists at Smalls Jazz Club in the West Village. I knew at once this young man was StarDust.
The Witch of St. Elmora Street – by Joey Merlo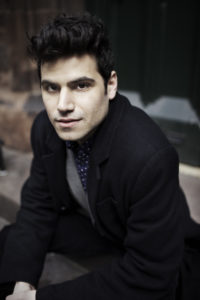 There is a fine line between reality and myth that separates the stories Joey Merlo grew up hearing while sitting around his family's holiday dinner table. Using some of what he heard whispered by relatives and some of what he watched unfold over the years he created a poignant play. This story encompasses an Italian family's strong bonds along with their ageless traditions and superstitions. Joey was able to create characters that were endearing and at the same time disturbing. When I spoke to Joey after the play, I had to move between audience members who surrounded him with tears and hugs. Joey had touched on the emotions of everyone in the theater. This was immensely due to the storyline of his play, which portrayed both the main characters suffering through the debilitating effects of a broken heart. There is not a person alive who hasn't lost someone they love or watched someone they love go through the madness that is triggered by a broken heart.
Shooting Stars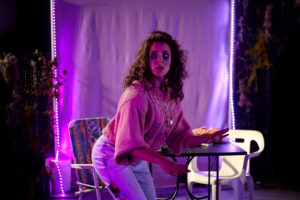 The talented cast that Joey brought together onstage and backstage came from near and far; two members originally from London, 1 from Ohio and another from the town of Marlboro, NJ. The talented Hair Designer, Ali Tritto, never complained when travelling to NYC and then back home to Marlboro, NJ each night of dress rehearsals and performances, because she knew she had found her niche. She along with the Director and Joey collaborated together to create the memorable styles of each cast member. Lead Actress, Vanessa Kopel, gave credit to Ali's talents for helping her to bring the character to life on stage. Ali Tritto still works in Manalapan, NJ styling hair at Studio 455 but the doors have opened for her talents to shine in the NYC theater district and movie business. Watch for this shooting star from Marlboro: Ali Tritto.
StarDust Ahead
Closing night was Sunday for this staged play, but Joey Merlo hopes to take the next steps toward bringing The Witch of St. Elmora Street to the big screen. The reviews were astounding, the acting was remarkable and the script was extraordinary. The unforgettable journey this playwright takes us through during his 90-minute play will surely enable it to become a Fresh Tomato hit on the big screen. Keep your eyes out for Joey Merlo and The Witch of St. Elmora Street at Facebook: Wolfpack Theatrics, Instagram: JoeJoeMerlo, www.ElmoraStreet.com.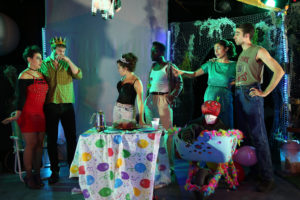 The Witch of St. Elmora Street is by Joey Merlo. Directed by Emylin Kowaleski.  Assistant Director is Brian Pollock. Lighting Designer is Mike Mcgee. Scenic Designer is Brooke Ban Hensbergen. Costume Designer is Lizzie Donelan. Hair Designer is Ali Tritto. Make Up Designer is Lea Maurer. Production Stage Manager is Caitlin Kellermeyer. Tech Director is Aaron Watson. Producer is Jordan Bean, with associate Producer Patrick Taylor. Produced by Wolfpack Theatrics and Dark Matter Productions. Graphics by Alexia Merlo. Photos by Bryan Berrios.
Cast: Caitlin Zoz, Chris Dunlop, Vanessa Koppel, Chinaza Uche, Nathaniel Peart, Nicole Pursell, and Enzo Ferrante.
**************************************************
StarDust: From Elizabeth to Marlboro to NYC article written by TaraJean McDonald   Blog: YoursTrulyTJ.com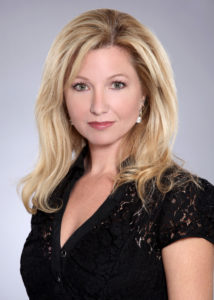 TaraJean is a versatile journalist who has produced numerous segments for NJDiscover. She is experienced in Production and Post Production of TV Commercials, Live News Coverage, TV Entertainment Segments and Live Theatrical Events. She runs the gamut from writing to shooting to scripting to editing to post-production. She studied Communications specializing in Advertising at Fordham University, New York City, but her passion for creativity and expression moved her beyond a Bachelor of Arts degree to where she also studied Theatre and Performance at both Fordham and Roundabout Theatre. Her incandescent spirit took her ultimately to the stage and television in Metropolitan New York as an aspiring actress. Along the way, with a few blinks of an eye, TaraJean was married and raising three young daughters. Next, TaraJean harnessed that spirited energy, becoming editor of Our Town, a Monmouth County newspaper and appearing as a TV host for local Channel 77. The next perfect fit for TaraJean was to channel her unlimited energy in central Jersey working with NJ Discover as TV Host, Reporter, Writer and Producer. She consistently brought a special warmth, caring, insight and humanity to her stories and her reputation flourished with on sight reporting about Hurricane Sandy, homelessness and Tent City, pervasive hunger in New Jersey, and Jersey's iconic music and film scene. She is the epicenter of what's happening around the county and state. Almost evolutionary, TaraJean went on to co-host NJ Discover LIVE radio and cable TV and still manages time (quintessential juggler) to be Reporter, SpokesModel, Copywriter, Producer, Journalist and now Sr. Editor for Fashion Haunts Magazine.