My  Day at Rutgers 250th Commencement- May 15th; President Obama Keynote Speaker.  bY Calvin Schwartz  May 26, 2016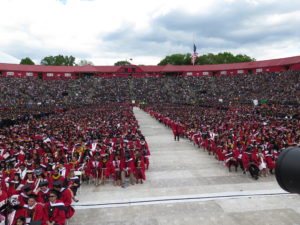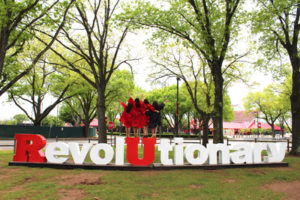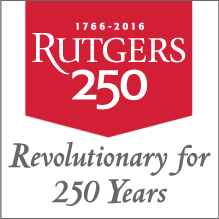 There's always a story in the naked Garden State (a play on words, naked city). My commencement adventure began in early April when Rutgers University credentialed me (as a reporter for NJ Discover) to cover Supreme Court Justice Sotomayor's lecture at the Rutgers Athletic Center on April 11th. That day for me was historic, wondrous and far from expectations. The Justice got off the podium and walked up into the steep stands to the top, engaging people, eloquently speaking, answering questions and shaking hands and surprising her security detail. In the press box, I sat next to the editor of Rutgers newspaper, The Targum, Dan Corey, on one side. Fox News on the row below. Coincidentally, Dan Corey would go on to contact the President and obtained a phone interview with him before the commencement, securing his place in New Jersey pop culture history and then meeting the President after he arrived via one of five helicopters flying over the stadium.
A month before commencement, Rutgers had not heard from the President regarding his speaking at the 250th Commencement. As we all learned in President Obama's address itself, Rutgers had been campaigning for three years for him to attend the event. Early in his speech, "I came because you asked." Even the student body president, Matthew Panconi, got involved in the campaign. The President mentioned Panconi's participation including Matthew's grandmother, Diane Lampf Totten, who hand wrote three requests to the President. "His grandmother's three letters sealed the deal." I love synchronicity in the universe. I went to Weequahic High School in Newark with the grandmother. The President hugged Panconi as he was leaving.
Once the news of the President's acceptance surfaced to speak at Commencement a few weeks before the event, the scene around Rutgers was frenetic beyond imagination. Tickets, usually unlimited for graduates' family and friends, were now limited to three; parking also limited. Demand to see a sitting President for the first time speak at a Rutgers commencement was also beyond. Being at NJ Discover and covering Central Jersey for the past five years with relevant upbeat stories, I knew there was a place for me in the White House Press Pool. I also thought it "fitting and proper" that I should be there. I graduated Rutgers, mentioned Rutgers 92 times in my first novel, 'Vichy Water,' which is in the Rutgers library system, include Rutgers guests and stories in my NJ Discover LIVE TV Show programming and for many reasons, I find myself on campus 70 times a year. The White House concurred. With the help of Greg Trevor and Steve Manas at Rutgers Media, I had my little euphoric space designated on the camera riser literally a few feet away from the commencement podium. My state of mind knowing I'd be there for history and an extended playing (because of the sheer numbers of faculty and students) of 'Pomp and Circumstance' was concomitantly exciting.
A few things I knew about writing this article. I'm not national or regional press/TV coverage or even Jersey's Star Ledger all of whom would inundate media channels about the commencement. "I got to be me" (like the lyrics) and talk about the emotionality of being there. Besides, the Commencement is on video for posterity. I did blast all my social media connections with the news of my attending Commencement as part of the White House Press Pool. I find it sociologically fascinating about some of the responses. As soon as I mentioned 'Obama,' some folks did their political rants which I gently and warmly addressed. I reminded 'them' that I am completely apolitical and all I care about is that a sitting President, the 44th of the United States of America, is coming to Rutgers 250th Commencement. That is history and the 12,000 graduates, (all sitting on white folding chairs on the field), 40,000 guests and faculty are thrilled and honored by that history and will cherish the memory for their lifetimes. Sometimes I inject into my comments, as the President did, that Rutgers is the eighth oldest college in America and ranks as one of the most diverse institutions in the country. (46.7% of students are minority and 7,000 foreign students attend Rutgers.)
The night before I went to bed at 11PM. That's usually when I wake-up from a nap readying for the next several hours of late night writing or viewing. I tossed and turned waiting for the alarm. I wanted to be at Rutgers by 7 AM to begin absorption of the energy and spirit of the day. The alarm never made it. I was out of the house by 6:20 AM, dressed warmly as if there was a football kick-off a few hours away. It was really early as I pulled into the second row of parked cars in the grassy lot near the stadium. Seconds later, with no one around, I bumped into old friends and their graduating daughter; I liked that synchronicity.
Cumulus and stratus clouds and strong chilly winds; the weather for the day. Right away, you could feel that certain something in the air. The President was coming later. The energy and awe of the office was everywhere. There was a gripping power. The power of the office of President. Two days before, I came to campus to get my press parking pass and wandered into the stadium as they were setting up. A few workmen were around and a bike with a hard hat on the handlebar. Heading for home, I drove down River Road. There were several Piscataway municipal gardening crews pruning and sprucing. I thought the power of the office of President dispatched the crews and most likely the President would never notice the gardening detail work.
The stadium was closed until 8 AM. Barricades and fences everywhere. Security check points and metal detectors already manned at all the entrances. Event staff personnel huddled in a group. The press gate was at the west side. The press gathered in small groups after going through security. I talked with several Fox News cameramen. At one point, I thought I had cut ahead of them in the credentialing line. I invoked Curb Your Enthusiasm's "conversation cut" and apologized. We laughed. They were stationed just to the left of me on the camera riser those few feet from the podium.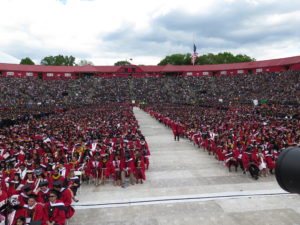 The stadium at 8:20 AM was virtually empty; A few students and professors properly gowned. I walked up and down the field aisles bordering a sea of white folding chairs. Again, the unspoken word. The power of the Presidency pervasive. You could really feel it. The intense security everywhere. Canines also doing their thing. I started taking pictures; wanted to capture faces; again the power of the guest speaker transposed to facial emotion.  There were bouquets of red flowers in the Porto-sans. The production people thought of every detail; the prestige of the guest speaker who was also getting an honorary degree.
Somewhere around 10 AM the press was informed that we were in lock-down. No more leaving the field for pretzels. You could sense the piercing eyes of security but couldn't see them. The stadium was now mostly filled with a building air of excitement. Palpable is a good word.  I saw Professor Tim Smith, Rutgers Director of Athletic Bands, Mason Gross School of the Arts. We're good friends; we hugged amidst the anticipation. Of course I made sure they'd be playing 'Pomp and Circumstance'. Moments later, a graduate approached and asked if I was "Hildy's brother." Staggering odds for that to happen; we never met. He's 50 and finished his Master's Degree.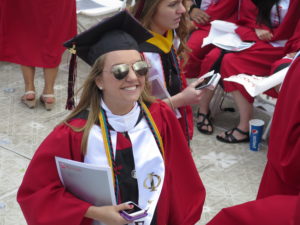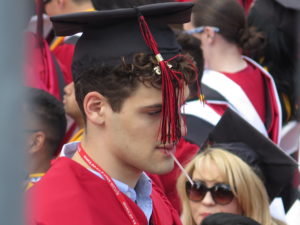 It was processional music time. First chords carpeted me back 47 years to my graduation in this stadium. Back then it looked way different; sometimes I don't grasp the march of time. Dignitaries, trustees, faculty marched.  The cold wind was wild with their caps and gowns. For a brief moment, I yearned to be part of academia. If only, to be able to teach and inspire young minds. While in the processional, a professor threw kisses to the seated students. The Rutgers Wind Ensemble with Professor Kraig Williams conducting performed. I photo'd, from my spot as a rotating cameraman, an array of creative artful messaged individualized caps like, "Adventure is everywhere, so wish upon a star and go the distance."
Chairman of the Board of Governors, Greg Brown spoke, setting the stage for the President.  "…. Our distinguished guest has made a conscious decision to lead with diplomacy and restraint in regards to many of our international engagements. And that too was a choice. But today he chose you." Then it was 'Hail to the Chief' as President Obama and Rutgers President Barchi walked in stride.
The President was given an honorary degree along with S. Jocelyn Bell Burnell, Doctor of Science and Bill Moyers, Doctor of Laws. Speech time. I'm going to get out my college yellow highlighter.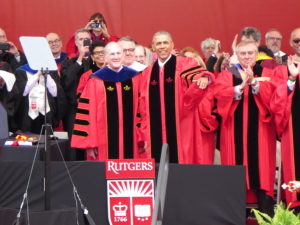 To bond and embrace the New Jersey Rutgers audience there was Pork Roll versus Taylor Ham, Grease Trucks with mozzarella sticks and winners of the first college football game. "America converges here." "Progress is bumpy but is this nation's hallmark." He was quite the engaging embracing speaker. To the students, he told them they have everything it takes to lead this nation to a brighter future and acknowledged his generation were better spellers. There were five suggestions to go out into the world.
One. He cautioned "someone longing for good old days, take with a grain of salt." Don't fear the future.
Two. The world is more interconnected. Building walls won't change that.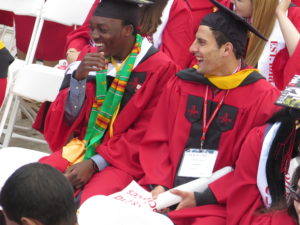 Three. Facts. Evidence. Reason. Logic and Understanding of science are good things. Listening to today's political debate one might wonder where the strain of anti-intellectualism came from. "In politics and in life, ignorance is not a virtue…. It's not cool to not know what you're talking about."
Four. "Have faith in Democracy…. it's not always pretty…. I know." I loved when the President told the graduates if you want to change things start participating. 2014 had the lowest voter turnout since WWII. Fewer than 1 in 5 young people showed up to vote. "Apathy has consequences."
Five. "Gear yourself for the long haul…. Be persistent."
And then he was gone. The graduates were formally graduated. The stadium exits grid-locked. You could hear the droning sound of helicopter engines. Once again that sound helped me feel the enormous power of the President. While waiting to ascend the steps of the stadium, I engaged a few graduates. They must've thought unorthodox things about me.  I wished them congratulations and said that I just have one word for them, "Plastics." They stared quizzically. I lamented and told them it's from a movie from the sixties, relevant when I graduated. Cordial smiles were strained then they disappeared into their future.
For the first time in 20 years leaving Rutgers Stadium, all for football, I didn't mind the endless wait to get out of the parking lot. I just sat in my car, smiled and pinched my left arm. I whispered to my mother, "Mah, I was at the 250th Rutgers Commencement." She came to my graduation 47 years ago. Afterwards, I ceremoniously handed her my diploma; she earned it more than me. And so it goes.