GIVING BACK FOR NEW YEAR: A COMING ATTRACTION: LUSTGARTEN FOUNDATION "PARTY WITH A PURPOSE" JANUARY 21ST bY Calvin Schwartz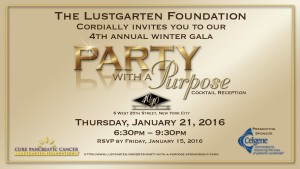 I often marvel at the synchronicities in the Universe.  Many of you who read my musings and words know of my affectation with synchronicity. Two weeks ago, I came into contact with an events staff member from the Lustgarten Foundation for Pancreatic Cancer Research in New York City. It was one of those instantaneous incandescent light bulb events; I knew I had to be involved along with NJ Discover. As I mature, I've come to understand the nature of my commitments; origins are always energized by personal experiences; it's the soulful fuel of proactivity.
I knew all about the dedicated amazing work of the Lustgarten Foundation. I know all about pancreatic cancer. It took the lives of my precious cousins; a husband and wife coincidentally. My older cousin was such an integral part of my life. I had to be just like him so I changed career paths in college to be like him. His wife was the light of our family. And pancreatic cancer took them both away much too young.  Now I can give back, always thinking about my cousins and that devastating disease.  I'm about to spread the word about a great event, "Party with a Purpose," (cocktail reception) Part of the 4th Annual Winter Gala.
The other theme in my writings is for people to get involved in causes and give back. We are in the times of giving back. Our earth species needs just that. It's also a healthful pursuit to be involved, to partake, explore, absorb, expand horizons and grow. Lustgarten is a perfect opportunity for  expressing the aforementioned verbs.   And have yourselves a Happy HEALTHY New Year.
Calvin Schwartz  January 4, 2016
LUSTGARTEN WEBSITE:    http://lustgarten.org/homepage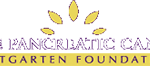 MISSION STATEMENT:
To advance the scientific and medical research related to the diagnosis, treatment, cure and prevention of pancreatic cancer by:
Increasing funding and support of research into the biological mechanisms and clinical strategies related to the prevention, diagnosis, and treatment of pancreatic cancer;
Facilitating and enhancing the dialogue among members of the medical and scientific communities about basic and clinical research efforts that relate to pancreatic cancer;
Heightening public awareness of pancreatic cancer diagnosis, treatment, and prevention and providing informational support for pancreatic cancerpatients, their families, and friends.